Study: Race relations in the U.S. improving
How well do racial and ethnic groups get along these days?
According to a recent Pew Research Center study on race and ethnicity, most blacks, whites and Hispanics say they get along reasonably well with each other.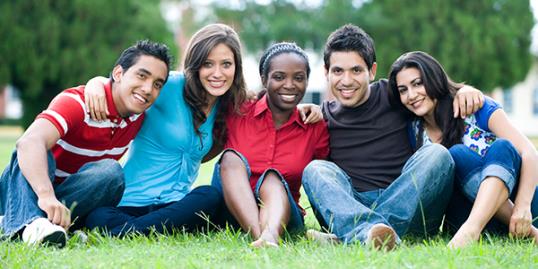 More on MSN Living: Are women really worth less than men?
Here are a few highlights of the Pew Research Center's recent report on race in America:
81 percent of whites and 73 percent of blacks say those two groups get along "very" or "pretty" well.

77 percent of whites and 74 percent of Hispanics said their groups got along well.

78 percent of African-Americans say blacks and Hispanics get along well; 61 percent of Hispanics agreed.

Whites have a less positive view of black-Hispanic relations than did blacks and Hispanics themselves.
Read the complete report here.
Tell us: What are your thoughts on this study? Do you agree or disagree?
Bing: Inspiring Martin Luther King Jr. quotes
Subscribe to the Daily Dose | Friend us on Facebook, follow us on Twitter and find us on Pinterest.
More in Daily Dose:
Munchies from marijuana festival fetch $50 online
NASA experiment to study twin astronauts
inspire: live a better life
Miss Manners considers when to celebrate milestones

Miss Manners provides guidance on meeting others

A look back on all of the tiny tasks that 30 years of technology has saved you from.

What sets you apart from everyone else looking for a new job or bigger paycheck? Your profile!

With all those deals you snagged on Black Friday, Small Business Saturday, and Cyber Monday, today is your chance to give back to those in need with #GivingTuesday.

Miss Manners provides guidance on how to handle a request for party contributions

Miss Manners instructs on why tit-for-tat never works

Miss Manners offers thoughts on guests who disregard dinner party instructions

Make big bucks, from home, having fun? These women got creative and figured out a way to have it all. You can too.

Your boss. You might like her, you probably respect her, but do you know how to approach someone who seems so different from you? (Spoiler: She's actually not.)

Over the weekend, Oprah decluttered her Montecito mansion and three other properties in a Santa Barbara yard sale that brought in more than $600,000(!). (Proceeds will benefit her girls' leadership academy in South Africa, and not half of a Crate and Barrel chair, the traditional end goal of yard-sale proceeds.)