Study: Race relations in the U.S. improving
How well do racial and ethnic groups get along these days?
According to a recent Pew Research Center study on race and ethnicity, most blacks, whites and Hispanics say they get along reasonably well with each other.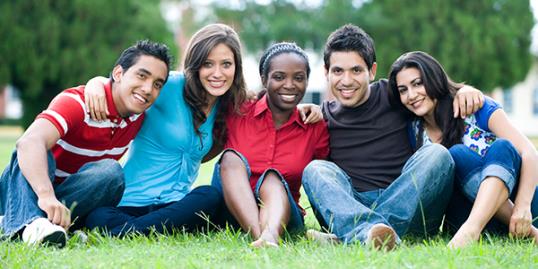 More on MSN Living: Are women really worth less than men?
Here are a few highlights of the Pew Research Center's recent report on race in America:
81 percent of whites and 73 percent of blacks say those two groups get along "very" or "pretty" well.

77 percent of whites and 74 percent of Hispanics said their groups got along well.

78 percent of African-Americans say blacks and Hispanics get along well; 61 percent of Hispanics agreed.

Whites have a less positive view of black-Hispanic relations than did blacks and Hispanics themselves.
Read the complete report here.
Tell us: What are your thoughts on this study? Do you agree or disagree?
Bing: Inspiring Martin Luther King Jr. quotes
Subscribe to the Daily Dose | Friend us on Facebook, follow us on Twitter and find us on Pinterest.
More in Daily Dose:
Munchies from marijuana festival fetch $50 online
NASA experiment to study twin astronauts
inspire: live a better life
From international roaming fees to skipping travel insurance, these mistakes can put a damper on your next vacation.

Where in the world do you want to go? Somewhere unique? Any of the places described here are sure to make your next world-travel adventure truly memorable.

It's easy to lead, but it takes courage and conviction to be a truly great leader. Here are 10 inspiring leaders and what we can learn from them.

Some say it's a small world. We beg to differ. Earth has so many wondrous places worth exploring, and most of us are lucky to see a handful of them. Here are 30 of the top trips of a lifetime.

The semi-annual glitch in your daily routine is back this weekend.

You'll stave off credit card debt by the end of the year if you account for these often-forgotten expenses.

Mark Zuckerberg has an even bigger effect on your life than you thought.

Take this advice to finally tackle that nagging to-do list.

The iconic storyteller would have been 110-years-old

Take the time to appreciate women's contributions to society. Here are some of the women who inspire us by their example.

Cast of the iconic TV show reunites for Florence Henderson's birthday

We couldn't be more excited to watch the best athletes in the world compete at the Winter Olympics in Sochi. This year, about 44 percent of the competitors are women according to the International Olympic Committee—which is awesome but wasn't always the case. Let's look back at some of the amazing women who paved the way with incredible, memorable feats of girl power.