When a country cannot read
A cautionary tale as US politicians make hay of education initiatives.
A report by UNESCO (United Nations Educational, Scientific and Cultural Organization) on the reading habits of nations ranked Mexico at number 107 of 108 countries. Socially, politically and economically, Mexico is struggling because so many of its citizens simply do not read.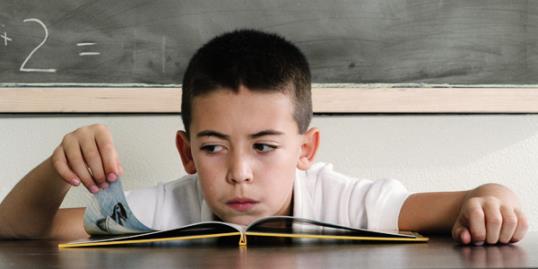 With President Obama's State Of The Union proposal to make high-quality preschool universal, education is being dragged back into the halls of government to get kicked around once again. It's painful to see an issue so core to our personal and national values politicized by Congress and exploited by news-hour talking heads to sow the seeds of divisiveness. But that's the game, and as faulted as our educational institutions are today, in truth you don't have to look far to find a nation with far bleaker prospects.
More from MSN Living: 2013 Good Housekeeping VIP (Very Innovative Products) Awards
In an op-ed piece for "The New York Times" entitled "The Country That Stopped Reading," writer David Toscana reveals the systemic illiteracy problems of our neighbor to the south, Mexico.
Bing: Smartest countries in the world
More children attend school in Mexico than ever before, Toscana explains, but they learn much less. He writes, "One cannot help but ask the Mexican educational system, 'How is it possible that I hand over a child for six hours every day, five days a week, and you give me back someone who is basically illiterate?'"
More from MSN Living: The powerful women who wear bangs
While Mexico's educational plight is far more dire than America's, there's a cautionary tale unwinding for us south of the border. The problem is not a matter of funding: Mexico spends more than 5 percent of its GDP on education, as the U.S. does. It's not a matter of personnel: there are plenty of teachers in Mexico, but they organize more strikes than any other workforce. Nor is it a matter of supplies and materials: books are produced en masse for schools and libraries, but sit unopened in warehouses.
By Toscana's assessment, the country has been unwilling to rethink a system despite living proof that it does not function, and unable to work around politicians who continuously run education reforms and initiatives into dead ends.
More from Daily Dose:
'Nasty effect' of user comments
Rights women still don't have
Languages on the endangered list
Love content like this? Friend us on Facebook, follow us on Twitter and find us on Pinterest
Photo: Mexico illiteracy / David Buffington/Getty Images
inspire: live a better life
Miss Manners advises on how to respond when one gets unsolicited advice about weight issues.

Editor's note: We will now be publishing Miss Manners articles twice weekly, but you will only see one question and answer per article. You can expect to see these articles appear on Tuesdays and Thursdays going forward.

President Harry S. Truman was behind efforts to establish the first Armed Forces Day in 1950, and decades later the nation continues to set aside the third Saturday in May to recognize and thank members of the U.S. military for their patriotic service. With these five homecoming images, we salute all service members at home and abroad.

There's much to be desired about working from home: the stress-free commute, flexible hours, and improved work-life balance.

Wishing for the fountain of youth? You may not need it. We've rounded up real-women secrets, tried-and-true beauty tips, and the latest research to help you fight aging.

Experts weigh in on when to bite your tongue at the office.

Oh, the places you'll go — to get some "me" time, that is. REDBOOK readers confess all on Facebook.

How much money you make isn't nearly as important as how you use it, according to Elizabeth Dunn and Michael Norton, authors of the new book Happy Money.

Plus, how do you ask people to not bring gifts to a shower?

Looking for a career upgrade? Follow these tips for a foot in the door.

These tanning and skin cancer myths aren't just wrong — they can do serious harm. Wise up and head into a healthier future. P.S. You'll look a lot younger too.

It's possible to rejigger your brain circuitry and feel more joy, even on Monday mornings. Here's how.