Government admits existence of Area 51
The Nevada site was a top-secret testing facility of the CIA.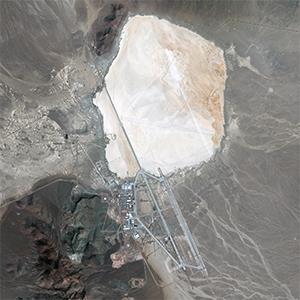 Newly declassified documents released under the Freedom of Information Act reveal that the CIA has indeed maintained a top-secret base at the famed Nevada site known as Area 51.
Conspiracy buffs, rejoice: You were right that the government was conducting highly classified tests deep in the Nevada desert. UFO buffs, though, may find the truth more stinging than an alien probe. The report makes no mention of extraterrestrial crash landings, Venutian corpses or recovered space ships. There have indeed been aircraft cloaked in secrecy at Area 51, but they were all developed by and for Earthlings. •
According to the documents, which were released to George Washington University's National Security Archive at the end of June, Area 51 had initially been used during World War II as an aerial gunnery range for the Army's Air Corps. In 1955, two Air Force officers and two employees of Lockheed (the aeronautics company renowned for developing military aircraft and aerospace weaponry) flying over the region in a small Beechcraft plane spotted an abandoned airstrip and set down nearby in the dry salt bed of Groom Lake.

They determined that the area would be an ideal place to test a new spy plane design, and President Eisenhower signed off on the plan. The U-2 was a high-altitude, long-range aircraft equipped with high-resolution cameras with the capability to photograph remote targets in the Soviet Union without being detected. Development and production of the U-2 and related spy planes continued for years by the CIA under the code name OXCART.

Was there ever any truth at all to the UFO sightings near Area 51? Well, unless you worked for the CIA or Lockheed, an OXCART aircraft would have been unidentifiable, and for sure it was a flying object. Never-before-seen planes with gleaming, metallic bellies prompted rumors and conjecture as the public reported strange sightings in the sky.
You can download the whole 407-page report, called "The U-2 and OXCART Programs, 1954–1977," from the National Security Archive. Sorry, alien lovers — the truth isn't out there. It's in here. 
Are you sure you want to delete this comment?
inspire: live a better life
Miss Manners considers when to celebrate milestones

Miss Manners provides guidance on meeting others

A look back on all of the tiny tasks that 30 years of technology has saved you from.

What sets you apart from everyone else looking for a new job or bigger paycheck? Your profile!

With all those deals you snagged on Black Friday, Small Business Saturday, and Cyber Monday, today is your chance to give back to those in need with #GivingTuesday.

Miss Manners provides guidance on how to handle a request for party contributions

Miss Manners instructs on why tit-for-tat never works

Miss Manners offers thoughts on guests who disregard dinner party instructions

Make big bucks, from home, having fun? These women got creative and figured out a way to have it all. You can too.

Your boss. You might like her, you probably respect her, but do you know how to approach someone who seems so different from you? (Spoiler: She's actually not.)

Over the weekend, Oprah decluttered her Montecito mansion and three other properties in a Santa Barbara yard sale that brought in more than $600,000(!). (Proceeds will benefit her girls' leadership academy in South Africa, and not half of a Crate and Barrel chair, the traditional end goal of yard-sale proceeds.)