Salary Tied To Self-Worth
A study says salary is best kept a secret.
Do you keep your salary a secret? There's no firm data on how many people do, but we'll venture a guess that most consider income a personal matter. It's irksome even when credit-card applications or marketing questionnaires ask for a salary range. We may be naturally curious to know what a friend or colleague is banking, but a polite adult never asks.
A study out of Madrid has concluded that knowing how much co-workers earn can lead to unhappiness.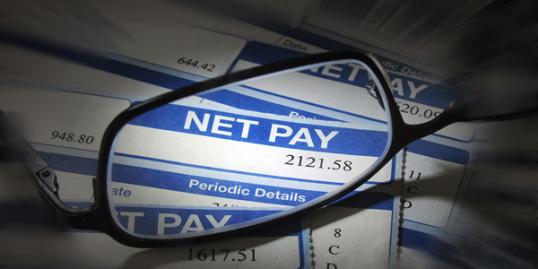 "One of the keys to happiness at work is earning a lot of money," the study summary reads, "but what is equally important, if not more important, is that our earnings not be inferior to those of our peers, that is, of the colleagues we compare ourselves to."
Like siblings vying for Mom and Dad's attention, the employees' gauge of how well a "parent" company regards them is all caught up in pay. It's how a business shows love, of a sort, and without it we feel undervalued. Even when the daily grind is not enjoyed or tied to personal passions, a conscientious worker still wants to be appreciated, regarded and rewarded. According to the study by Professor Eduardo Pérez Asenjo of Universidad Carlos III in Madrid, comparing one's income to the pay received by colleagues is an almost certain recipe for unhappiness (read the complete study here). Ed Lawler of USC's Marshall School of Business, who has also researched salary secrecy, has actually expressed an opposing view favoring salary transparency.
Lawler once explained to U.S. News & World Report that the lowest-paid employees at a company will rarely speak up about how much they make while big-number braggarts boast about their increases — leading to lopsided perceptions. "It turns out that people tend to overestimate the pay of others in a condition of secrecy," Lawler said. If Professor Pérez Asenjo is correct that our happiness is tied to a pay comparison, are you better off guessing at numbers or knowing the truth? 
The professor also found in his study that people with inferior earnings will work more hours in an effort to catch up to their peers. So not only are you feeling worse about yourself, you're dedicating more of your time to the source of your unhappiness. Seen another way, though, isn't this the nature of capitalist competition and a healthy work ethic? Hard work is expected to be rewarded. The employer gains the benefit of productivity, while the employee sees a salary increase and the positive feelings that come along with it. As long as an employer recognizes and rewards hard work — a big "what if" — it seems like there's a strong upside to having salary hogtied to self-worth.
Bing: How much does the average American earn?
Photo: Rosemary Roberts/Alamy
More from MSN Living:
10 Commandments for Texting a Guy
10 Secrets to a Happy Life
Glamour's Top 10 College Women 2012
Get Your Life Back in Order
inspire: live a better life
Summer and winter tend to hog all the glory when it comes to travel high seasons. Sure, you want to soak up all the time at the beach you can during the summer, and you just want to escape the cold during the last months of the year.

Who just wants to stand around and watch the red and gold leaves slowly fall from their tree branches to the ground as we move from summer to fall? Instead, take in the changing seasons while you're on the move.

In September, I'll turn 38. I'm at the age now where, when people ask how old I am, it takes me a minute to remember. I don't know if that's because I've already been 37 different ages and it's hard to keep straight which one I am now, or if it's because I'm in denial, or if it's because I am going senile. Maybe a combination of all of the above. Regardless, my 30s have flown by and soon they will be but a memory. So, in an effort to preserve the memory I have left (or at least keep a record of it), and to celebrate what has been an amazing decade so far, here are 30 things that have happened to me in my 30s (and will probably happen to you too):

Traveling doesn't have to be stressful. And what you can fit in your carry-on can make all the difference (and not just a fresh pair of socks), especially when you get that low battery signal.

Volunteering (and these other rituals) might be just as good as exercise when it comes to extending your life.

Use these tricks to set a better tone for the rest of the week.

Whether it involves a food fight, mermaids or a torch-lit procession, people the world over know how to have a good time. Here are some of the biggest, boldest, booziest celebrations around, along with some tips to get the full experience.

Research could mean more effective treatment for human disorders.

An entry a day might keep the doctor away (or at least the shrink).

One woman's shout-outs to daily moments of joy — and how to cultivate them.

Our best health and fitness tips including the one move that tones all, berry news, and more.