Nazi-themed cafe sparks controversy in Indonesia
The cafe sports Nazi-related memorabilia, including a large flag with a swastika.
BANDUNG, Indonesia (AP) — Authorities in central Indonesia will ask a restaurant owner to explain his reasons for opening a Nazi-themed cafe that has sparked controversy among locals and tourists, an official said Thursday.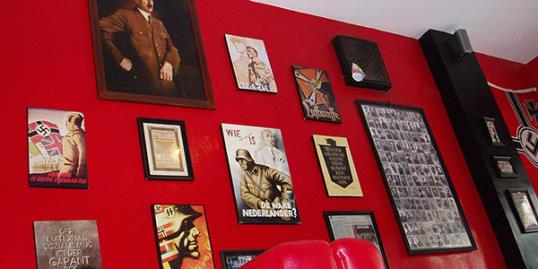 Soldatenkaffee includes a red wall of Nazi-related memorabilia, including a large flag with the swastika and a giant picture of Adolf Hitler. Its wait staff dresses in SS, or Schutzstaffel, military uniforms, and can be seen posing in front of the cafe on its Facebook page.
MSN Living: 30 things you should know before you are 30
The cafe, located in the West Java provincial capital of Bandung, one of Indonesia's tourist destination cities, has been open since April 2011. But a recent article in a local English-language newspaper has prompted angry responses from some foreigners and Indonesians on social networking sites.
Bing: University apologizes for Hitler banner
Ayi Vivananda, deputy mayor of Bandung, said a letter was sent Thursday summoning cafe owner Henry Mulyana to meet with officials to discuss his motives for opening the cafe and whether his objective was to incite racial hatred.
"Those symbols are internationally recognized to represent violence and racism," Vivananda said.
Mulyana says his objective was not to breed hatred. Instead, he said he wanted to decorate his restaurant with Nazi symbols to attract customers, both local and foreigners.
MSN News: Neo-Nazi 'Werewolf Squad' raided by German police
He also denied being pro-Nazi or supporting Hitler, responsible for the deaths of some 6 million Jews during World War II.
"I'm just a businessman, not a politician," Mulyana said. "I have a right to design my restaurant with anything that attracts people to come. I'm sure that I'm not violating any laws."
He said the recent controversy has forced him to temporarily close his restaurant. He declined to say whether he would consider changing the Nazi theme if authorities requested him to do so.
"Let's wait and see," he said. "I don't want the workers here to lose their jobs."
More from The Daily Dose:
Zimmerman juror shares shocking insights to trial
600 in NY set record for big human playing card
Running of the bulls: A too-dangerous tradition?
Subscribe to the Daily Dose | Friend us on Facebook, follow us on Twitter and find us on Pinterest.
Photo: Nazi-related memorabilia hanging on a wall at Soldatenkaffe restaurant in Bandung, West Java, Indonesia. (AP)
inspire: live a better life
Summer and winter tend to hog all the glory when it comes to travel high seasons. Sure, you want to soak up all the time at the beach you can during the summer, and you just want to escape the cold during the last months of the year.

Who just wants to stand around and watch the red and gold leaves slowly fall from their tree branches to the ground as we move from summer to fall? Instead, take in the changing seasons while you're on the move.

In September, I'll turn 38. I'm at the age now where, when people ask how old I am, it takes me a minute to remember. I don't know if that's because I've already been 37 different ages and it's hard to keep straight which one I am now, or if it's because I'm in denial, or if it's because I am going senile. Maybe a combination of all of the above. Regardless, my 30s have flown by and soon they will be but a memory. So, in an effort to preserve the memory I have left (or at least keep a record of it), and to celebrate what has been an amazing decade so far, here are 30 things that have happened to me in my 30s (and will probably happen to you too):

Traveling doesn't have to be stressful. And what you can fit in your carry-on can make all the difference (and not just a fresh pair of socks), especially when you get that low battery signal.

Volunteering (and these other rituals) might be just as good as exercise when it comes to extending your life.

Use these tricks to set a better tone for the rest of the week.

Whether it involves a food fight, mermaids or a torch-lit procession, people the world over know how to have a good time. Here are some of the biggest, boldest, booziest celebrations around, along with some tips to get the full experience.

Research could mean more effective treatment for human disorders.

An entry a day might keep the doctor away (or at least the shrink).

One woman's shout-outs to daily moments of joy — and how to cultivate them.

Our best health and fitness tips including the one move that tones all, berry news, and more.