Nazi-themed cafe sparks controversy in Indonesia
The cafe sports Nazi-related memorabilia, including a large flag with a swastika.
BANDUNG, Indonesia (AP) — Authorities in central Indonesia will ask a restaurant owner to explain his reasons for opening a Nazi-themed cafe that has sparked controversy among locals and tourists, an official said Thursday.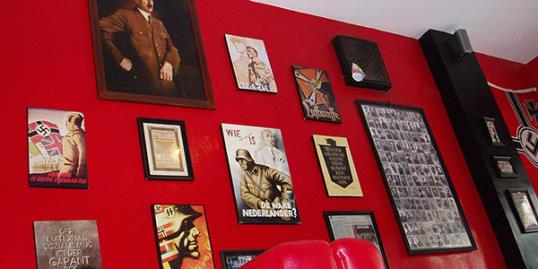 Soldatenkaffee includes a red wall of Nazi-related memorabilia, including a large flag with the swastika and a giant picture of Adolf Hitler. Its wait staff dresses in SS, or Schutzstaffel, military uniforms, and can be seen posing in front of the cafe on its Facebook page.
MSN Living: 30 things you should know before you are 30
The cafe, located in the West Java provincial capital of Bandung, one of Indonesia's tourist destination cities, has been open since April 2011. But a recent article in a local English-language newspaper has prompted angry responses from some foreigners and Indonesians on social networking sites.
Bing: University apologizes for Hitler banner
Ayi Vivananda, deputy mayor of Bandung, said a letter was sent Thursday summoning cafe owner Henry Mulyana to meet with officials to discuss his motives for opening the cafe and whether his objective was to incite racial hatred.
"Those symbols are internationally recognized to represent violence and racism," Vivananda said.
Mulyana says his objective was not to breed hatred. Instead, he said he wanted to decorate his restaurant with Nazi symbols to attract customers, both local and foreigners.
MSN News: Neo-Nazi 'Werewolf Squad' raided by German police
He also denied being pro-Nazi or supporting Hitler, responsible for the deaths of some 6 million Jews during World War II.
"I'm just a businessman, not a politician," Mulyana said. "I have a right to design my restaurant with anything that attracts people to come. I'm sure that I'm not violating any laws."
He said the recent controversy has forced him to temporarily close his restaurant. He declined to say whether he would consider changing the Nazi theme if authorities requested him to do so.
"Let's wait and see," he said. "I don't want the workers here to lose their jobs."
More from The Daily Dose:
Zimmerman juror shares shocking insights to trial
600 in NY set record for big human playing card
Running of the bulls: A too-dangerous tradition?
Subscribe to the Daily Dose | Friend us on Facebook, follow us on Twitter and find us on Pinterest.
Photo: Nazi-related memorabilia hanging on a wall at Soldatenkaffe restaurant in Bandung, West Java, Indonesia. (AP)
inspire: live a better life
How much do you really know about the Earth? In honor of Earth Day, April 22, we explore some interesting and fun facts about the fifth-largest planet of our solar system.

Happify shares their results of a recent study on how money affects our happiness.

A top exec reveals the company's secret code

Pro tips from the guy who's done it four times

Not all mistakes are as blatant as posting party pics when you're 'sick' at home.

Everyone struggles through weekday drudgery to reach their weekend fun. But what if you could reclaim every day of your life?

Zooming up the ladder is great, but questioning yourself 24/7 is no way to succeed. Manage your stressed self with these surefire tips.

Forget trying to control every little detail. Life is lots more fun (and less stressful) when you let go from the get-go.

So, what exactly is this thing we call "happiness" and how do we get it?

Mark Zuckerberg has an even bigger effect on your life than you thought.

Everyone makes mistakes, but some mistakes can be devastating. Here are 10 icons who fell from grace, and what they can do to redeem themselves.

Twitter turns eight years old today.