Nazi-themed cafe sparks controversy in Indonesia
The cafe sports Nazi-related memorabilia, including a large flag with a swastika.
BANDUNG, Indonesia (AP) — Authorities in central Indonesia will ask a restaurant owner to explain his reasons for opening a Nazi-themed cafe that has sparked controversy among locals and tourists, an official said Thursday.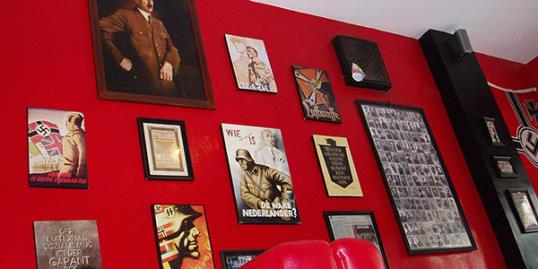 Soldatenkaffee includes a red wall of Nazi-related memorabilia, including a large flag with the swastika and a giant picture of Adolf Hitler. Its wait staff dresses in SS, or Schutzstaffel, military uniforms, and can be seen posing in front of the cafe on its Facebook page.
MSN Living: 30 things you should know before you are 30
The cafe, located in the West Java provincial capital of Bandung, one of Indonesia's tourist destination cities, has been open since April 2011. But a recent article in a local English-language newspaper has prompted angry responses from some foreigners and Indonesians on social networking sites.
Bing: University apologizes for Hitler banner
Ayi Vivananda, deputy mayor of Bandung, said a letter was sent Thursday summoning cafe owner Henry Mulyana to meet with officials to discuss his motives for opening the cafe and whether his objective was to incite racial hatred.
"Those symbols are internationally recognized to represent violence and racism," Vivananda said.
Mulyana says his objective was not to breed hatred. Instead, he said he wanted to decorate his restaurant with Nazi symbols to attract customers, both local and foreigners.
MSN News: Neo-Nazi 'Werewolf Squad' raided by German police
He also denied being pro-Nazi or supporting Hitler, responsible for the deaths of some 6 million Jews during World War II.
"I'm just a businessman, not a politician," Mulyana said. "I have a right to design my restaurant with anything that attracts people to come. I'm sure that I'm not violating any laws."
He said the recent controversy has forced him to temporarily close his restaurant. He declined to say whether he would consider changing the Nazi theme if authorities requested him to do so.
"Let's wait and see," he said. "I don't want the workers here to lose their jobs."
More from The Daily Dose:
Zimmerman juror shares shocking insights to trial
600 in NY set record for big human playing card
Running of the bulls: A too-dangerous tradition?
Subscribe to the Daily Dose | Friend us on Facebook, follow us on Twitter and find us on Pinterest.
Photo: Nazi-related memorabilia hanging on a wall at Soldatenkaffe restaurant in Bandung, West Java, Indonesia. (AP)
inspire: live a better life
Use these bucket-list ideas to enjoy the little time you have left.

Study points to benefits of improved living conditions.

Don't leave home without these must-have items.

Handshakes spread 20 times more germs, study says.

Drowning in debt? Maybe there's a silver lining.

"But it's not real life, you know. It's a vacation."

Our list of must-dos before hitting the road.

Summer traditions can be great, but if you're on year six of packing the same people into the same car to go on the same vacation, it's time to switch things up. Surfing in Portugal, perhaps – or cycling through Northern Ireland. We've put together a list of 15 places well off the beaten path that you should go to when you're ready to try something new.

Grab a sleeping bag and head out to one of these amazing campsites.

A dozen adventures that are well worth the trip.

Paper downplays the significance of practice over raw talent.

Survey says American teens aren't great at complex or basic financial tasks.