Nazi-themed cafe sparks controversy in Indonesia
The cafe sports Nazi-related memorabilia, including a large flag with a swastika.
BANDUNG, Indonesia (AP) — Authorities in central Indonesia will ask a restaurant owner to explain his reasons for opening a Nazi-themed cafe that has sparked controversy among locals and tourists, an official said Thursday.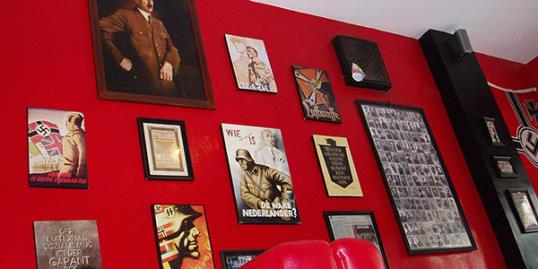 Soldatenkaffee includes a red wall of Nazi-related memorabilia, including a large flag with the swastika and a giant picture of Adolf Hitler. Its wait staff dresses in SS, or Schutzstaffel, military uniforms, and can be seen posing in front of the cafe on its Facebook page.
MSN Living: 30 things you should know before you are 30
The cafe, located in the West Java provincial capital of Bandung, one of Indonesia's tourist destination cities, has been open since April 2011. But a recent article in a local English-language newspaper has prompted angry responses from some foreigners and Indonesians on social networking sites.
Bing: University apologizes for Hitler banner
Ayi Vivananda, deputy mayor of Bandung, said a letter was sent Thursday summoning cafe owner Henry Mulyana to meet with officials to discuss his motives for opening the cafe and whether his objective was to incite racial hatred.
"Those symbols are internationally recognized to represent violence and racism," Vivananda said.
Mulyana says his objective was not to breed hatred. Instead, he said he wanted to decorate his restaurant with Nazi symbols to attract customers, both local and foreigners.
MSN News: Neo-Nazi 'Werewolf Squad' raided by German police
He also denied being pro-Nazi or supporting Hitler, responsible for the deaths of some 6 million Jews during World War II.
"I'm just a businessman, not a politician," Mulyana said. "I have a right to design my restaurant with anything that attracts people to come. I'm sure that I'm not violating any laws."
He said the recent controversy has forced him to temporarily close his restaurant. He declined to say whether he would consider changing the Nazi theme if authorities requested him to do so.
"Let's wait and see," he said. "I don't want the workers here to lose their jobs."
More from The Daily Dose:
Zimmerman juror shares shocking insights to trial
600 in NY set record for big human playing card
Running of the bulls: A too-dangerous tradition?
Subscribe to the Daily Dose | Friend us on Facebook, follow us on Twitter and find us on Pinterest.
Photo: Nazi-related memorabilia hanging on a wall at Soldatenkaffe restaurant in Bandung, West Java, Indonesia. (AP)
inspire: live a better life
With all those deals you snagged on Black Friday, Small Business Saturday, and Cyber Monday, today is your chance to give back to those in need with #GivingTuesday.

Miss Manners provides guidance on how to handle a request for party contributions

Miss Manners instructs on why tit-for-tat never works

Miss Manners offers thoughts on guests who disregard dinner party instructions

Make big bucks, from home, having fun? These women got creative and figured out a way to have it all. You can too.

Your boss. You might like her, you probably respect her, but do you know how to approach someone who seems so different from you? (Spoiler: She's actually not.)

Over the weekend, Oprah decluttered her Montecito mansion and three other properties in a Santa Barbara yard sale that brought in more than $600,000(!). (Proceeds will benefit her girls' leadership academy in South Africa, and not half of a Crate and Barrel chair, the traditional end goal of yard-sale proceeds.)

Exclusively for MSN, we bring you a six-part series from the new book: MISS MANNERS MINDS YOUR BUSINESS by Judith and Nicholas Ivor Martin.

Miss Manners weighs in on the financial burdens of remote weddings

How Miss Manners suggests dealing with out of town guest who want tour guide services

Exclusively for MSN, we bring you a six-part series from the new book: MISS MANNERS MINDS YOUR BUSINESS by Judith and Nicholas Ivor Martin.