Does telecommuting actually increase productivity?
Yahoo! CEO bans flexible work environments, although studies suggest flexible work environments benefit both corporations and individuals.
Studies show that telecommuting is on the rise and the tangible benefits of a flexible work environment.
Some 30 million people work from a home office at least once a week. In the next five years, that number is expected to increase by 63 percent, according to a study by the Telework Research Network.
Since a memo leaked on Friday pulling the plug on Yahoo!'s work-at-home policy, the decision has come under fire from tech blogs, working mothers, and even Sir Richard Branson.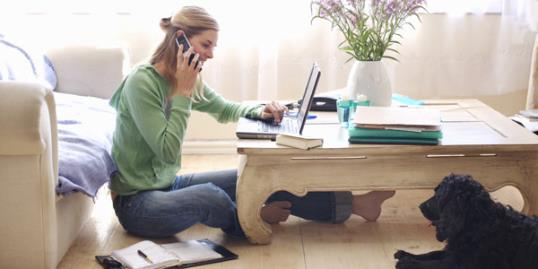 Many people believe this latest stunt from Marissa Mayer is the worst decision the world's most famous working mother has made in her tenure as Yahoo! chief executive
"As an employer, restricting your hiring to a small geographic region means you're not getting the best people you can," writes David Heinemeier Hansson and Jason Fried, founders of 37signals and authors of "REMOTE: Office Not Required" (Crown, March 2013). "As an employee, restricting your job search to companies within a reasonable commute means you're not working for the best company you can."
Research out of Stanford University indicates that super-productive employees work their best from home, not in the office.
To study whether employees are more or less productive at home or in the office, the researchers created perhaps the first randomized study of remote work at Ctrip, a travel agency in Shanghai, China with 13,000 employees.
More from MSN Living: 2013 Good Housekeeping VIP (Very Innovative Products) Awards
In its coverage of the 9-month study, Wired found:
Those who worked at home had a 12 percent increase in productivity over their peers.
This group had a 50 percent drop in attrition and reported higher feelings of work satisfaction than those who reported to the office.

Of that (12 percent) increase, 8.5 percent came from working more hours (due to shorter breaks and fewer sick days).
3.5 percent came from more performance per minute.
More from MSN Living: 7 easy ways to better sleep
"Work schedules are not always a one-size fits all type of approach so there are definitely benefits to workplace flexibility," says Deborah Sweeney, CEO of MyCorporation.com. "Many positions necessitate a presence in the office, but you may actually get more out of your employees when they have more flexible schedules."
Though they seem to be in the minority, some people believe Mayer is making the right call.
"For what it's worth, I support the no working from home rule. There's a ton of abuse of that at Yahoo. Something specific to the company," a former Yahoo engineer told Business Insider.
Do you think those who work from home are more productive employees than those who put in time at the office?
Bing: The benefits of flexible workspaces
More from The Daily Dose:
What will get you banned from Facebook?
Homeless man lives with dead people for 15 years
All about 3D printing
Love content like this? Friend us on Facebook, follow us on Twitter and find us on Pinterest
Photo: Ken Wramton/Getty Images
inspire: live a better life
Summer and winter tend to hog all the glory when it comes to travel high seasons. Sure, you want to soak up all the time at the beach you can during the summer, and you just want to escape the cold during the last months of the year.

Who just wants to stand around and watch the red and gold leaves slowly fall from their tree branches to the ground as we move from summer to fall? Instead, take in the changing seasons while you're on the move.

In September, I'll turn 38. I'm at the age now where, when people ask how old I am, it takes me a minute to remember. I don't know if that's because I've already been 37 different ages and it's hard to keep straight which one I am now, or if it's because I'm in denial, or if it's because I am going senile. Maybe a combination of all of the above. Regardless, my 30s have flown by and soon they will be but a memory. So, in an effort to preserve the memory I have left (or at least keep a record of it), and to celebrate what has been an amazing decade so far, here are 30 things that have happened to me in my 30s (and will probably happen to you too):

Traveling doesn't have to be stressful. And what you can fit in your carry-on can make all the difference (and not just a fresh pair of socks), especially when you get that low battery signal.

Volunteering (and these other rituals) might be just as good as exercise when it comes to extending your life.

Use these tricks to set a better tone for the rest of the week.

Whether it involves a food fight, mermaids or a torch-lit procession, people the world over know how to have a good time. Here are some of the biggest, boldest, booziest celebrations around, along with some tips to get the full experience.

Research could mean more effective treatment for human disorders.

An entry a day might keep the doctor away (or at least the shrink).

One woman's shout-outs to daily moments of joy — and how to cultivate them.

Our best health and fitness tips including the one move that tones all, berry news, and more.