Do Gadgets Really Endanger Airplane Safety?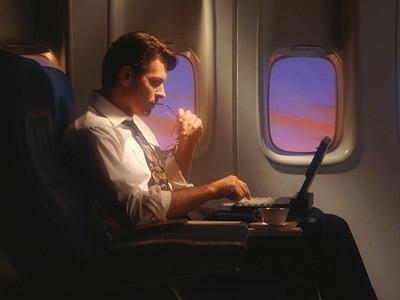 There's a great exchange in an airplane scene from the pilot episode of
The West Wing
, the NBC series about a fictional presidency. The perpetually crabby communications director, Toby Ziegler, gets an important message from a stewardess and picks up his cell phone to respond.
STEWARDESS: You can't use your phone until we land, sir.

TOBY: We're flying in a Lockheed Eagle series L-1011. It came off the line 20 months ago and carries a Sim-5 Transponder tracking system. Are you telling me I can still flummox this thing with something I bought at Radio Shack?

It's a legitimate gripe — even more legit than working for the White House and still having to buy your own cell phone. There are plenty of us Tobys boarding flights every day and wondering how flipping on a phone, tablet or laptop could possibly result in a perilous loss of altitude.

As The Wall Street Journal recently noted in a related article, Federal Aviation Administration restrictions prohibiting the use of personal electronics during takeoff and landing date back to 1991, motivated by the concern among pilots and flight crews that such devices could affect navigation equipment or disrupt communications between the crew and ground control. But the suspected problems have never officially been verified, and the fact that countless travelers accidentally leave devices on or knowingly defy the rules outright suggests that the restrictions may have no basis in reality. The increasing number of pilots using iPads to replace hefty aircraft manuals may also be contributing to the FAA's weighing of convenience against questionable restrictions.

The truth is that nobody is really sure whether personal electronics pose a threat to aircraft safety. But the FAA aims to find out. Aware that the public is increasingly attached to electronics like a patient on a respirator, unwilling to pull the plug and have the world go dark, the FAA recently announced their plan to study whether portable electronics can be used safely during all phases of a flight, including takeoff and landing. And in an example of democracy that should make you proud to live in America, even if the political dialogue is not scripted by Aaron Sorkin, the Feds want to know what you think. On the site www.regulations.gov ("Your Voice in Federal Decision-Making"), the public has been invited to comment on the use of cell phones and other portable electronic devices onboard aircraft. Note that the input of informed engineers and communication experts will probably be considered more seriously than those professing an urgent need to play Angry Birds as the landing gear goes up. Check back with The Daily Dose for the results of the FAA's findings, expected at the end of February 2013.
Photo: Jay Silverman Productions/Getty Images
More on MSN Living:
17 Outfit Ideas Guys LOVE
The Top 20 Beauty Trends We Hope Never Come Back
15 Secrets of Happy Couples


inspire: live a better life
Summer traditions can be great, but if you're on year six of packing the same people into the same car to go on the same vacation, it's time to switch things up. Surfing in Portugal, perhaps – or cycling through Northern Ireland. We've put together a list of 15 places well off the beaten path that you should go to when you're ready to try something new.

Grab a sleeping bag and head out to one of these amazing campsites.

A dozen adventures that are well worth the trip.

Paper downplays the significance of practice over raw talent.

Survey says American teens aren't great at complex or basic financial tasks.

Fear of Moving Away: How to conquer the latest cultural anxiety and embrace the unknown.

Adulthood has no eureka moment.

Just like your body, your brain needs a regular workout too.

Being a winner is a good feeling to have — especially in life. Winning doesn't solely relate to competitions or Charlie Sheen's coining of the term back in 2011. From achieving success to maintaining a work-life balance, find out what characteristics mean your life is going the way it should be. You may just even find an inspiration or two that you'll want to incorporate into your daily routine!

Sometimes it seems like you need a vacation from your vacation.

That'll get you and your 2 kids a house, SUV, and more, per a 'USA Today' analysis.

While most of us associate the Fourth of July with fireworks and barbecue (and taking a long weekend off from work), it's also an important day to give thanks to the people who help keep us safe.