Do Gadgets Really Endanger Airplane Safety?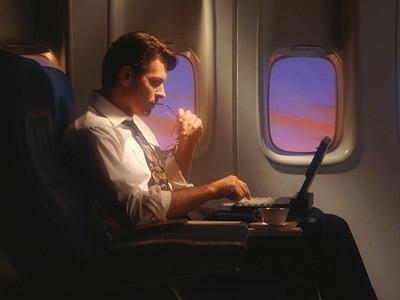 There's a great exchange in an airplane scene from the pilot episode of
The West Wing
, the NBC series about a fictional presidency. The perpetually crabby communications director, Toby Ziegler, gets an important message from a stewardess and picks up his cell phone to respond.
STEWARDESS: You can't use your phone until we land, sir.

TOBY: We're flying in a Lockheed Eagle series L-1011. It came off the line 20 months ago and carries a Sim-5 Transponder tracking system. Are you telling me I can still flummox this thing with something I bought at Radio Shack?

It's a legitimate gripe — even more legit than working for the White House and still having to buy your own cell phone. There are plenty of us Tobys boarding flights every day and wondering how flipping on a phone, tablet or laptop could possibly result in a perilous loss of altitude.

As The Wall Street Journal recently noted in a related article, Federal Aviation Administration restrictions prohibiting the use of personal electronics during takeoff and landing date back to 1991, motivated by the concern among pilots and flight crews that such devices could affect navigation equipment or disrupt communications between the crew and ground control. But the suspected problems have never officially been verified, and the fact that countless travelers accidentally leave devices on or knowingly defy the rules outright suggests that the restrictions may have no basis in reality. The increasing number of pilots using iPads to replace hefty aircraft manuals may also be contributing to the FAA's weighing of convenience against questionable restrictions.

The truth is that nobody is really sure whether personal electronics pose a threat to aircraft safety. But the FAA aims to find out. Aware that the public is increasingly attached to electronics like a patient on a respirator, unwilling to pull the plug and have the world go dark, the FAA recently announced their plan to study whether portable electronics can be used safely during all phases of a flight, including takeoff and landing. And in an example of democracy that should make you proud to live in America, even if the political dialogue is not scripted by Aaron Sorkin, the Feds want to know what you think. On the site www.regulations.gov ("Your Voice in Federal Decision-Making"), the public has been invited to comment on the use of cell phones and other portable electronic devices onboard aircraft. Note that the input of informed engineers and communication experts will probably be considered more seriously than those professing an urgent need to play Angry Birds as the landing gear goes up. Check back with The Daily Dose for the results of the FAA's findings, expected at the end of February 2013.
Photo: Jay Silverman Productions/Getty Images
More on MSN Living:
17 Outfit Ideas Guys LOVE
The Top 20 Beauty Trends We Hope Never Come Back
15 Secrets of Happy Couples


inspire: live a better life
Summer and winter tend to hog all the glory when it comes to travel high seasons. Sure, you want to soak up all the time at the beach you can during the summer, and you just want to escape the cold during the last months of the year.

Who just wants to stand around and watch the red and gold leaves slowly fall from their tree branches to the ground as we move from summer to fall? Instead, take in the changing seasons while you're on the move.

In September, I'll turn 38. I'm at the age now where, when people ask how old I am, it takes me a minute to remember. I don't know if that's because I've already been 37 different ages and it's hard to keep straight which one I am now, or if it's because I'm in denial, or if it's because I am going senile. Maybe a combination of all of the above. Regardless, my 30s have flown by and soon they will be but a memory. So, in an effort to preserve the memory I have left (or at least keep a record of it), and to celebrate what has been an amazing decade so far, here are 30 things that have happened to me in my 30s (and will probably happen to you too):

Traveling doesn't have to be stressful. And what you can fit in your carry-on can make all the difference (and not just a fresh pair of socks), especially when you get that low battery signal.

Volunteering (and these other rituals) might be just as good as exercise when it comes to extending your life.

Use these tricks to set a better tone for the rest of the week.

Whether it involves a food fight, mermaids or a torch-lit procession, people the world over know how to have a good time. Here are some of the biggest, boldest, booziest celebrations around, along with some tips to get the full experience.

Research could mean more effective treatment for human disorders.

An entry a day might keep the doctor away (or at least the shrink).

One woman's shout-outs to daily moments of joy — and how to cultivate them.

Our best health and fitness tips including the one move that tones all, berry news, and more.