911 call: 'Proof of bigfoot'
Evidence in the woods of Pennsylvania prompts a police investigation.
The 911 call came into authorities in Altoona, a small city in the Allegheny mountains of Pennsylvania.
Someone had proof of bigfoot.
A man had been walking on a path in the woods when he came upon the evidence. Mr. John Winesickle was convinced enough of his finding to call police and insist an officer investigate.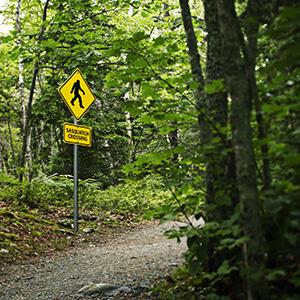 Winesickle shared his evidence: a series of photographs of enormous footprints clearly stamped in the mud, each big and deep enough to suggest a creature of monstrous size and weight. The officer was taken into the woods to see the tracks for himself.
Gallery: Memorial Day: Behind its meaning and traditions
According to a police report, the investigating officer determined the tracks belonged to a bear. But Winesickle says no way.
"No, no, no, no," he told an interviewer from central Pennsylvania's WTAJ television. "A bear can't go down a steep bank on all twos. This is bigfoot."
Winesickle also said he walks in the area regularly and has heard bigfoot's deep growl before, apparently in warning when he came too close to the creature in hiding. He's never caught a glimpse, but Winesickle is unshakeable in his belief that he has heard the voice and seen the tracks of bigfoot.
Bing video: Watch tales of bigfoot sightings
Bigfoot sightings are more prominent in the Pacific Northwest, though the Pennsylvania Bigfoot Society has amassed an archive of reports over the years. Pennsylvania neighbors Ohio, the state with the fourth most sightings. In 2007, unclear photos captured by an Elk County deer hunter depicted a dark and strange creature lumbering through the night in Allegheny National Forest. The Bigfoot Field Researchers Organization reviewed the images and said they believed the image is of a juvenile Sasquatch. Park rangers said it was a skinny bear.
Tell us on Facebook: Do you think Bigfoot exists?
Gallery: 11 modern wedding color schemes
More from Daily Dose:
Disaster preparedness: Everything you need to know
Harry Potter book with author notes sold for $228K
Ferris wheel world record broken in Chicago
Love content like this? Friend us on Facebook, follow us on Twitter and find us on Pinterest.
Photo: David Muir/Getty Images

inspire: live a better life
No one looks forward to washing windows or storing the ski gear or the other chores associated with spring-cleaning. But this annual ritual does not have to be a drag, if you approach it in a slightly different way. "You've been cooped up with this cave-like mentality all winter; now it's time to break free and play," says R.D. Chin, a feng shui architect and consultant in New York City. "It's time to follow the cycle of nature, get rid of the clutter, and free up your mind." Here's our idea of what a truly effective spring-cleaning can look like.

American presidents garner most votes over celebrities in a poll ranking the 100 most significant citizens.

Heading to a world-class beach town is always a safe bet for a great vacation, but if you want something that tests your limits, consider a more extreme spot. Here are 10 places around the world that require a winter coat year-round and offer spectacular glaciers, ice features, and the best snow anywhere.

From the Grand Canyon to the Statue of Liberty, the U.S. boasts world-famous national parks, historical sites and landmarks. Beyond the well-known locations, there's a wealth of undiscovered destinations stretching from coast to coast worth visiting. From scenic sand dunes to wild mountains, here's 51 places within America that you've probably never heard of.

How much do you really know about the Earth? In honor of Earth Day, April 22, we explore some interesting and fun facts about the fifth-largest planet of our solar system.

Most of the stuff we worry about never happens.

You've written an email, and need to wrap it up. You could end with a simple "Sincerely," tack on your name, and then shoot it out the door, proving definitively that you suck at communication.

Here are nine of the most extreme trips on the planet -- and the outfitters that take adventurers over the edge and back again.

A true challenge is within your reach. All it takes is a few months to get in shape and a few days off work.

Think you got what it takes to be included in the pages of the Guinness Book of World Records? We consult one of the judges to help you on your quest.

Just a few years ago, the term "home automation" meant a bunch of blinking lights and a headache. But thanks to simpler interfaces and the rise of smartphones, new tech can transform your house into a safer, more comfortable, less wasteful place.

If you're like most people, flying around in a big metal tube in the sky isn't your idea of a fun time. From the terrible food to the cramped space, flying can be a miserable experience. Don't make the flight even more soul-sucking by breaking airplane etiquette. We've compiled a list of the worst-inflight offenders. by Rebecca Pattee