911 call: 'Proof of bigfoot'
Evidence in the woods of Pennsylvania prompts a police investigation.
The 911 call came into authorities in Altoona, a small city in the Allegheny mountains of Pennsylvania.
Someone had proof of bigfoot.
A man had been walking on a path in the woods when he came upon the evidence. Mr. John Winesickle was convinced enough of his finding to call police and insist an officer investigate.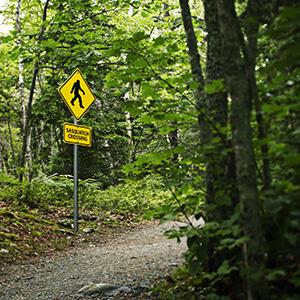 Winesickle shared his evidence: a series of photographs of enormous footprints clearly stamped in the mud, each big and deep enough to suggest a creature of monstrous size and weight. The officer was taken into the woods to see the tracks for himself.
Gallery: Memorial Day: Behind its meaning and traditions
According to a police report, the investigating officer determined the tracks belonged to a bear. But Winesickle says no way.
"No, no, no, no," he told an interviewer from central Pennsylvania's WTAJ television. "A bear can't go down a steep bank on all twos. This is bigfoot."
Winesickle also said he walks in the area regularly and has heard bigfoot's deep growl before, apparently in warning when he came too close to the creature in hiding. He's never caught a glimpse, but Winesickle is unshakeable in his belief that he has heard the voice and seen the tracks of bigfoot.
Bing video: Watch tales of bigfoot sightings
Bigfoot sightings are more prominent in the Pacific Northwest, though the Pennsylvania Bigfoot Society has amassed an archive of reports over the years. Pennsylvania neighbors Ohio, the state with the fourth most sightings. In 2007, unclear photos captured by an Elk County deer hunter depicted a dark and strange creature lumbering through the night in Allegheny National Forest. The Bigfoot Field Researchers Organization reviewed the images and said they believed the image is of a juvenile Sasquatch. Park rangers said it was a skinny bear.
Tell us on Facebook: Do you think Bigfoot exists?
Gallery: 11 modern wedding color schemes
More from Daily Dose:
Disaster preparedness: Everything you need to know
Harry Potter book with author notes sold for $228K
Ferris wheel world record broken in Chicago
Love content like this? Friend us on Facebook, follow us on Twitter and find us on Pinterest.
Photo: David Muir/Getty Images

inspire: live a better life
Summer and winter tend to hog all the glory when it comes to travel high seasons. Sure, you want to soak up all the time at the beach you can during the summer, and you just want to escape the cold during the last months of the year.

Who just wants to stand around and watch the red and gold leaves slowly fall from their tree branches to the ground as we move from summer to fall? Instead, take in the changing seasons while you're on the move.

In September, I'll turn 38. I'm at the age now where, when people ask how old I am, it takes me a minute to remember. I don't know if that's because I've already been 37 different ages and it's hard to keep straight which one I am now, or if it's because I'm in denial, or if it's because I am going senile. Maybe a combination of all of the above. Regardless, my 30s have flown by and soon they will be but a memory. So, in an effort to preserve the memory I have left (or at least keep a record of it), and to celebrate what has been an amazing decade so far, here are 30 things that have happened to me in my 30s (and will probably happen to you too):

Traveling doesn't have to be stressful. And what you can fit in your carry-on can make all the difference (and not just a fresh pair of socks), especially when you get that low battery signal.

Volunteering (and these other rituals) might be just as good as exercise when it comes to extending your life.

Use these tricks to set a better tone for the rest of the week.

Whether it involves a food fight, mermaids or a torch-lit procession, people the world over know how to have a good time. Here are some of the biggest, boldest, booziest celebrations around, along with some tips to get the full experience.

Research could mean more effective treatment for human disorders.

An entry a day might keep the doctor away (or at least the shrink).

One woman's shout-outs to daily moments of joy — and how to cultivate them.

Our best health and fitness tips including the one move that tones all, berry news, and more.