911 call: 'Proof of bigfoot'
Evidence in the woods of Pennsylvania prompts a police investigation.
The 911 call came into authorities in Altoona, a small city in the Allegheny mountains of Pennsylvania.
Someone had proof of bigfoot.
A man had been walking on a path in the woods when he came upon the evidence. Mr. John Winesickle was convinced enough of his finding to call police and insist an officer investigate.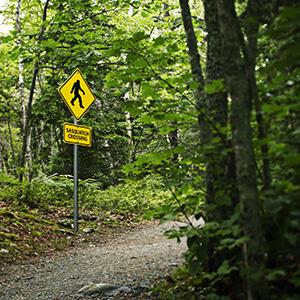 Winesickle shared his evidence: a series of photographs of enormous footprints clearly stamped in the mud, each big and deep enough to suggest a creature of monstrous size and weight. The officer was taken into the woods to see the tracks for himself.
Gallery: Memorial Day: Behind its meaning and traditions
According to a police report, the investigating officer determined the tracks belonged to a bear. But Winesickle says no way.
"No, no, no, no," he told an interviewer from central Pennsylvania's WTAJ television. "A bear can't go down a steep bank on all twos. This is bigfoot."
Winesickle also said he walks in the area regularly and has heard bigfoot's deep growl before, apparently in warning when he came too close to the creature in hiding. He's never caught a glimpse, but Winesickle is unshakeable in his belief that he has heard the voice and seen the tracks of bigfoot.
Bing video: Watch tales of bigfoot sightings
Bigfoot sightings are more prominent in the Pacific Northwest, though the Pennsylvania Bigfoot Society has amassed an archive of reports over the years. Pennsylvania neighbors Ohio, the state with the fourth most sightings. In 2007, unclear photos captured by an Elk County deer hunter depicted a dark and strange creature lumbering through the night in Allegheny National Forest. The Bigfoot Field Researchers Organization reviewed the images and said they believed the image is of a juvenile Sasquatch. Park rangers said it was a skinny bear.
Tell us on Facebook: Do you think Bigfoot exists?
Gallery: 11 modern wedding color schemes
More from Daily Dose:
Disaster preparedness: Everything you need to know
Harry Potter book with author notes sold for $228K
Ferris wheel world record broken in Chicago
Love content like this? Friend us on Facebook, follow us on Twitter and find us on Pinterest.
Photo: David Muir/Getty Images

inspire: live a better life
Summer traditions can be great, but if you're on year six of packing the same people into the same car to go on the same vacation, it's time to switch things up. Surfing in Portugal, perhaps – or cycling through Northern Ireland. We've put together a list of 15 places well off the beaten path that you should go to when you're ready to try something new.

Grab a sleeping bag and head out to one of these amazing campsites.

A dozen adventures that are well worth the trip.

Paper downplays the significance of practice over raw talent.

Survey says American teens aren't great at complex or basic financial tasks.

Fear of Moving Away: How to conquer the latest cultural anxiety and embrace the unknown.

Adulthood has no eureka moment.

Just like your body, your brain needs a regular workout too.

Being a winner is a good feeling to have — especially in life. Winning doesn't solely relate to competitions or Charlie Sheen's coining of the term back in 2011. From achieving success to maintaining a work-life balance, find out what characteristics mean your life is going the way it should be. You may just even find an inspiration or two that you'll want to incorporate into your daily routine!

Sometimes it seems like you need a vacation from your vacation.

That'll get you and your 2 kids a house, SUV, and more, per a 'USA Today' analysis.

While most of us associate the Fourth of July with fireworks and barbecue (and taking a long weekend off from work), it's also an important day to give thanks to the people who help keep us safe.