911 call: 'Proof of bigfoot'
Evidence in the woods of Pennsylvania prompts a police investigation.
The 911 call came into authorities in Altoona, a small city in the Allegheny mountains of Pennsylvania.
Someone had proof of bigfoot.
A man had been walking on a path in the woods when he came upon the evidence. Mr. John Winesickle was convinced enough of his finding to call police and insist an officer investigate.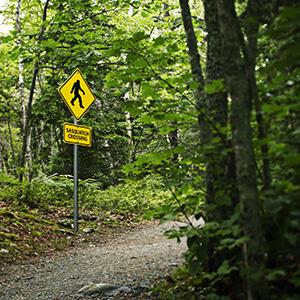 Winesickle shared his evidence: a series of photographs of enormous footprints clearly stamped in the mud, each big and deep enough to suggest a creature of monstrous size and weight. The officer was taken into the woods to see the tracks for himself.
Gallery: Memorial Day: Behind its meaning and traditions
According to a police report, the investigating officer determined the tracks belonged to a bear. But Winesickle says no way.
"No, no, no, no," he told an interviewer from central Pennsylvania's WTAJ television. "A bear can't go down a steep bank on all twos. This is bigfoot."
Winesickle also said he walks in the area regularly and has heard bigfoot's deep growl before, apparently in warning when he came too close to the creature in hiding. He's never caught a glimpse, but Winesickle is unshakeable in his belief that he has heard the voice and seen the tracks of bigfoot.
Bing video: Watch tales of bigfoot sightings
Bigfoot sightings are more prominent in the Pacific Northwest, though the Pennsylvania Bigfoot Society has amassed an archive of reports over the years. Pennsylvania neighbors Ohio, the state with the fourth most sightings. In 2007, unclear photos captured by an Elk County deer hunter depicted a dark and strange creature lumbering through the night in Allegheny National Forest. The Bigfoot Field Researchers Organization reviewed the images and said they believed the image is of a juvenile Sasquatch. Park rangers said it was a skinny bear.
Tell us on Facebook: Do you think Bigfoot exists?
Gallery: 11 modern wedding color schemes
More from Daily Dose:
Disaster preparedness: Everything you need to know
Harry Potter book with author notes sold for $228K
Ferris wheel world record broken in Chicago
Love content like this? Friend us on Facebook, follow us on Twitter and find us on Pinterest.
Photo: David Muir/Getty Images

inspire: live a better life
You'll stave off credit card debt by the end of the year if you account for these often-forgotten expenses.

Mark Zuckerberg has an even bigger effect on your life than you thought.

Take this advice to finally tackle that nagging to-do list.

The iconic storyteller would have been 110-years-old

Take the time to appreciate women's contributions to society. Here are some of the women who inspire us by their example.

Cast of the iconic TV show reunites for Florence Henderson's birthday

We couldn't be more excited to watch the best athletes in the world compete at the Winter Olympics in Sochi. This year, about 44 percent of the competitors are women according to the International Olympic Committee—which is awesome but wasn't always the case. Let's look back at some of the amazing women who paved the way with incredible, memorable feats of girl power.

Still pulling yourself out of holiday credit card debt? Ready to pool some funds for that beach vacation you've been dreaming about at your desk? We're with you 100 percent.

"FOMO, the fear of missing out, is a form of social anxiety," says psychiatrist Gail Saltz. "This type of fear tends to cause compulsive behaviors, like checking out other social situations even as you are in the middle of one currently."

When The Shriver Report was released in early January, we shared some of the more interesting statistics about income equality, the wage gap, and other issues confronting women.

Clay Aiken to run for public office.

Here's how to boost your joy — and put more cash in your pocket.