Eerie ghost town comes up for air
A strange ghost town that spent a quarter century under water is coming up for air again in the Argentine farmlands southwest of Buenos Aires.
EPECUEN, Argentina (AP) — Epecuen was once a bustling little lakeside resort, where 1,500 people served 20,000 tourists a season. During Argentina's golden age, the same trains that carried grain to the outside world brought visitors from the capital to relax in Epecuen's saltwater baths and spas.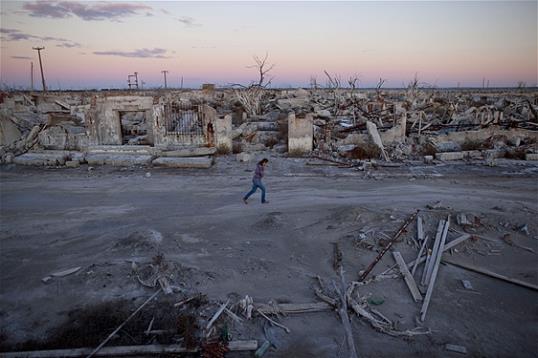 Photo: In this May 6, 2013 photo, former resident and tourist guide Norma Berg walks by a street in Epecuen, a village that once was submerged in water in Argentina.(AP Photo/Natacha Pisarenko)
The saltwater lake was particularly attractive because it has 10 times more salt than the ocean, making the water buoyant. Tourists, especially people from Buenos Aires' large Jewish community, enjoyed floating in water that reminded them of the Dead Sea in the Middle East.
Then a particularly heavy rainstorm followed a series of wet winters, and the lake overflowed its banks on Nov. 10, 1985. Water burst through a retaining wall and spilled into the lakeside streets. People fled with what they could, and within days their homes were submerged under nearly 10 meters (33 feet) of corrosive saltwater.
Now the water has mostly receded, exposing what looks like a scene from a movie about the end of the world. The town hasn't been rebuilt, but it has become a tourist destination again, for people willing to drive at least six hours from Buenos Aires to get here, along 340 miles (550 kilometers) of narrow country roads.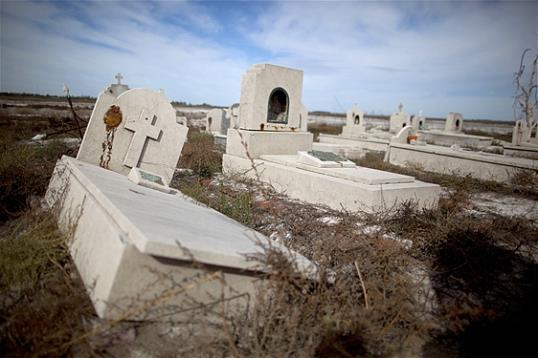 Photo: In this May 7, 2013 photo, tombs lay in the ruins of Epecuen, a village that was submerged in water in Argentina. (AP Photo/Natacha Pisarenko)
People come to see the rusted hulks of automobiles and furniture, crumbled homes and broken appliances. They climb staircases that lead nowhere, and wander through a graveyard where the water toppled headstones and exposed tombs to the elements.
Bing: The scariest places on Earth
It's a bizarre, post-apocalyptic landscape that captures a traumatic moment in time.
One man refused to leave. Pablo Novak, now 82, still lives on the edge of the town, welcoming people who wander into the wrecked streets.
Gallery: Funniest Internet memes
"Whoever passes nearby cannot go without coming to visit here," Novak said while showing The Associated Press around. "It's getting more people to the area, as they come to see the ruins."
Many residents of Epecuen fled to nearby Carhue, another lakeside town, and built new hotels and spas, promising relaxing getaways featuring saltwater and mud facials.
Gallery: Home projects you should NOT DIY
"Not only do we have Epecuen with the ruins and its natural wealth, but we also can increasingly offer other alternatives," said Javier Andres, the local tourism director.
More from Daily Dose:
Nazi-themed opera canceled in Germany
Brazilian woman survives harpoon shooting
What makes a kidnapper?
Love content like this? Friend us on Facebook, follow us on Twitter and find us on Pinterest.
inspire: live a better life
Summer traditions can be great, but if you're on year six of packing the same people into the same car to go on the same vacation, it's time to switch things up. Surfing in Portugal, perhaps – or cycling through Northern Ireland. We've put together a list of 15 places well off the beaten path that you should go to when you're ready to try something new.

Grab a sleeping bag and head out to one of these amazing campsites.

A dozen adventures that are well worth the trip.

Paper downplays the significance of practice over raw talent.

Survey says American teens aren't great at complex or basic financial tasks.

Fear of Moving Away: How to conquer the latest cultural anxiety and embrace the unknown.

Adulthood has no eureka moment.

Just like your body, your brain needs a regular workout too.

Being a winner is a good feeling to have — especially in life. Winning doesn't solely relate to competitions or Charlie Sheen's coining of the term back in 2011. From achieving success to maintaining a work-life balance, find out what characteristics mean your life is going the way it should be. You may just even find an inspiration or two that you'll want to incorporate into your daily routine!

Sometimes it seems like you need a vacation from your vacation.

That'll get you and your 2 kids a house, SUV, and more, per a 'USA Today' analysis.

While most of us associate the Fourth of July with fireworks and barbecue (and taking a long weekend off from work), it's also an important day to give thanks to the people who help keep us safe.