Eerie ghost town comes up for air
A strange ghost town that spent a quarter century under water is coming up for air again in the Argentine farmlands southwest of Buenos Aires.
EPECUEN, Argentina (AP) — Epecuen was once a bustling little lakeside resort, where 1,500 people served 20,000 tourists a season. During Argentina's golden age, the same trains that carried grain to the outside world brought visitors from the capital to relax in Epecuen's saltwater baths and spas.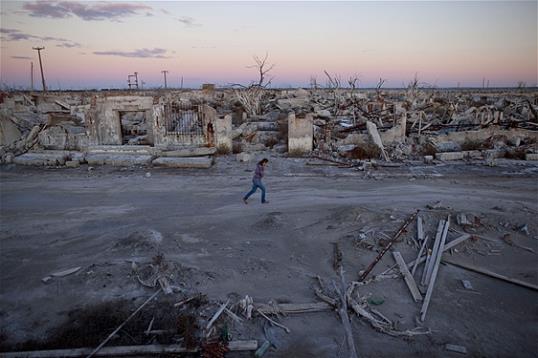 Photo: In this May 6, 2013 photo, former resident and tourist guide Norma Berg walks by a street in Epecuen, a village that once was submerged in water in Argentina.(AP Photo/Natacha Pisarenko)
The saltwater lake was particularly attractive because it has 10 times more salt than the ocean, making the water buoyant. Tourists, especially people from Buenos Aires' large Jewish community, enjoyed floating in water that reminded them of the Dead Sea in the Middle East.
Then a particularly heavy rainstorm followed a series of wet winters, and the lake overflowed its banks on Nov. 10, 1985. Water burst through a retaining wall and spilled into the lakeside streets. People fled with what they could, and within days their homes were submerged under nearly 10 meters (33 feet) of corrosive saltwater.
Now the water has mostly receded, exposing what looks like a scene from a movie about the end of the world. The town hasn't been rebuilt, but it has become a tourist destination again, for people willing to drive at least six hours from Buenos Aires to get here, along 340 miles (550 kilometers) of narrow country roads.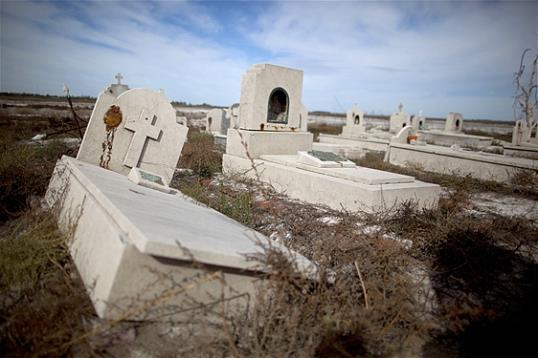 Photo: In this May 7, 2013 photo, tombs lay in the ruins of Epecuen, a village that was submerged in water in Argentina. (AP Photo/Natacha Pisarenko)
People come to see the rusted hulks of automobiles and furniture, crumbled homes and broken appliances. They climb staircases that lead nowhere, and wander through a graveyard where the water toppled headstones and exposed tombs to the elements.
Bing: The scariest places on Earth
It's a bizarre, post-apocalyptic landscape that captures a traumatic moment in time.
One man refused to leave. Pablo Novak, now 82, still lives on the edge of the town, welcoming people who wander into the wrecked streets.
Gallery: Funniest Internet memes
"Whoever passes nearby cannot go without coming to visit here," Novak said while showing The Associated Press around. "It's getting more people to the area, as they come to see the ruins."
Many residents of Epecuen fled to nearby Carhue, another lakeside town, and built new hotels and spas, promising relaxing getaways featuring saltwater and mud facials.
Gallery: Home projects you should NOT DIY
"Not only do we have Epecuen with the ruins and its natural wealth, but we also can increasingly offer other alternatives," said Javier Andres, the local tourism director.
More from Daily Dose:
Nazi-themed opera canceled in Germany
Brazilian woman survives harpoon shooting
What makes a kidnapper?
Love content like this? Friend us on Facebook, follow us on Twitter and find us on Pinterest.
inspire: live a better life
How much do you really know about the Earth? In honor of Earth Day, April 22, we explore some interesting and fun facts about the fifth-largest planet of our solar system.

Happify shares their results of a recent study on how money affects our happiness.

A top exec reveals the company's secret code

Pro tips from the guy who's done it four times

Not all mistakes are as blatant as posting party pics when you're 'sick' at home.

Everyone struggles through weekday drudgery to reach their weekend fun. But what if you could reclaim every day of your life?

Zooming up the ladder is great, but questioning yourself 24/7 is no way to succeed. Manage your stressed self with these surefire tips.

Forget trying to control every little detail. Life is lots more fun (and less stressful) when you let go from the get-go.

So, what exactly is this thing we call "happiness" and how do we get it?

Mark Zuckerberg has an even bigger effect on your life than you thought.

Everyone makes mistakes, but some mistakes can be devastating. Here are 10 icons who fell from grace, and what they can do to redeem themselves.

Twitter turns eight years old today.