Darwin and religion are not incompatible
The evolution of decent thought.
Evolution is on our minds since today marks the birthday of Charles Darwin, born on Feb. 12 in 1809. Or, if you don't believe at all in verifiable scientific knowledge, maybe his parents just wished for an evolutionary theorist and then one day — ding! — there he was.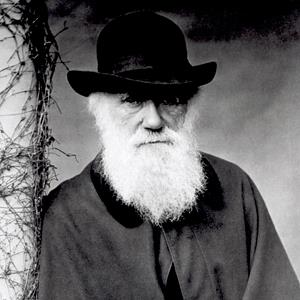 A good debate broadens the middle ground between opposing views, but the nature of argument these days seems to relegate everyone to one side or the other of a hard line. Somewhere we lost our tolerance for grey areas, or nuance, or conditions. Polarized opinions about evolution drew even a Dr.
Pepper advertisement into the debate last year, when some argued that the "Evolution of Flavor" ad was an affront to Christian beliefs. It wasn't clear whether every Christian had been consulted, but the good Dr. was suddenly in deep sugar with at least a few creationists.
More from MSN Living: 40 time-saving tips
That's the way it goes anymore: You're either in or you're out, dem or GOP, on or off the island. Television and social media crunch time and space, allowing only the short, sharp shots that position a player on a team whether the contest is over gun violence, healthcare, or Justin Bieber.
Discourse around evolution tends to devolve into a tête-à-tête as well — though both science and religion have historically left room for one another.
More from MSN Living: 7 easy ways to get better sleep
Darwin himself, while formulating his naturalist perspective, didn't feel that evolutionary theory excluded the possibility of God's existence. For a time he even defended the role of God within his theory, and accounted for human suffering within the grandeur of God's plan, which the Bible itself runs a bit light on. In time he identified himself as agnostic — informed partly by his research and by suffering of his own — but never as an atheist.
A Gallup poll last year revealed that 46 percent of Americans hold a creationist view of human origins. But there are soft and hard lines among the 46 percent, with a third believing humans evolved with God's guidance. Creationism is a broad term encompassing a number of complex theories, and thoughtful creationists revise and rethink much as scientists do — that is, they allow their opinions to evolve.
God and evolution — big stuff for a blog, but that's the point here. It takes a lifetime of thought and study just to put a finger on one or the other. While explaining the course of evolution, Carl Sagan once empathized, "How can creatures who live for only 70 years detect events that take 70 million years to unfold — or 4 billion?" 
The Church of England deplored Darwin for a theory that underminded centuries-old thinking. But the Church has since apologized for its religious defensiveness. After explaining that the Church's reaction "now seems misguided," and was based on "an emotional not an intellectual response," the Reverend Dr. Malcolm Brown writes with clarity of mind and spirit:
Good religion needs to work constructively with good science — and I dare to suggest that the opposite may be true as well.
Bing: Darwin's most popular theory?
More from The Daily Dose:
The most common job for women?
Chinese New Year: Which animal are you?
Boy Scout gay policy: What would change?
Love content like this? Friend us on Facebook, follow us on Twitter and find us on Pinterest
Photo: Charles Darwin, 1881//Julia Margaret Cameron/Getty Images
inspire: live a better life
Summer and winter tend to hog all the glory when it comes to travel high seasons. Sure, you want to soak up all the time at the beach you can during the summer, and you just want to escape the cold during the last months of the year.

Who just wants to stand around and watch the red and gold leaves slowly fall from their tree branches to the ground as we move from summer to fall? Instead, take in the changing seasons while you're on the move.

In September, I'll turn 38. I'm at the age now where, when people ask how old I am, it takes me a minute to remember. I don't know if that's because I've already been 37 different ages and it's hard to keep straight which one I am now, or if it's because I'm in denial, or if it's because I am going senile. Maybe a combination of all of the above. Regardless, my 30s have flown by and soon they will be but a memory. So, in an effort to preserve the memory I have left (or at least keep a record of it), and to celebrate what has been an amazing decade so far, here are 30 things that have happened to me in my 30s (and will probably happen to you too):

Traveling doesn't have to be stressful. And what you can fit in your carry-on can make all the difference (and not just a fresh pair of socks), especially when you get that low battery signal.

Volunteering (and these other rituals) might be just as good as exercise when it comes to extending your life.

Use these tricks to set a better tone for the rest of the week.

Whether it involves a food fight, mermaids or a torch-lit procession, people the world over know how to have a good time. Here are some of the biggest, boldest, booziest celebrations around, along with some tips to get the full experience.

Research could mean more effective treatment for human disorders.

An entry a day might keep the doctor away (or at least the shrink).

One woman's shout-outs to daily moments of joy — and how to cultivate them.

Our best health and fitness tips including the one move that tones all, berry news, and more.