Chong says legalized marijuana could save country
'You don't have to do anything except watch it grow and get a couple of hippies to cut it and then put it in a bag.'
NEW YORK (AP) — The Grammy Award-winning comedy duo Cheech and Chong based their 42-year career on counterculture humor with a particular emphasis on marijuana use. But these days, Tommy Chong sees the recreational drug as something more than fodder for jokes about stoned hippies.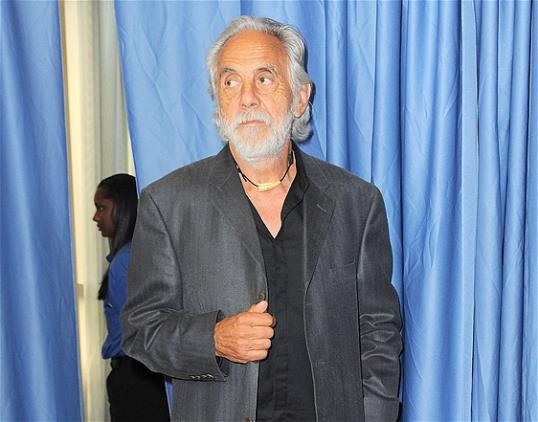 The 74-year-old comedian says he thinks legalizing marijuana on a federal level would offer numerous benefits, including a boost to the U.S. economy if it were taxed.
More from MSN Living: Live happier on the money you have
"Look at the situation we're in now. Sequesters. Cuts. Everything cut across the board. Now, the government is tapped into the biggest cash crop in the world," Chong said. "There's little manufacturing cost. You don't have to do anything except watch it grow and get a couple of hippies to cut it and then put it in a bag."
Bing: Can weed lower bladder cancer risk?
His ambitions for marijuana may be outsized, but he notes the potential medical uses that have already inspired some states to legalize the drug. Nearly 20 states have enacted laws to legalize medical marijuana, and two of them — Colorado and Washington — have totally legalized it. And at least 12 states have pending legislation to legalize for medical use.
More from MSN Living: 5 fashion rules you should break
"Hemp itself is going to save the world," Chong said.
Chong's comedy partner, Richard "Cheech" Marin, 66, says he thinks legalization will come in the next couple of years. "The tipping point is 24 states to legalize medical marijuana, so it's coming soon," he said.
More from Daily Dose:
State with the foulest mouth is...
Barnett Newman painting auctioned for $43.8 million
Carbon dioxide levels surpass critical high
Photo: File photo of Tommy Chong at the Rock and Roll Hall of Fame induction ceremony at the Nokia Theatre in Los Angeles.(Photo by Jordan Strauss/Invision/AP)
inspire: live a better life
Happify shares their results of a recent study on how money affects our happiness.

A top exec reveals the company's secret code

Pro tips from the guy who's done it four times

Not all mistakes are as blatant as posting party pics when you're 'sick' at home.

Everyone struggles through weekday drudgery to reach their weekend fun. But what if you could reclaim every day of your life?

Zooming up the ladder is great, but questioning yourself 24/7 is no way to succeed. Manage your stressed self with these surefire tips.

Forget trying to control every little detail. Life is lots more fun (and less stressful) when you let go from the get-go.

So, what exactly is this thing we call "happiness" and how do we get it?

Mark Zuckerberg has an even bigger effect on your life than you thought.

Everyone makes mistakes, but some mistakes can be devastating. Here are 10 icons who fell from grace, and what they can do to redeem themselves.

Twitter turns eight years old today.

Try these anything-but-ordinary ideas for a healthier, more productive mid-day break.