Chong says legalized marijuana could save country
'You don't have to do anything except watch it grow and get a couple of hippies to cut it and then put it in a bag.'
NEW YORK (AP) — The Grammy Award-winning comedy duo Cheech and Chong based their 42-year career on counterculture humor with a particular emphasis on marijuana use. But these days, Tommy Chong sees the recreational drug as something more than fodder for jokes about stoned hippies.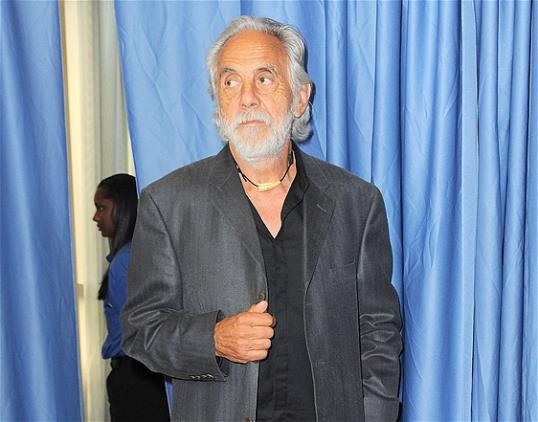 The 74-year-old comedian says he thinks legalizing marijuana on a federal level would offer numerous benefits, including a boost to the U.S. economy if it were taxed.
More from MSN Living: Live happier on the money you have
"Look at the situation we're in now. Sequesters. Cuts. Everything cut across the board. Now, the government is tapped into the biggest cash crop in the world," Chong said. "There's little manufacturing cost. You don't have to do anything except watch it grow and get a couple of hippies to cut it and then put it in a bag."
Bing: Can weed lower bladder cancer risk?
His ambitions for marijuana may be outsized, but he notes the potential medical uses that have already inspired some states to legalize the drug. Nearly 20 states have enacted laws to legalize medical marijuana, and two of them — Colorado and Washington — have totally legalized it. And at least 12 states have pending legislation to legalize for medical use.
More from MSN Living: 5 fashion rules you should break
"Hemp itself is going to save the world," Chong said.
Chong's comedy partner, Richard "Cheech" Marin, 66, says he thinks legalization will come in the next couple of years. "The tipping point is 24 states to legalize medical marijuana, so it's coming soon," he said.
More from Daily Dose:
State with the foulest mouth is...
Barnett Newman painting auctioned for $43.8 million
Carbon dioxide levels surpass critical high
Photo: File photo of Tommy Chong at the Rock and Roll Hall of Fame induction ceremony at the Nokia Theatre in Los Angeles.(Photo by Jordan Strauss/Invision/AP)
inspire: live a better life
Summer and winter tend to hog all the glory when it comes to travel high seasons. Sure, you want to soak up all the time at the beach you can during the summer, and you just want to escape the cold during the last months of the year.

Who just wants to stand around and watch the red and gold leaves slowly fall from their tree branches to the ground as we move from summer to fall? Instead, take in the changing seasons while you're on the move.

In September, I'll turn 38. I'm at the age now where, when people ask how old I am, it takes me a minute to remember. I don't know if that's because I've already been 37 different ages and it's hard to keep straight which one I am now, or if it's because I'm in denial, or if it's because I am going senile. Maybe a combination of all of the above. Regardless, my 30s have flown by and soon they will be but a memory. So, in an effort to preserve the memory I have left (or at least keep a record of it), and to celebrate what has been an amazing decade so far, here are 30 things that have happened to me in my 30s (and will probably happen to you too):

Traveling doesn't have to be stressful. And what you can fit in your carry-on can make all the difference (and not just a fresh pair of socks), especially when you get that low battery signal.

Volunteering (and these other rituals) might be just as good as exercise when it comes to extending your life.

Use these tricks to set a better tone for the rest of the week.

Whether it involves a food fight, mermaids or a torch-lit procession, people the world over know how to have a good time. Here are some of the biggest, boldest, booziest celebrations around, along with some tips to get the full experience.

Research could mean more effective treatment for human disorders.

An entry a day might keep the doctor away (or at least the shrink).

One woman's shout-outs to daily moments of joy — and how to cultivate them.

Our best health and fitness tips including the one move that tones all, berry news, and more.