10 secrets hidden on the $100 bill
…and more little-known facts about the Benjamins.
Of the many ways that Benjamin Franklin has improved our lives , we appreciate him most when his face is on a $100 bill stuffed into a pocket. In celebration of big Ben's birthday today, here are 10 secrets hidden on a C-note, plus other facts of value. With any luck, you have a $100 bill handy to verify the following.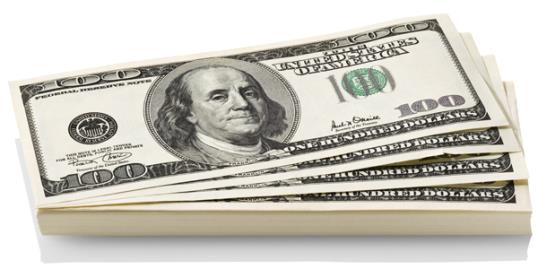 • The current $100 note is a "Series 2009" redesign, but it wasn't unveiled until April 2010 — and due to manufacturing flaw on the first production line, wasn't put into circulation until February 2011.
• The $100 bill is one of only two U.S. bills printed today that does not feature a portrait of a U.S. president (anybody know the other one?).
More from the MSN Living: Your 2013 bargain calendar
• Three security features of the Series 2009 are designed so that anyone can identify a counterfeit note. First is the watermark portrait of Ben embedded in the bill; when the note is backlit, the portrait is visible near the right edge (and a large red 100 is revealed near the left edge). Second is the 3-D Security Ribbon — the vertical blue strip that grazes Ben's long hair. When the note is tilted side to side, tiny bells along the strip appear to change to tiny 100s. When the note is tilted back and forth, the bells and 100s move side to side. Also, just off Ben's left shoulder is an inkwell. When the bill is shifted, the inkwell changes color from copper to green, and the image of a bell appears within the inkwell. The number 100 in the lower right corner also shifts from copper to green.
• When the note is under UV light, a second vertical strip glows, grazing Ben's hair on the other side. The security thread is imprinted with the letters USA and the number 100 in an alternating pattern.
More from the MSN Living: 25 things that will keep you young
• Despite some whisperings that the polyester security thread is embedded with an RFID code that enables the government to scan it — from a distant satellite beam, as one theory goes, to locate cash being transported across a boarder — it's not. The strip is a somewhat simpler counter-counterfeiti​ng measure.
• On the back of the bill, the clock on the Independence Hall steeple shows an approximate time of 4:10. The Bureau of Engraving and Printing says there are no records explaining why that particular time was chosen. But the clock on the bill shows a "IV" while the real clock face has a "IIII."
Bing: Facts about Benjamin Franklin
• The large gold 100 on the back of the note is a tactile feature, designed to help the visually impaired identify the denomination (mandated by a section of the Rehabilitation Act of 1973). The Treasury has also developed the EyeNote® app to read bills of all denominations minted after 1996.
• Some serial numbers are followed by a five-point star. When a note is mangled in the process of manufacturing currency, it has to be replaced to ensure a proper count of the bills produced. Since replacing a mutilated note by printing another with an identical serial number would be costly and time-consuming, a "star note" is substituted instead. Notes with a star are out of sequence with others in the series.
• Though composed of 75 percent cotton and 25 percent linen, our currency is durable (at least, physically). It would take about 4,000 forward-backward folds for a worn note to tear. U.S. legal tender is also machine-washable.
• In part because large bills aren't passed as frequently as lower denominations, the $100 bill has the longest average life span of any bank note, at 17.9 years.
More from the Daily Dose:
Wait — TV can be good for you?
Amid controversy, Gun Appreciation Day set for Jan. 19
Trouble with Mars travel: Getting good sleep 
Sources: Department of the Treasury, Bureau of Engraving and Printing; United States Secret Service; Board of Governors of the Federal Reserve System
Love content like this? Friend us on Facebook, follow us on Twitter and find us on Pinterest.
Photo: Creative Crop/Getty Images
inspire: live a better life
Summer and winter tend to hog all the glory when it comes to travel high seasons. Sure, you want to soak up all the time at the beach you can during the summer, and you just want to escape the cold during the last months of the year.

Who just wants to stand around and watch the red and gold leaves slowly fall from their tree branches to the ground as we move from summer to fall? Instead, take in the changing seasons while you're on the move.

In September, I'll turn 38. I'm at the age now where, when people ask how old I am, it takes me a minute to remember. I don't know if that's because I've already been 37 different ages and it's hard to keep straight which one I am now, or if it's because I'm in denial, or if it's because I am going senile. Maybe a combination of all of the above. Regardless, my 30s have flown by and soon they will be but a memory. So, in an effort to preserve the memory I have left (or at least keep a record of it), and to celebrate what has been an amazing decade so far, here are 30 things that have happened to me in my 30s (and will probably happen to you too):

Traveling doesn't have to be stressful. And what you can fit in your carry-on can make all the difference (and not just a fresh pair of socks), especially when you get that low battery signal.

Volunteering (and these other rituals) might be just as good as exercise when it comes to extending your life.

Use these tricks to set a better tone for the rest of the week.

Whether it involves a food fight, mermaids or a torch-lit procession, people the world over know how to have a good time. Here are some of the biggest, boldest, booziest celebrations around, along with some tips to get the full experience.

Research could mean more effective treatment for human disorders.

An entry a day might keep the doctor away (or at least the shrink).

One woman's shout-outs to daily moments of joy — and how to cultivate them.

Our best health and fitness tips including the one move that tones all, berry news, and more.