10 trends to watch in 2013
A marketing giant forecasts the near future.
Everybody and their mother has a Top 10 list for the past year. But looking in the rearview mirror is too easy for the  researchers at advertising giant JWT, who've decided to do a Top 10 list of what's going to be big next year. Their "10 Trends For 2013" forecasts how recent technology — and human response to it — will affect all of us in the coming year.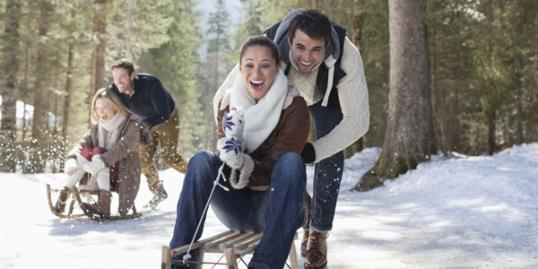 Granted, naming trends doesn't exactly take a crystal ball, but JWT's take has more analysis behind it than your local street corner psychic. And the info is free, so put your $20 bucks and your tarot cards away.
More on MSN Living: Break the rules for a better romance
Here are the trends in reverse order, stripped down to their futuristic essence.
10. Health & Happiness: Hand In Hand
Happy people are healthier, healthy people are happier (kind of obvious there, JWT).
9. Going Private In Public
More people are going to want to keep their nightlife escapades off the Internet. In short, what happens off Facebook stays off Facebook.
8. Peer Power
Skip the middle man and do business with people just like you.
7. Everything Is Retail
Maybe "everywhere" is a better term. You'll buy on the sidewalk, subway, storefront, and sitting room.
More on MSN Living: World's greatest body shapers
6. Sensory Explosion
Marketers are going to go after every sense you've got. That includes smell, touch, and taste. Be ready.
5. The Mobile Fingerprint
Your entire life on your cell phone. Yeah, everything—so don't lose it.
4. Predictive Personalization
Data analysis will anticipate what you want . . . maybe even before you know it yourself.
3. Intelligent Objects
Consumers will expect and get more devices that interact with us at a near-human level. We're getting closer and closer to the HAL 9000 from 2001: A Space Odyssey (spoiler alert — that didn't end well).
2. The Super-Stress Era
Employers will realize that stressed-out employees are suffering from a debilitating condition.
1. Play As A Competitive Advantage
Adults will once again realize what they knew right up to middle school: playing is good for you, and it helps your creativity.
Photo: Sam Edwards/Getty Images
Bing: Top 2012 movies.
Subscribe to the Daily Dose
More from MSN Living:
Instant classic: Pinup suits
10 ways to feel good every day
What your engagement ring says about you
inspire: live a better life
No one looks forward to washing windows or storing the ski gear or the other chores associated with spring-cleaning. But this annual ritual does not have to be a drag, if you approach it in a slightly different way. "You've been cooped up with this cave-like mentality all winter; now it's time to break free and play," says R.D. Chin, a feng shui architect and consultant in New York City. "It's time to follow the cycle of nature, get rid of the clutter, and free up your mind." Here's our idea of what a truly effective spring-cleaning can look like.

American presidents garner most votes over celebrities in a poll ranking the 100 most significant citizens.

Heading to a world-class beach town is always a safe bet for a great vacation, but if you want something that tests your limits, consider a more extreme spot. Here are 10 places around the world that require a winter coat year-round and offer spectacular glaciers, ice features, and the best snow anywhere.

From the Grand Canyon to the Statue of Liberty, the U.S. boasts world-famous national parks, historical sites and landmarks. Beyond the well-known locations, there's a wealth of undiscovered destinations stretching from coast to coast worth visiting. From scenic sand dunes to wild mountains, here's 51 places within America that you've probably never heard of.

How much do you really know about the Earth? In honor of Earth Day, April 22, we explore some interesting and fun facts about the fifth-largest planet of our solar system.

Most of the stuff we worry about never happens.

You've written an email, and need to wrap it up. You could end with a simple "Sincerely," tack on your name, and then shoot it out the door, proving definitively that you suck at communication.

Here are nine of the most extreme trips on the planet -- and the outfitters that take adventurers over the edge and back again.

A true challenge is within your reach. All it takes is a few months to get in shape and a few days off work.

Think you got what it takes to be included in the pages of the Guinness Book of World Records? We consult one of the judges to help you on your quest.

Just a few years ago, the term "home automation" meant a bunch of blinking lights and a headache. But thanks to simpler interfaces and the rise of smartphones, new tech can transform your house into a safer, more comfortable, less wasteful place.

If you're like most people, flying around in a big metal tube in the sky isn't your idea of a fun time. From the terrible food to the cramped space, flying can be a miserable experience. Don't make the flight even more soul-sucking by breaking airplane etiquette. We've compiled a list of the worst-inflight offenders. by Rebecca Pattee