10 trends to watch in 2013
A marketing giant forecasts the near future.
Everybody and their mother has a Top 10 list for the past year. But looking in the rearview mirror is too easy for the  researchers at advertising giant JWT, who've decided to do a Top 10 list of what's going to be big next year. Their "10 Trends For 2013" forecasts how recent technology — and human response to it — will affect all of us in the coming year.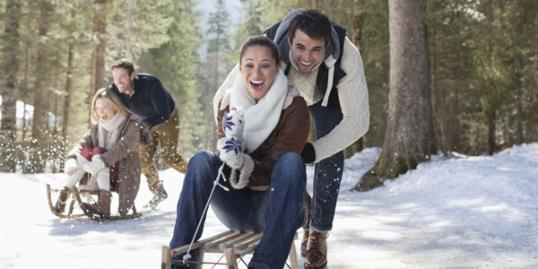 Granted, naming trends doesn't exactly take a crystal ball, but JWT's take has more analysis behind it than your local street corner psychic. And the info is free, so put your $20 bucks and your tarot cards away.
More on MSN Living: Break the rules for a better romance
Here are the trends in reverse order, stripped down to their futuristic essence.
10. Health & Happiness: Hand In Hand
Happy people are healthier, healthy people are happier (kind of obvious there, JWT).
9. Going Private In Public
More people are going to want to keep their nightlife escapades off the Internet. In short, what happens off Facebook stays off Facebook.
8. Peer Power
Skip the middle man and do business with people just like you.
7. Everything Is Retail
Maybe "everywhere" is a better term. You'll buy on the sidewalk, subway, storefront, and sitting room.
More on MSN Living: World's greatest body shapers
6. Sensory Explosion
Marketers are going to go after every sense you've got. That includes smell, touch, and taste. Be ready.
5. The Mobile Fingerprint
Your entire life on your cell phone. Yeah, everything—so don't lose it.
4. Predictive Personalization
Data analysis will anticipate what you want . . . maybe even before you know it yourself.
3. Intelligent Objects
Consumers will expect and get more devices that interact with us at a near-human level. We're getting closer and closer to the HAL 9000 from 2001: A Space Odyssey (spoiler alert — that didn't end well).
2. The Super-Stress Era
Employers will realize that stressed-out employees are suffering from a debilitating condition.
1. Play As A Competitive Advantage
Adults will once again realize what they knew right up to middle school: playing is good for you, and it helps your creativity.
Photo: Sam Edwards/Getty Images
Bing: Top 2012 movies.
Subscribe to the Daily Dose
More from MSN Living:
Instant classic: Pinup suits
10 ways to feel good every day
What your engagement ring says about you
inspire: live a better life
Miss Manners advises on how to respond when one gets unsolicited advice about weight issues.

Editor's note: We will now be publishing Miss Manners articles twice weekly, but you will only see one question and answer per article. You can expect to see these articles appear on Tuesdays and Thursdays going forward.

President Harry S. Truman was behind efforts to establish the first Armed Forces Day in 1950, and decades later the nation continues to set aside the third Saturday in May to recognize and thank members of the U.S. military for their patriotic service. With these five homecoming images, we salute all service members at home and abroad.

There's much to be desired about working from home: the stress-free commute, flexible hours, and improved work-life balance.

Wishing for the fountain of youth? You may not need it. We've rounded up real-women secrets, tried-and-true beauty tips, and the latest research to help you fight aging.

Experts weigh in on when to bite your tongue at the office.

Oh, the places you'll go — to get some "me" time, that is. REDBOOK readers confess all on Facebook.

How much money you make isn't nearly as important as how you use it, according to Elizabeth Dunn and Michael Norton, authors of the new book Happy Money.

Plus, how do you ask people to not bring gifts to a shower?

Looking for a career upgrade? Follow these tips for a foot in the door.

These tanning and skin cancer myths aren't just wrong — they can do serious harm. Wise up and head into a healthier future. P.S. You'll look a lot younger too.

It's possible to rejigger your brain circuitry and feel more joy, even on Monday mornings. Here's how.