10 trends to watch in 2013
A marketing giant forecasts the near future.
Everybody and their mother has a Top 10 list for the past year. But looking in the rearview mirror is too easy for the  researchers at advertising giant JWT, who've decided to do a Top 10 list of what's going to be big next year. Their "10 Trends For 2013" forecasts how recent technology — and human response to it — will affect all of us in the coming year.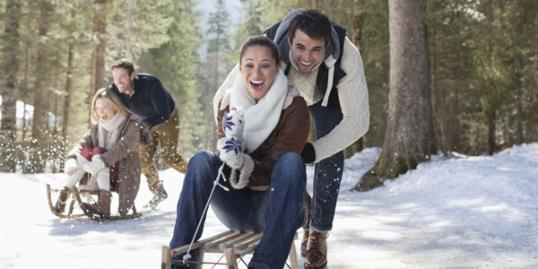 Granted, naming trends doesn't exactly take a crystal ball, but JWT's take has more analysis behind it than your local street corner psychic. And the info is free, so put your $20 bucks and your tarot cards away.
More on MSN Living: Break the rules for a better romance
Here are the trends in reverse order, stripped down to their futuristic essence.
10. Health & Happiness: Hand In Hand
Happy people are healthier, healthy people are happier (kind of obvious there, JWT).
9. Going Private In Public
More people are going to want to keep their nightlife escapades off the Internet. In short, what happens off Facebook stays off Facebook.
8. Peer Power
Skip the middle man and do business with people just like you.
7. Everything Is Retail
Maybe "everywhere" is a better term. You'll buy on the sidewalk, subway, storefront, and sitting room.
More on MSN Living: World's greatest body shapers
6. Sensory Explosion
Marketers are going to go after every sense you've got. That includes smell, touch, and taste. Be ready.
5. The Mobile Fingerprint
Your entire life on your cell phone. Yeah, everything—so don't lose it.
4. Predictive Personalization
Data analysis will anticipate what you want . . . maybe even before you know it yourself.
3. Intelligent Objects
Consumers will expect and get more devices that interact with us at a near-human level. We're getting closer and closer to the HAL 9000 from 2001: A Space Odyssey (spoiler alert — that didn't end well).
2. The Super-Stress Era
Employers will realize that stressed-out employees are suffering from a debilitating condition.
1. Play As A Competitive Advantage
Adults will once again realize what they knew right up to middle school: playing is good for you, and it helps your creativity.
Photo: Sam Edwards/Getty Images
Bing: Top 2012 movies.
Subscribe to the Daily Dose
More from MSN Living:
Instant classic: Pinup suits
10 ways to feel good every day
What your engagement ring says about you
inspire: live a better life
Summer and winter tend to hog all the glory when it comes to travel high seasons. Sure, you want to soak up all the time at the beach you can during the summer, and you just want to escape the cold during the last months of the year.

Who just wants to stand around and watch the red and gold leaves slowly fall from their tree branches to the ground as we move from summer to fall? Instead, take in the changing seasons while you're on the move.

In September, I'll turn 38. I'm at the age now where, when people ask how old I am, it takes me a minute to remember. I don't know if that's because I've already been 37 different ages and it's hard to keep straight which one I am now, or if it's because I'm in denial, or if it's because I am going senile. Maybe a combination of all of the above. Regardless, my 30s have flown by and soon they will be but a memory. So, in an effort to preserve the memory I have left (or at least keep a record of it), and to celebrate what has been an amazing decade so far, here are 30 things that have happened to me in my 30s (and will probably happen to you too):

Traveling doesn't have to be stressful. And what you can fit in your carry-on can make all the difference (and not just a fresh pair of socks), especially when you get that low battery signal.

Volunteering (and these other rituals) might be just as good as exercise when it comes to extending your life.

Use these tricks to set a better tone for the rest of the week.

Whether it involves a food fight, mermaids or a torch-lit procession, people the world over know how to have a good time. Here are some of the biggest, boldest, booziest celebrations around, along with some tips to get the full experience.

Research could mean more effective treatment for human disorders.

An entry a day might keep the doctor away (or at least the shrink).

One woman's shout-outs to daily moments of joy — and how to cultivate them.

Our best health and fitness tips including the one move that tones all, berry news, and more.