Death stars, dope athletes & the debt ceiling
The very best and very worst of the news week ending Jan 18
Every week, the Daily Dose reviews the news to select three very best and three very worst stories to come across our desk.
 — The Very Best —
• Showing a sense of humor while honoring a promise to respond to public voices, the White House has voted against a petition to build a Death Star. Phew. Paul Shawcross, WH chief of the Science and Space Branch, penned a witty response explaining that construction would cost over $850 quadrillion and that the administration does not support blowing up planets.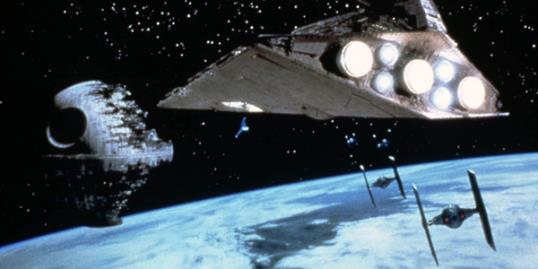 • 
Jobless claims have hit a 5-year low while housing starts have reached a 5-year high.
Claims for state unemployment benefits fell by 37,000,
the lowest since January 2008
, and the Commerce Department showed a 954,000-unit annual rate increase in building multi-family and single-family homes, the highest level since June of the same year.
• In a display of supreme sportsmanship that helps offset this week's Lance Armstrong headlines (see below), a runner in a cross-country race refused to take advantage of a competitor's error, allowing his rival to win. Basque athlete Iván Fernández Anaya was well behind Kenyan runner Abel Mutai, who slowed 10 meters before the actual finish line thinking he had already crossed it. Anaya gestured to Mutai to keep running and claim his victory.
— The Very Worst —
• Profoundly disappointing everyone other than OWN accountants, Lance Armstrong admitted to Oprah in a taped interview that he used banned drugs and transfusions of his own boosted tiger blood to win all seven of his Tour de France titles. Armstrong has been stripped of the titles and this week was asked to return the Olympic bronze he didn't earn in 2000. "It was all one big lie," said the former cyclist, motivational author and inspiration to the young. Part 2 of the interview airs tonight.
• Authorities are still unclear on the number and the fate of
hostages kidnapped by extremists in Algeria
. Citizens of Algeria and nine other countries were taken on Wednesday by a militant group with ties to al-Qaida in an ambush on workers in a remote gas field. In a
rescue operation
by Algerian national forces that began Thursday, an unconfirmed number of hostages and kidnappers have been killed. The abductors seek revenge for French attacks on Islamist militants in neighboring Mali.
 • Lawmakers are exploiting the economy to advance their opposing agendas. It's a shocker, but the debate over the debt ceiling is coming down to Republicans saying we should cut spending and Dems saying we need taxes on the wealthy. The law says that only Congress can authorize increases to the ceiling, so they'll have to figure it out. Know what the law doesn't insist on? A two-party system.
Love content like this? Friend us on Facebook, follow us on Twitter and find us on Pinterest
Photo: Mary Evans/LucasFilm/Fona​ld Grant/Everett Collection
inspire: live a better life
Happify shares their results of a recent study on how money affects our happiness.

A top exec reveals the company's secret code

Pro tips from the guy who's done it four times

Not all mistakes are as blatant as posting party pics when you're 'sick' at home.

Everyone struggles through weekday drudgery to reach their weekend fun. But what if you could reclaim every day of your life?

Zooming up the ladder is great, but questioning yourself 24/7 is no way to succeed. Manage your stressed self with these surefire tips.

Forget trying to control every little detail. Life is lots more fun (and less stressful) when you let go from the get-go.

So, what exactly is this thing we call "happiness" and how do we get it?

Mark Zuckerberg has an even bigger effect on your life than you thought.

Everyone makes mistakes, but some mistakes can be devastating. Here are 10 icons who fell from grace, and what they can do to redeem themselves.

Twitter turns eight years old today.

Try these anything-but-ordinary ideas for a healthier, more productive mid-day break.