Rad Success
A closer examination of 'The 5 Traits of Radically Successful People'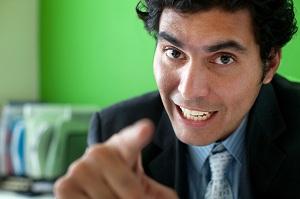 Alex Banayan has a formula for success, which he summarizes in The 5 Traits of Radically Successful People. Who is Alex Banayan, and why should you care? Fair question. Turns out he's just another 19-year-old punk with a seat at a venture capital firm and a major book deal. Big whoop. So he's been recognized by Forbes and BusinessWeek as the World's Youngest Venture Capitalist while still in college. And maybe he did win a boat on The Price Is Right (maybe he didn't — I don't care for Drew Carey skinny). Doesn't make him right. We believe a closer examination of the 5 Traits article, excerpted here, reveals some flaws.

1. The Audacity to Break Rules — Ask yourself what rules in your industry you accept as fact. Why do you follow them? If the excuse is "that's the way it's always been," it's time to consider pulling a Tim Ferriss [best-selling author of The 4-Hour Work Week].
You know who else breaks rules? That's right, bank robbers. Hell's Angels. Alec Baldwin. The people who drive through automatic toll lanes without an automatic toll thingie. Is this the type of person you really want to be? Look deep inside.
2. An Irrational Level of Commitment — Does what you're working on excite you so much that it inspires an irrational sense of commitment? Are you willing to chase the school bus for years—before seeing any return? If so, keep running. If not, maybe it's time to think bigger.
Chase a school bus? Sounds like smartypants Alex didn't set an alarm clock. And this whole "irrational level of commitment" sounds like something a psychiatrist would say while treating a stalker who's fixated on a woman who lives across from me with the red VW Jetta and the boyfriend who doesn't treat her right and the pretty shoes.
3. Hunger to Solve Problems — Are there any problems, even outside your job description, that you could solve? What opportunities can you create to add value to both help people as well as supercharge your career?
I don't know about this one. Seems like it would be easier to solve problems on a full stomach.
4. A Ferocious Drive to Do More — Ask yourself how badly do you want to do more. And what are you willing to give up for it?
I used to give up chocolate for Lent, and then I thought, Is this really what God had in mind? To eat fewer Snickers? Besides, there's other stuff in there like caramel and nougat and peanuts, but it's hard to eat around the chocolate coating. What is nougat, anyway? Questionable.
5. A Sharp Focus on Playing the People Game — What little changes can you make in your life, starting today, to put a greater focus on people? What investments can you make, in both time and money, to hone the way you play the people game?
You hear this a lot, that's it's important to be a "people person." What other kind of people can people be? I guess it takes all kinds.
Photo: Scott Quinn Photography/Photogra​pher's Choice/Getty Images

inspire: live a better life
Here's some tips to get to happiness going forward in your life.

People 60 to 82 did best on cognitive tasks before 10:30am.

Lucille Ball was born in 1911, and though we lost her long ago, her legacy as America's favorite redhead lives on through the timeless classic, "I Love Lucy." People of all generations still enjoy Lucy's antics as much as they did over 60 years ago when the show first premiered.

Summer is coming to an end, and in a few weeks, kids will be forced to trade in their beach bags for backpacks. But just because the season is fading away doesn't mean the memories from the past few months have to disappear with it.

Confidence and perceived competence are key, study finds.

Features lead to assumptions about character, study says.

Great gear for an afternoon spent shoreside.

Use these bucket-list ideas to enjoy the little time you have left.

Study points to benefits of improved living conditions.

Don't leave home without these must-have items.

Handshakes spread 20 times more germs, study says.

Drowning in debt? Maybe there's a silver lining.