Rad Success
A closer examination of 'The 5 Traits of Radically Successful People'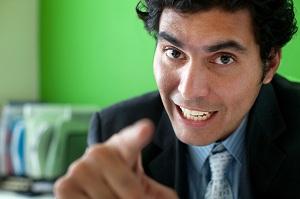 Alex Banayan has a formula for success, which he summarizes in The 5 Traits of Radically Successful People. Who is Alex Banayan, and why should you care? Fair question. Turns out he's just another 19-year-old punk with a seat at a venture capital firm and a major book deal. Big whoop. So he's been recognized by Forbes and BusinessWeek as the World's Youngest Venture Capitalist while still in college. And maybe he did win a boat on The Price Is Right (maybe he didn't — I don't care for Drew Carey skinny). Doesn't make him right. We believe a closer examination of the 5 Traits article, excerpted here, reveals some flaws.

1. The Audacity to Break Rules — Ask yourself what rules in your industry you accept as fact. Why do you follow them? If the excuse is "that's the way it's always been," it's time to consider pulling a Tim Ferriss [best-selling author of The 4-Hour Work Week].
You know who else breaks rules? That's right, bank robbers. Hell's Angels. Alec Baldwin. The people who drive through automatic toll lanes without an automatic toll thingie. Is this the type of person you really want to be? Look deep inside.
2. An Irrational Level of Commitment — Does what you're working on excite you so much that it inspires an irrational sense of commitment? Are you willing to chase the school bus for years—before seeing any return? If so, keep running. If not, maybe it's time to think bigger.
Chase a school bus? Sounds like smartypants Alex didn't set an alarm clock. And this whole "irrational level of commitment" sounds like something a psychiatrist would say while treating a stalker who's fixated on a woman who lives across from me with the red VW Jetta and the boyfriend who doesn't treat her right and the pretty shoes.
3. Hunger to Solve Problems — Are there any problems, even outside your job description, that you could solve? What opportunities can you create to add value to both help people as well as supercharge your career?
I don't know about this one. Seems like it would be easier to solve problems on a full stomach.
4. A Ferocious Drive to Do More — Ask yourself how badly do you want to do more. And what are you willing to give up for it?
I used to give up chocolate for Lent, and then I thought, Is this really what God had in mind? To eat fewer Snickers? Besides, there's other stuff in there like caramel and nougat and peanuts, but it's hard to eat around the chocolate coating. What is nougat, anyway? Questionable.
5. A Sharp Focus on Playing the People Game — What little changes can you make in your life, starting today, to put a greater focus on people? What investments can you make, in both time and money, to hone the way you play the people game?
You hear this a lot, that's it's important to be a "people person." What other kind of people can people be? I guess it takes all kinds.
Photo: Scott Quinn Photography/Photogra​pher's Choice/Getty Images

inspire: live a better life
Summer and winter tend to hog all the glory when it comes to travel high seasons. Sure, you want to soak up all the time at the beach you can during the summer, and you just want to escape the cold during the last months of the year.

Who just wants to stand around and watch the red and gold leaves slowly fall from their tree branches to the ground as we move from summer to fall? Instead, take in the changing seasons while you're on the move.

In September, I'll turn 38. I'm at the age now where, when people ask how old I am, it takes me a minute to remember. I don't know if that's because I've already been 37 different ages and it's hard to keep straight which one I am now, or if it's because I'm in denial, or if it's because I am going senile. Maybe a combination of all of the above. Regardless, my 30s have flown by and soon they will be but a memory. So, in an effort to preserve the memory I have left (or at least keep a record of it), and to celebrate what has been an amazing decade so far, here are 30 things that have happened to me in my 30s (and will probably happen to you too):

Traveling doesn't have to be stressful. And what you can fit in your carry-on can make all the difference (and not just a fresh pair of socks), especially when you get that low battery signal.

Volunteering (and these other rituals) might be just as good as exercise when it comes to extending your life.

Use these tricks to set a better tone for the rest of the week.

Whether it involves a food fight, mermaids or a torch-lit procession, people the world over know how to have a good time. Here are some of the biggest, boldest, booziest celebrations around, along with some tips to get the full experience.

Research could mean more effective treatment for human disorders.

An entry a day might keep the doctor away (or at least the shrink).

One woman's shout-outs to daily moments of joy — and how to cultivate them.

Our best health and fitness tips including the one move that tones all, berry news, and more.