Rad Success
A closer examination of 'The 5 Traits of Radically Successful People'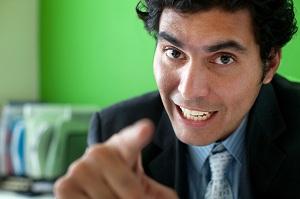 Alex Banayan has a formula for success, which he summarizes in The 5 Traits of Radically Successful People. Who is Alex Banayan, and why should you care? Fair question. Turns out he's just another 19-year-old punk with a seat at a venture capital firm and a major book deal. Big whoop. So he's been recognized by Forbes and BusinessWeek as the World's Youngest Venture Capitalist while still in college. And maybe he did win a boat on The Price Is Right (maybe he didn't — I don't care for Drew Carey skinny). Doesn't make him right. We believe a closer examination of the 5 Traits article, excerpted here, reveals some flaws.

1. The Audacity to Break Rules — Ask yourself what rules in your industry you accept as fact. Why do you follow them? If the excuse is "that's the way it's always been," it's time to consider pulling a Tim Ferriss [best-selling author of The 4-Hour Work Week].
You know who else breaks rules? That's right, bank robbers. Hell's Angels. Alec Baldwin. The people who drive through automatic toll lanes without an automatic toll thingie. Is this the type of person you really want to be? Look deep inside.
2. An Irrational Level of Commitment — Does what you're working on excite you so much that it inspires an irrational sense of commitment? Are you willing to chase the school bus for years—before seeing any return? If so, keep running. If not, maybe it's time to think bigger.
Chase a school bus? Sounds like smartypants Alex didn't set an alarm clock. And this whole "irrational level of commitment" sounds like something a psychiatrist would say while treating a stalker who's fixated on a woman who lives across from me with the red VW Jetta and the boyfriend who doesn't treat her right and the pretty shoes.
3. Hunger to Solve Problems — Are there any problems, even outside your job description, that you could solve? What opportunities can you create to add value to both help people as well as supercharge your career?
I don't know about this one. Seems like it would be easier to solve problems on a full stomach.
4. A Ferocious Drive to Do More — Ask yourself how badly do you want to do more. And what are you willing to give up for it?
I used to give up chocolate for Lent, and then I thought, Is this really what God had in mind? To eat fewer Snickers? Besides, there's other stuff in there like caramel and nougat and peanuts, but it's hard to eat around the chocolate coating. What is nougat, anyway? Questionable.
5. A Sharp Focus on Playing the People Game — What little changes can you make in your life, starting today, to put a greater focus on people? What investments can you make, in both time and money, to hone the way you play the people game?
You hear this a lot, that's it's important to be a "people person." What other kind of people can people be? I guess it takes all kinds.
Photo: Scott Quinn Photography/Photogra​pher's Choice/Getty Images

inspire: live a better life
Drowning in debt? Maybe there's a silver lining.

"But it's not real life, you know. It's a vacation."

Our list of must-dos before hitting the road.

Summer traditions can be great, but if you're on year six of packing the same people into the same car to go on the same vacation, it's time to switch things up. Surfing in Portugal, perhaps – or cycling through Northern Ireland. We've put together a list of 15 places well off the beaten path that you should go to when you're ready to try something new.

Grab a sleeping bag and head out to one of these amazing campsites.

A dozen adventures that are well worth the trip.

Paper downplays the significance of practice over raw talent.

Survey says American teens aren't great at complex or basic financial tasks.

Fear of Moving Away: How to conquer the latest cultural anxiety and embrace the unknown.

Adulthood has no eureka moment.

Just like your body, your brain needs a regular workout too.

Being a winner is a good feeling to have — especially in life. Winning doesn't solely relate to competitions or Charlie Sheen's coining of the term back in 2011. From achieving success to maintaining a work-life balance, find out what characteristics mean your life is going the way it should be. You may just even find an inspiration or two that you'll want to incorporate into your daily routine!