Pop quiz: What is the Bill of Rights?
Don't worry — your right to be wrong is protected.
Quick pop quiz: What is the Bill of Rights? What do the rights outline? When did they become law?
Anyone?
Bueller?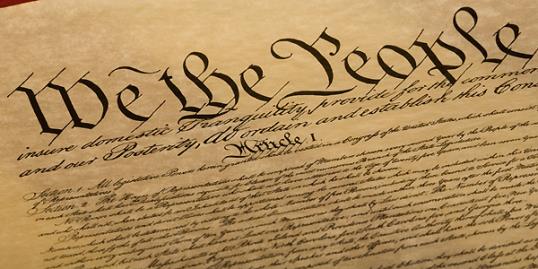 If you don't remember exactly what the Bill of Rights is or what it does, it's probably also news to you that today is "Bill of Rights Day." Saturday Dec. 15, 2012 marks the 221st anniversary of the Dec. 15, 1791 signing into law of what many historians consider the most dynamic and important document in our nation's history. That's saying something in the face of serious competition from The Declaration of Independence and The Constitution.
More from Daily Dose: Top Tweets of 2012
The Bill of Rights is the name given to the first ten amendments to the Constitution. The amendments were drafted by James Madison, who at the time was a member of the House of Representatives. Back in the 1780s, a number of state reps had begun chafing at the apparent limitless power given to the federal government by the Constitution, and wanted the individual rights of their constituencies protected. Madison led this charge by recommending changes to the actual wording of the Constitution. This notion — then as now — was looked upon as heresy.
Bing: Bill of Rights Day news
Madison and his colleagues reconsidered their approach and instead submitted the changes as amendments, which could be viewed as "improvements" to the nearly sacred document. The initial 17 amendments were whittled down via voting to a basic ten. These were approved state by state, and with Virginia ratifying on December 15, 1791, the Bill of Rights went into effect.
More from Daily Dose: Seismologists reveal earthquake hotspots
When people get up in arms over government intrusion into their lives, it's the Bill Of Rights that they're figuratively waving in defiance. The bill covers all the individual liberties that define America's system of government at its best: establishing freedom of speech and freedom of the press; keeping government out of religion; the right to bear arms; the right to a fair and speedy trial; protection against unreasonable search and seizure of one's home; and the prevention of cruel and unusual punishment in criminal sentences.
The Constitution has since been amended an additional 17 times, but these first ten have provided U.S. citizens with the rights that we exercise, but perhaps don't fully appreciate, every day.
Photo: Dieter Spears/Getty Images
More from Daily Dose:
Do employers hire drinking buddies?
10 trends to watch in 2013
Merriam-Webster Dictionary's top 10 words for 2012
inspire: live a better life
Where in the world do you want to go? Somewhere unique? Any of the places described here are sure to make your next world-travel adventure truly memorable.

It's easy to lead, but it takes courage and conviction to be a truly great leader. Here are 10 inspiring leaders and what we can learn from them.

Some say it's a small world. We beg to differ. Earth has so many wondrous places worth exploring, and most of us are lucky to see a handful of them. Here are 30 of the top trips of a lifetime.

You'll stave off credit card debt by the end of the year if you account for these often-forgotten expenses.

Mark Zuckerberg has an even bigger effect on your life than you thought.

Take this advice to finally tackle that nagging to-do list.

The iconic storyteller would have been 110-years-old

Take the time to appreciate women's contributions to society. Here are some of the women who inspire us by their example.

Cast of the iconic TV show reunites for Florence Henderson's birthday

We couldn't be more excited to watch the best athletes in the world compete at the Winter Olympics in Sochi. This year, about 44 percent of the competitors are women according to the International Olympic Committee—which is awesome but wasn't always the case. Let's look back at some of the amazing women who paved the way with incredible, memorable feats of girl power.

Still pulling yourself out of holiday credit card debt? Ready to pool some funds for that beach vacation you've been dreaming about at your desk? We're with you 100 percent.

"FOMO, the fear of missing out, is a form of social anxiety," says psychiatrist Gail Saltz. "This type of fear tends to cause compulsive behaviors, like checking out other social situations even as you are in the middle of one currently."