Pop quiz: What is the Bill of Rights?
Don't worry — your right to be wrong is protected.
Quick pop quiz: What is the Bill of Rights? What do the rights outline? When did they become law?
Anyone?
Bueller?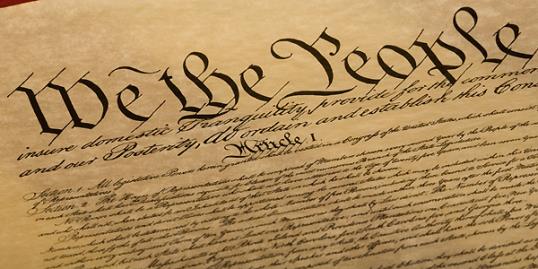 If you don't remember exactly what the Bill of Rights is or what it does, it's probably also news to you that today is "Bill of Rights Day." Saturday Dec. 15, 2012 marks the 221st anniversary of the Dec. 15, 1791 signing into law of what many historians consider the most dynamic and important document in our nation's history. That's saying something in the face of serious competition from The Declaration of Independence and The Constitution.
More from Daily Dose: Top Tweets of 2012
The Bill of Rights is the name given to the first ten amendments to the Constitution. The amendments were drafted by James Madison, who at the time was a member of the House of Representatives. Back in the 1780s, a number of state reps had begun chafing at the apparent limitless power given to the federal government by the Constitution, and wanted the individual rights of their constituencies protected. Madison led this charge by recommending changes to the actual wording of the Constitution. This notion — then as now — was looked upon as heresy.
Bing: Bill of Rights Day news
Madison and his colleagues reconsidered their approach and instead submitted the changes as amendments, which could be viewed as "improvements" to the nearly sacred document. The initial 17 amendments were whittled down via voting to a basic ten. These were approved state by state, and with Virginia ratifying on December 15, 1791, the Bill of Rights went into effect.
More from Daily Dose: Seismologists reveal earthquake hotspots
When people get up in arms over government intrusion into their lives, it's the Bill Of Rights that they're figuratively waving in defiance. The bill covers all the individual liberties that define America's system of government at its best: establishing freedom of speech and freedom of the press; keeping government out of religion; the right to bear arms; the right to a fair and speedy trial; protection against unreasonable search and seizure of one's home; and the prevention of cruel and unusual punishment in criminal sentences.
The Constitution has since been amended an additional 17 times, but these first ten have provided U.S. citizens with the rights that we exercise, but perhaps don't fully appreciate, every day.
Photo: Dieter Spears/Getty Images
More from Daily Dose:
Do employers hire drinking buddies?
10 trends to watch in 2013
Merriam-Webster Dictionary's top 10 words for 2012
inspire: live a better life
Summer traditions can be great, but if you're on year six of packing the same people into the same car to go on the same vacation, it's time to switch things up. Surfing in Portugal, perhaps – or cycling through Northern Ireland. We've put together a list of 15 places well off the beaten path that you should go to when you're ready to try something new.

Grab a sleeping bag and head out to one of these amazing campsites.

A dozen adventures that are well worth the trip.

Paper downplays the significance of practice over raw talent.

Survey says American teens aren't great at complex or basic financial tasks.

Fear of Moving Away: How to conquer the latest cultural anxiety and embrace the unknown.

Adulthood has no eureka moment.

Just like your body, your brain needs a regular workout too.

Being a winner is a good feeling to have — especially in life. Winning doesn't solely relate to competitions or Charlie Sheen's coining of the term back in 2011. From achieving success to maintaining a work-life balance, find out what characteristics mean your life is going the way it should be. You may just even find an inspiration or two that you'll want to incorporate into your daily routine!

Sometimes it seems like you need a vacation from your vacation.

That'll get you and your 2 kids a house, SUV, and more, per a 'USA Today' analysis.

While most of us associate the Fourth of July with fireworks and barbecue (and taking a long weekend off from work), it's also an important day to give thanks to the people who help keep us safe.