Spacecraft sees giant 'hole' in the sun
A space telescope aimed at the sun has spotted a gigantic hole in the solar atmosphere – a dark spot that covers nearly a quarter of it.
On July 18, the Solar and Heliospheric Observatory spacecraft captured an image of a massive coronal hole over the sun's north pole.
Coronal holes are darker, cooler regions of the sun's atmosphere, or corona, that contain little solar material, reports the Huffington Post.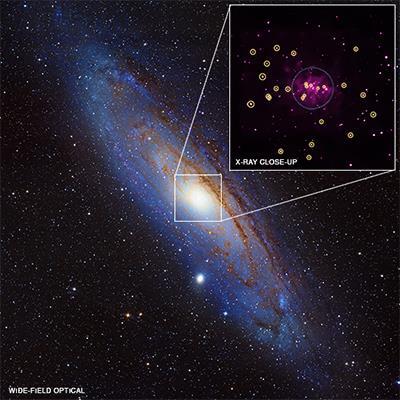 More from Daily Dose:
Universe is older, stranger than we knew
The orbiting observatory discovered that the dark spot covers nearly a quarter of the Sun and is surrounded by solar activity, which can affect space weather.
More from MSN Living: 10 interesting facts about Earth
"While it's unclear what causes coronal holes, they correlate to areas on the sun where magnetic fields soar up and away, failing to loop back down to the surface, as they do elsewhere," NASA's Karen Fox at the agency's Goddard Space Flight Center in Greenbelt, Md., told the Huffington Post.
Read the complete story on the Huffington Post here.  
Tell us: What do you think about this discovery?
Bing: Top space discoveries
More from The Daily Dose:
Air crashes more survivable due to improved safety
Smoking to be banned at Oahu beaches, other spots
Geraldo and the rules of the 'selfie'
Subscribe to the Daily Dose | Friend us on Facebook, follow us on Twitter and find us on Pinterest.
Photo: X-ray (NASA/CXC/SAO/R.Barn​ard, Z.Lee et al.), Optical (NOAO/AURA/NSF/REU Prog./B.Schoening, V.Harvey; Descubre Fndn./CAHA/OAUV/DSA/​V.Peris)
inspire: live a better life
From international roaming fees to skipping travel insurance, these mistakes can put a damper on your next vacation.

Where in the world do you want to go? Somewhere unique? Any of the places described here are sure to make your next world-travel adventure truly memorable.

It's easy to lead, but it takes courage and conviction to be a truly great leader. Here are 10 inspiring leaders and what we can learn from them.

Some say it's a small world. We beg to differ. Earth has so many wondrous places worth exploring, and most of us are lucky to see a handful of them. Here are 30 of the top trips of a lifetime.

The semi-annual glitch in your daily routine is back this weekend.

You'll stave off credit card debt by the end of the year if you account for these often-forgotten expenses.

Mark Zuckerberg has an even bigger effect on your life than you thought.

Take this advice to finally tackle that nagging to-do list.

The iconic storyteller would have been 110-years-old

Take the time to appreciate women's contributions to society. Here are some of the women who inspire us by their example.

Cast of the iconic TV show reunites for Florence Henderson's birthday

We couldn't be more excited to watch the best athletes in the world compete at the Winter Olympics in Sochi. This year, about 44 percent of the competitors are women according to the International Olympic Committee—which is awesome but wasn't always the case. Let's look back at some of the amazing women who paved the way with incredible, memorable feats of girl power.