Spacecraft sees giant 'hole' in the sun
A space telescope aimed at the sun has spotted a gigantic hole in the solar atmosphere – a dark spot that covers nearly a quarter of it.
On July 18, the Solar and Heliospheric Observatory spacecraft captured an image of a massive coronal hole over the sun's north pole.
Coronal holes are darker, cooler regions of the sun's atmosphere, or corona, that contain little solar material, reports the Huffington Post.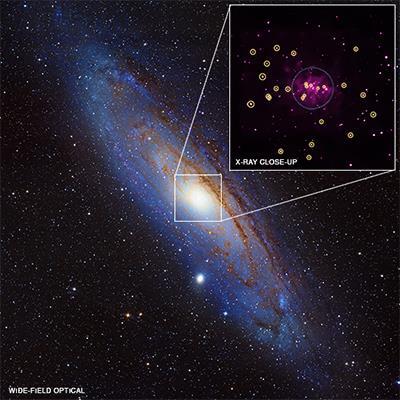 More from Daily Dose:
Universe is older, stranger than we knew
The orbiting observatory discovered that the dark spot covers nearly a quarter of the Sun and is surrounded by solar activity, which can affect space weather.
More from MSN Living: 10 interesting facts about Earth
"While it's unclear what causes coronal holes, they correlate to areas on the sun where magnetic fields soar up and away, failing to loop back down to the surface, as they do elsewhere," NASA's Karen Fox at the agency's Goddard Space Flight Center in Greenbelt, Md., told the Huffington Post.
Read the complete story on the Huffington Post here.  
Tell us: What do you think about this discovery?
Bing: Top space discoveries
More from The Daily Dose:
Air crashes more survivable due to improved safety
Smoking to be banned at Oahu beaches, other spots
Geraldo and the rules of the 'selfie'
Subscribe to the Daily Dose | Friend us on Facebook, follow us on Twitter and find us on Pinterest.
Photo: X-ray (NASA/CXC/SAO/R.Barn​ard, Z.Lee et al.), Optical (NOAO/AURA/NSF/REU Prog./B.Schoening, V.Harvey; Descubre Fndn./CAHA/OAUV/DSA/​V.Peris)
inspire: live a better life
Happify shares their results of a recent study on how money affects our happiness.

A top exec reveals the company's secret code

Pro tips from the guy who's done it four times

Not all mistakes are as blatant as posting party pics when you're 'sick' at home.

Everyone struggles through weekday drudgery to reach their weekend fun. But what if you could reclaim every day of your life?

Zooming up the ladder is great, but questioning yourself 24/7 is no way to succeed. Manage your stressed self with these surefire tips.

Forget trying to control every little detail. Life is lots more fun (and less stressful) when you let go from the get-go.

So, what exactly is this thing we call "happiness" and how do we get it?

Mark Zuckerberg has an even bigger effect on your life than you thought.

Everyone makes mistakes, but some mistakes can be devastating. Here are 10 icons who fell from grace, and what they can do to redeem themselves.

Twitter turns eight years old today.

Try these anything-but-ordinary ideas for a healthier, more productive mid-day break.