Spacecraft sees giant 'hole' in the sun
A space telescope aimed at the sun has spotted a gigantic hole in the solar atmosphere – a dark spot that covers nearly a quarter of it.
On July 18, the Solar and Heliospheric Observatory spacecraft captured an image of a massive coronal hole over the sun's north pole.
Coronal holes are darker, cooler regions of the sun's atmosphere, or corona, that contain little solar material, reports the Huffington Post.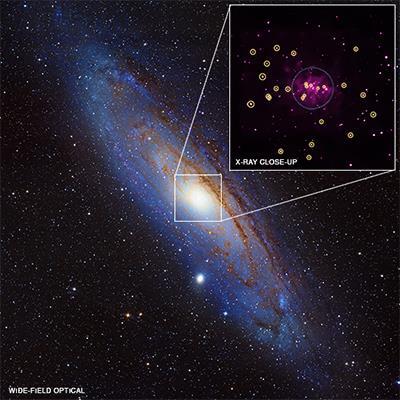 More from Daily Dose:
Universe is older, stranger than we knew
The orbiting observatory discovered that the dark spot covers nearly a quarter of the Sun and is surrounded by solar activity, which can affect space weather.
More from MSN Living: 10 interesting facts about Earth
"While it's unclear what causes coronal holes, they correlate to areas on the sun where magnetic fields soar up and away, failing to loop back down to the surface, as they do elsewhere," NASA's Karen Fox at the agency's Goddard Space Flight Center in Greenbelt, Md., told the Huffington Post.
Read the complete story on the Huffington Post here.  
Tell us: What do you think about this discovery?
Bing: Top space discoveries
More from The Daily Dose:
Air crashes more survivable due to improved safety
Smoking to be banned at Oahu beaches, other spots
Geraldo and the rules of the 'selfie'
Subscribe to the Daily Dose | Friend us on Facebook, follow us on Twitter and find us on Pinterest.
Photo: X-ray (NASA/CXC/SAO/R.Barn​ard, Z.Lee et al.), Optical (NOAO/AURA/NSF/REU Prog./B.Schoening, V.Harvey; Descubre Fndn./CAHA/OAUV/DSA/​V.Peris)
inspire: live a better life
A look back on all of the tiny tasks that 30 years of technology has saved you from.

What sets you apart from everyone else looking for a new job or bigger paycheck? Your profile!

With all those deals you snagged on Black Friday, Small Business Saturday, and Cyber Monday, today is your chance to give back to those in need with #GivingTuesday.

Miss Manners provides guidance on how to handle a request for party contributions

Miss Manners instructs on why tit-for-tat never works

Miss Manners offers thoughts on guests who disregard dinner party instructions

Make big bucks, from home, having fun? These women got creative and figured out a way to have it all. You can too.

Your boss. You might like her, you probably respect her, but do you know how to approach someone who seems so different from you? (Spoiler: She's actually not.)

Over the weekend, Oprah decluttered her Montecito mansion and three other properties in a Santa Barbara yard sale that brought in more than $600,000(!). (Proceeds will benefit her girls' leadership academy in South Africa, and not half of a Crate and Barrel chair, the traditional end goal of yard-sale proceeds.)

Exclusively for MSN, we bring you a six-part series from the new book: MISS MANNERS MINDS YOUR BUSINESS by Judith and Nicholas Ivor Martin.

Miss Manners weighs in on the financial burdens of remote weddings