Spacecraft sees giant 'hole' in the sun
A space telescope aimed at the sun has spotted a gigantic hole in the solar atmosphere – a dark spot that covers nearly a quarter of it.
On July 18, the Solar and Heliospheric Observatory spacecraft captured an image of a massive coronal hole over the sun's north pole.
Coronal holes are darker, cooler regions of the sun's atmosphere, or corona, that contain little solar material, reports the Huffington Post.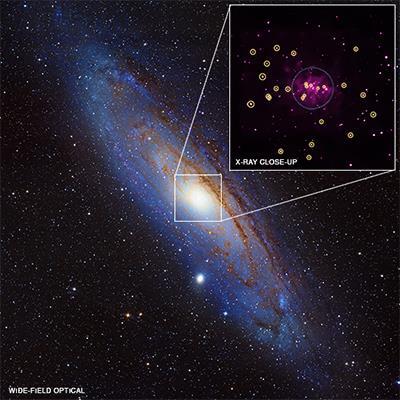 More from Daily Dose:
Universe is older, stranger than we knew
The orbiting observatory discovered that the dark spot covers nearly a quarter of the Sun and is surrounded by solar activity, which can affect space weather.
More from MSN Living: 10 interesting facts about Earth
"While it's unclear what causes coronal holes, they correlate to areas on the sun where magnetic fields soar up and away, failing to loop back down to the surface, as they do elsewhere," NASA's Karen Fox at the agency's Goddard Space Flight Center in Greenbelt, Md., told the Huffington Post.
Read the complete story on the Huffington Post here.  
Tell us: What do you think about this discovery?
Bing: Top space discoveries
More from The Daily Dose:
Air crashes more survivable due to improved safety
Smoking to be banned at Oahu beaches, other spots
Geraldo and the rules of the 'selfie'
Subscribe to the Daily Dose | Friend us on Facebook, follow us on Twitter and find us on Pinterest.
Photo: X-ray (NASA/CXC/SAO/R.Barn​ard, Z.Lee et al.), Optical (NOAO/AURA/NSF/REU Prog./B.Schoening, V.Harvey; Descubre Fndn./CAHA/OAUV/DSA/​V.Peris)
inspire: live a better life
Summer and winter tend to hog all the glory when it comes to travel high seasons. Sure, you want to soak up all the time at the beach you can during the summer, and you just want to escape the cold during the last months of the year.

Who just wants to stand around and watch the red and gold leaves slowly fall from their tree branches to the ground as we move from summer to fall? Instead, take in the changing seasons while you're on the move.

In September, I'll turn 38. I'm at the age now where, when people ask how old I am, it takes me a minute to remember. I don't know if that's because I've already been 37 different ages and it's hard to keep straight which one I am now, or if it's because I'm in denial, or if it's because I am going senile. Maybe a combination of all of the above. Regardless, my 30s have flown by and soon they will be but a memory. So, in an effort to preserve the memory I have left (or at least keep a record of it), and to celebrate what has been an amazing decade so far, here are 30 things that have happened to me in my 30s (and will probably happen to you too):

Traveling doesn't have to be stressful. And what you can fit in your carry-on can make all the difference (and not just a fresh pair of socks), especially when you get that low battery signal.

Volunteering (and these other rituals) might be just as good as exercise when it comes to extending your life.

Use these tricks to set a better tone for the rest of the week.

Whether it involves a food fight, mermaids or a torch-lit procession, people the world over know how to have a good time. Here are some of the biggest, boldest, booziest celebrations around, along with some tips to get the full experience.

Research could mean more effective treatment for human disorders.

An entry a day might keep the doctor away (or at least the shrink).

One woman's shout-outs to daily moments of joy — and how to cultivate them.

Our best health and fitness tips including the one move that tones all, berry news, and more.