Spacecraft sees giant 'hole' in the sun
A space telescope aimed at the sun has spotted a gigantic hole in the solar atmosphere – a dark spot that covers nearly a quarter of it.
On July 18, the Solar and Heliospheric Observatory spacecraft captured an image of a massive coronal hole over the sun's north pole.
Coronal holes are darker, cooler regions of the sun's atmosphere, or corona, that contain little solar material, reports the Huffington Post.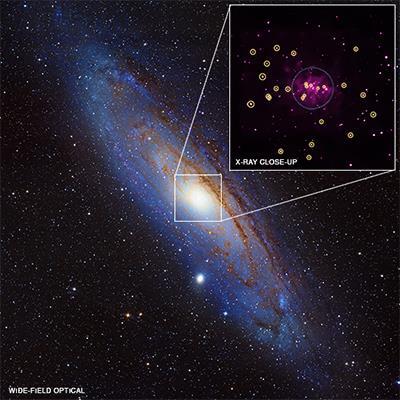 More from Daily Dose:
Universe is older, stranger than we knew
The orbiting observatory discovered that the dark spot covers nearly a quarter of the Sun and is surrounded by solar activity, which can affect space weather.
More from MSN Living: 10 interesting facts about Earth
"While it's unclear what causes coronal holes, they correlate to areas on the sun where magnetic fields soar up and away, failing to loop back down to the surface, as they do elsewhere," NASA's Karen Fox at the agency's Goddard Space Flight Center in Greenbelt, Md., told the Huffington Post.
Read the complete story on the Huffington Post here.  
Tell us: What do you think about this discovery?
Bing: Top space discoveries
More from The Daily Dose:
Air crashes more survivable due to improved safety
Smoking to be banned at Oahu beaches, other spots
Geraldo and the rules of the 'selfie'
Subscribe to the Daily Dose | Friend us on Facebook, follow us on Twitter and find us on Pinterest.
Photo: X-ray (NASA/CXC/SAO/R.Barn​ard, Z.Lee et al.), Optical (NOAO/AURA/NSF/REU Prog./B.Schoening, V.Harvey; Descubre Fndn./CAHA/OAUV/DSA/​V.Peris)
inspire: live a better life
Drowning in debt? Maybe there's a silver lining.

"But it's not real life, you know. It's a vacation."

Our list of must-dos before hitting the road.

Summer traditions can be great, but if you're on year six of packing the same people into the same car to go on the same vacation, it's time to switch things up. Surfing in Portugal, perhaps – or cycling through Northern Ireland. We've put together a list of 15 places well off the beaten path that you should go to when you're ready to try something new.

Grab a sleeping bag and head out to one of these amazing campsites.

A dozen adventures that are well worth the trip.

Paper downplays the significance of practice over raw talent.

Survey says American teens aren't great at complex or basic financial tasks.

Fear of Moving Away: How to conquer the latest cultural anxiety and embrace the unknown.

Adulthood has no eureka moment.

Just like your body, your brain needs a regular workout too.

Being a winner is a good feeling to have — especially in life. Winning doesn't solely relate to competitions or Charlie Sheen's coining of the term back in 2011. From achieving success to maintaining a work-life balance, find out what characteristics mean your life is going the way it should be. You may just even find an inspiration or two that you'll want to incorporate into your daily routine!