Safest Places for Women to Live and Work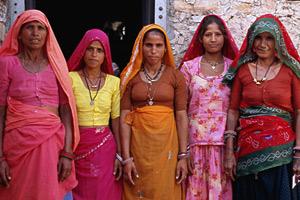 Each year, the G20 conference gathers countries of advanced and emerging economies to confer on international relations and trends in global finance. As evidenced by the now-routine protests and demonstrations surrounding each meeting, the global economy has far-reaching impact on the well-being of people around the world.
Before this year's conference in Mexico, TrustLaw conducted a poll of 370 experts in gender and development to rank how good each of the 19 member countries is for women. TrustLaw, "a global hub for free legal assistance and news and information on good governance and women's rights," used the following criteria in their ranking:

1. Quality of health
2. Freedom from violence
3. Political participation
4. Workplace opportunities
5. Access to resources (i.e. education, property rights)
6. Freedom from trafficking and slavery

The results have been shared in a set of infographics laced with facts and stats that are alternately eye-popping and heart-breaking. Even the top-rated countries have plenty of room for progress. With the US ranking only No. 6 in the poll, the results reflect how far even a uniquely wealthy Western nation needs to come in improving the quality of women's lives.

A few observations shared by TrustLaw:

• Australia ranks high at No. 4, yet 1 in 3 women there will experience physical violence in their lifetime. Nearly 1 in 5 (19.1 percent) have experienced sexual violence since the age of 15.

• India is the worst G20 country for women. Said a representative of Save The Children UK, "In India, women and girls continue to be sold as chattels, married off as young as 10, burned alive as a result of dowry-related disputes, and young girls exploited and abused as domestic slave labour."

• China (No. 14) has extraordinary levels of gender discrimination and is darkly marked by "son preference." According to statistics provided by the World Bank, 1.09 million girls were dead or "missing" at birth due to infanticide in 2008.

• Russia (No. 13) continues to have a widespread problem with prostitution domestically, and 57,750 women are trafficked from the country every year. In Brazil (No. 11), a quarter million children are estimated to be involved in prostitution.

• Germany (No. 2) has a female head of state, and the life expectancy there for women is 83 years.

• Saudi Arabia, at No. 18, is a wealthy kingdom but is heavily influenced by an ultra-conservative form of Islam requiring women to submit to men in nearly every aspect of their lives. Only last year were Saudi women given the right to vote. There is no law against domestic violence to women.

• The United States ranked at No. 6, with due credit for civil rights, protecting victims of domestic violence, and workplace opportunities. But debates over reproductive rights — with 92 anti-abortion provisions enacted at state level in 2011 — and lack of affordable healthcare stranding nearly 23 million uninsured left the US trailing five other nations.

• Canada provides access to healthcare and places a premium on education, which are critical components in earning our northern neighbor the poll's No. 1 ranking.

Photo: Michael Coyne/Getty Images

inspire: live a better life
Miss Manners advises on how to respond when one gets unsolicited advice about weight issues.

Editor's note: We will now be publishing Miss Manners articles twice weekly, but you will only see one question and answer per article. You can expect to see these articles appear on Tuesdays and Thursdays going forward.

President Harry S. Truman was behind efforts to establish the first Armed Forces Day in 1950, and decades later the nation continues to set aside the third Saturday in May to recognize and thank members of the U.S. military for their patriotic service. With these five homecoming images, we salute all service members at home and abroad.

There's much to be desired about working from home: the stress-free commute, flexible hours, and improved work-life balance.

Wishing for the fountain of youth? You may not need it. We've rounded up real-women secrets, tried-and-true beauty tips, and the latest research to help you fight aging.

Experts weigh in on when to bite your tongue at the office.

Oh, the places you'll go — to get some "me" time, that is. REDBOOK readers confess all on Facebook.

How much money you make isn't nearly as important as how you use it, according to Elizabeth Dunn and Michael Norton, authors of the new book Happy Money.

Plus, how do you ask people to not bring gifts to a shower?

Looking for a career upgrade? Follow these tips for a foot in the door.

These tanning and skin cancer myths aren't just wrong — they can do serious harm. Wise up and head into a healthier future. P.S. You'll look a lot younger too.

It's possible to rejigger your brain circuitry and feel more joy, even on Monday mornings. Here's how.