Safest Places for Women to Live and Work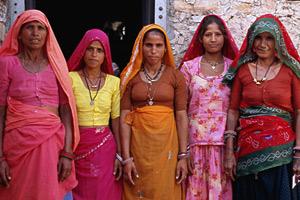 Each year, the G20 conference gathers countries of advanced and emerging economies to confer on international relations and trends in global finance. As evidenced by the now-routine protests and demonstrations surrounding each meeting, the global economy has far-reaching impact on the well-being of people around the world.
Before this year's conference in Mexico, TrustLaw conducted a poll of 370 experts in gender and development to rank how good each of the 19 member countries is for women. TrustLaw, "a global hub for free legal assistance and news and information on good governance and women's rights," used the following criteria in their ranking:

1. Quality of health
2. Freedom from violence
3. Political participation
4. Workplace opportunities
5. Access to resources (i.e. education, property rights)
6. Freedom from trafficking and slavery

The results have been shared in a set of infographics laced with facts and stats that are alternately eye-popping and heart-breaking. Even the top-rated countries have plenty of room for progress. With the US ranking only No. 6 in the poll, the results reflect how far even a uniquely wealthy Western nation needs to come in improving the quality of women's lives.

A few observations shared by TrustLaw:

• Australia ranks high at No. 4, yet 1 in 3 women there will experience physical violence in their lifetime. Nearly 1 in 5 (19.1 percent) have experienced sexual violence since the age of 15.

• India is the worst G20 country for women. Said a representative of Save The Children UK, "In India, women and girls continue to be sold as chattels, married off as young as 10, burned alive as a result of dowry-related disputes, and young girls exploited and abused as domestic slave labour."

• China (No. 14) has extraordinary levels of gender discrimination and is darkly marked by "son preference." According to statistics provided by the World Bank, 1.09 million girls were dead or "missing" at birth due to infanticide in 2008.

• Russia (No. 13) continues to have a widespread problem with prostitution domestically, and 57,750 women are trafficked from the country every year. In Brazil (No. 11), a quarter million children are estimated to be involved in prostitution.

• Germany (No. 2) has a female head of state, and the life expectancy there for women is 83 years.

• Saudi Arabia, at No. 18, is a wealthy kingdom but is heavily influenced by an ultra-conservative form of Islam requiring women to submit to men in nearly every aspect of their lives. Only last year were Saudi women given the right to vote. There is no law against domestic violence to women.

• The United States ranked at No. 6, with due credit for civil rights, protecting victims of domestic violence, and workplace opportunities. But debates over reproductive rights — with 92 anti-abortion provisions enacted at state level in 2011 — and lack of affordable healthcare stranding nearly 23 million uninsured left the US trailing five other nations.

• Canada provides access to healthcare and places a premium on education, which are critical components in earning our northern neighbor the poll's No. 1 ranking.

Photo: Michael Coyne/Getty Images

inspire: live a better life
Our best health and fitness tips including the one move that tones all, berry news, and more.

Who just wants to stand around and watch the red and gold leaves slowly fall from their tree branches to the ground as we move from summer to fall? Instead, take in the changing seasons while you're on the move.

Here's some tips to get to happiness going forward in your life.

People 60 to 82 did best on cognitive tasks before 10:30am.

Lucille Ball was born in 1911, and though we lost her long ago, her legacy as America's favorite redhead lives on through the timeless classic, "I Love Lucy." People of all generations still enjoy Lucy's antics as much as they did over 60 years ago when the show first premiered.

Summer is coming to an end, and in a few weeks, kids will be forced to trade in their beach bags for backpacks. But just because the season is fading away doesn't mean the memories from the past few months have to disappear with it.

Confidence and perceived competence are key, study finds.

Features lead to assumptions about character, study says.

Great gear for an afternoon spent shoreside.

Use these bucket-list ideas to enjoy the little time you have left.

Study points to benefits of improved living conditions.