4 women changing the world
A celebration of International Women's Day.
In celebration of International Women's Day, the Daily Dose is recognizing four women who are making the world a better place through their extraordinary actions and influence.
Queen Noor: Humanitarian
Born Lisa Najeeb Halaby in the United States, Queen Noor married the king of Jordan in 1978. She quickly became a positive force for promoting cross-cultural understanding among nations of the Middle East and for advancing Arab-Western relations. Queen Noor has had a profound influence on humanitarian efforts addressing poverty, intolerance, displaced refugees and sustainable development. She is a co-founder of Global Zero, which champions the reduction of nuclear weapons arsenals, and president of the education movement United World Colleges.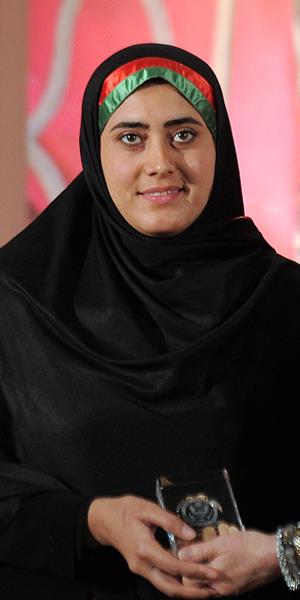 Maryam Durani: Rights advocate
The Kandahar Province is one of the most conservative and dangerous regions in Afghanistan. That's where Maryam Durani owns and manages a radio station dedicated to the rights of Afghan women and girls. Despite several attempts on her life, Durani has loudly and visibly advocated for the civil rights of all Afghans as a member Kandahar's Provincial Council and director of the the Khadija Kubra Women's Association for Culture. In March of 2012, Durani (pictured here) was presented with the International Women of Courage award from Hillary Clinton and Michelle Obama.
More from MSN Living: Women who inspire us
Aung San Suu Kyi: Opposition leader
Returning to her native Myanmar (also known as Burma) in 1988 after studying abroad, Aung San Suu Kyi initiated a nonviolent movement protesting the rule of dictator U Ne Win — and was promptly placed under arrest. Suu Kyi was in custody for 15 years and intermittently under house arrest until 2010. But her peaceful efforts to advance a democratic government against a brutal military regime, which helped earn her a Nobel Peace Prize while under house arrest in 1991, were never quashed. Her National League for Democracy has just launched a historic conference as the opposition party makes a bid for governing in 2015.
More from MSN Living: 2013 Good Housekeeping VIP (Very Innovative Products) Awards
Ayaan Hirsi Ali: Activist and politician
Born in Somalia, Ayaan Hirsi Ali was forced into hiding after writing the screenplay for the short film "Submission," which was critical of Islam. Theo van Gogh, the Dutch director of the film, was assassinated. Hirsi Ali is a rights activist, writer and politician who has drawn the ire of Muslim extremists with her outspoken views on women's liberties and atheism. As described in the memoir "Infidel," she has faced repeated death threats for her views and activism. Hirsi Ali currently lives in the United States. In 2007, she and her supporters established the AHA Foundation "to help protect and defend the rights of women in the West from oppression justified by religion and culture."
More from Daily Dose:
'Nasty effect' of user comments
Rights women still don't have
Languages on the endangered list
Love content like this? Friend us on Facebook, follow us on Twitter and find us on Pinterest
Photo: Maryam Durani / Jewel Samad/Getty Images
inspire: live a better life
How much do you really know about the Earth? In honor of Earth Day, April 22, we explore some interesting and fun facts about the fifth-largest planet of our solar system.

Happify shares their results of a recent study on how money affects our happiness.

A top exec reveals the company's secret code

Pro tips from the guy who's done it four times

Not all mistakes are as blatant as posting party pics when you're 'sick' at home.

Everyone struggles through weekday drudgery to reach their weekend fun. But what if you could reclaim every day of your life?

Zooming up the ladder is great, but questioning yourself 24/7 is no way to succeed. Manage your stressed self with these surefire tips.

Forget trying to control every little detail. Life is lots more fun (and less stressful) when you let go from the get-go.

So, what exactly is this thing we call "happiness" and how do we get it?

Mark Zuckerberg has an even bigger effect on your life than you thought.

Everyone makes mistakes, but some mistakes can be devastating. Here are 10 icons who fell from grace, and what they can do to redeem themselves.

Twitter turns eight years old today.