Bank Robbin' and Bill Payin'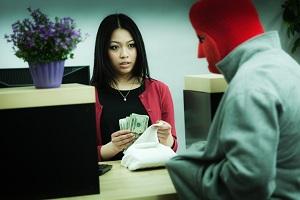 Being a bank robber ain't what it used to be. What ever happened to sticking up a joint and riding out on horseback to a carefree life on the lam (barring the possibility of being hunted, jailed or shot)? Sorry, Sundance — the glory days are gone. Now banks are being robbed just so the bandits can pay their utility bills.
Crime is always up when economies are down. But as writer Cord Jefferson of Good points out, there's been an especially depressing trend of people robbing banks just to stay out of debt. If you're wondering how bad it's gotten, apparently some are less afraid of law enforcement than of debt collectors. Half a century ago, the concern would have been having your face plastered around town on a Wanted poster; now people are more worried about a low credit score.
If you feel like you're being held up by your cell-phone carrier, credit card company, and tax collector, maybe you'll have some sympathy for the bankrupt bank robbers rounded up by Good, like the man from Mississippi who got away with just $1,600 and then ran around town paying his bills; or the 73-year-old who didn't want to lose his house of 20 years; or the toothless woman who needed money for dentures. Saddest of all is Jefferson's story about James Verone of North Carolina, who stuck up a bank teller for $1 and then sat down and waited to be arrested. Verone's plan: get sent to jail, where the state would pay for the healthcare he couldn't afford.
There will always be an assortment of knuckleheaded bank robbers out there, like the all-American who tried stick up a bank with two apple pies and the Star Wars fan who robbed a Toledo bank dressed as Darth Vader (and escaped on a bike). But there's a line between those Darwin Award-seeking thieves and those driven by desperation to become something they're not.
"Why is there never any money, Butch?" asks Etta Place in Butch Cassidy and the Sundance Kid.
"I swear, Et, I don't know. I been working like a dog all my life and I can't get a penny ahead."
Photo: YinYang/Vetta/Getty Images

inspire: live a better life
From international roaming fees to skipping travel insurance, these mistakes can put a damper on your next vacation.

Where in the world do you want to go? Somewhere unique? Any of the places described here are sure to make your next world-travel adventure truly memorable.

It's easy to lead, but it takes courage and conviction to be a truly great leader. Here are 10 inspiring leaders and what we can learn from them.

Some say it's a small world. We beg to differ. Earth has so many wondrous places worth exploring, and most of us are lucky to see a handful of them. Here are 30 of the top trips of a lifetime.

The semi-annual glitch in your daily routine is back this weekend.

You'll stave off credit card debt by the end of the year if you account for these often-forgotten expenses.

Mark Zuckerberg has an even bigger effect on your life than you thought.

Take this advice to finally tackle that nagging to-do list.

The iconic storyteller would have been 110-years-old

Take the time to appreciate women's contributions to society. Here are some of the women who inspire us by their example.

Cast of the iconic TV show reunites for Florence Henderson's birthday

We couldn't be more excited to watch the best athletes in the world compete at the Winter Olympics in Sochi. This year, about 44 percent of the competitors are women according to the International Olympic Committee—which is awesome but wasn't always the case. Let's look back at some of the amazing women who paved the way with incredible, memorable feats of girl power.