Bank Robbin' and Bill Payin'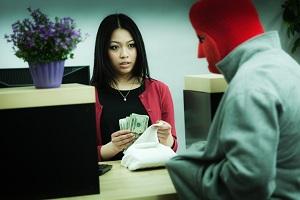 Being a bank robber ain't what it used to be. What ever happened to sticking up a joint and riding out on horseback to a carefree life on the lam (barring the possibility of being hunted, jailed or shot)? Sorry, Sundance — the glory days are gone. Now banks are being robbed just so the bandits can pay their utility bills.
Crime is always up when economies are down. But as writer Cord Jefferson of Good points out, there's been an especially depressing trend of people robbing banks just to stay out of debt. If you're wondering how bad it's gotten, apparently some are less afraid of law enforcement than of debt collectors. Half a century ago, the concern would have been having your face plastered around town on a Wanted poster; now people are more worried about a low credit score.
If you feel like you're being held up by your cell-phone carrier, credit card company, and tax collector, maybe you'll have some sympathy for the bankrupt bank robbers rounded up by Good, like the man from Mississippi who got away with just $1,600 and then ran around town paying his bills; or the 73-year-old who didn't want to lose his house of 20 years; or the toothless woman who needed money for dentures. Saddest of all is Jefferson's story about James Verone of North Carolina, who stuck up a bank teller for $1 and then sat down and waited to be arrested. Verone's plan: get sent to jail, where the state would pay for the healthcare he couldn't afford.
There will always be an assortment of knuckleheaded bank robbers out there, like the all-American who tried stick up a bank with two apple pies and the Star Wars fan who robbed a Toledo bank dressed as Darth Vader (and escaped on a bike). But there's a line between those Darwin Award-seeking thieves and those driven by desperation to become something they're not.
"Why is there never any money, Butch?" asks Etta Place in Butch Cassidy and the Sundance Kid.
"I swear, Et, I don't know. I been working like a dog all my life and I can't get a penny ahead."
Photo: YinYang/Vetta/Getty Images

inspire: live a better life
Miss Manners advises on how to respond when one gets unsolicited advice about weight issues.

Editor's note: We will now be publishing Miss Manners articles twice weekly, but you will only see one question and answer per article. You can expect to see these articles appear on Tuesdays and Thursdays going forward.

President Harry S. Truman was behind efforts to establish the first Armed Forces Day in 1950, and decades later the nation continues to set aside the third Saturday in May to recognize and thank members of the U.S. military for their patriotic service. With these five homecoming images, we salute all service members at home and abroad.

There's much to be desired about working from home: the stress-free commute, flexible hours, and improved work-life balance.

Wishing for the fountain of youth? You may not need it. We've rounded up real-women secrets, tried-and-true beauty tips, and the latest research to help you fight aging.

Experts weigh in on when to bite your tongue at the office.

Oh, the places you'll go — to get some "me" time, that is. REDBOOK readers confess all on Facebook.

How much money you make isn't nearly as important as how you use it, according to Elizabeth Dunn and Michael Norton, authors of the new book Happy Money.

Plus, how do you ask people to not bring gifts to a shower?

Looking for a career upgrade? Follow these tips for a foot in the door.

These tanning and skin cancer myths aren't just wrong — they can do serious harm. Wise up and head into a healthier future. P.S. You'll look a lot younger too.

It's possible to rejigger your brain circuitry and feel more joy, even on Monday mornings. Here's how.