Bank Robbin' and Bill Payin'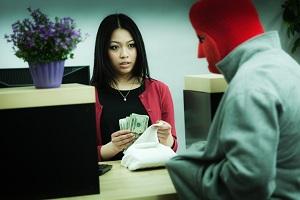 Being a bank robber ain't what it used to be. What ever happened to sticking up a joint and riding out on horseback to a carefree life on the lam (barring the possibility of being hunted, jailed or shot)? Sorry, Sundance — the glory days are gone. Now banks are being robbed just so the bandits can pay their utility bills.
Crime is always up when economies are down. But as writer Cord Jefferson of Good points out, there's been an especially depressing trend of people robbing banks just to stay out of debt. If you're wondering how bad it's gotten, apparently some are less afraid of law enforcement than of debt collectors. Half a century ago, the concern would have been having your face plastered around town on a Wanted poster; now people are more worried about a low credit score.
If you feel like you're being held up by your cell-phone carrier, credit card company, and tax collector, maybe you'll have some sympathy for the bankrupt bank robbers rounded up by Good, like the man from Mississippi who got away with just $1,600 and then ran around town paying his bills; or the 73-year-old who didn't want to lose his house of 20 years; or the toothless woman who needed money for dentures. Saddest of all is Jefferson's story about James Verone of North Carolina, who stuck up a bank teller for $1 and then sat down and waited to be arrested. Verone's plan: get sent to jail, where the state would pay for the healthcare he couldn't afford.
There will always be an assortment of knuckleheaded bank robbers out there, like the all-American who tried stick up a bank with two apple pies and the Star Wars fan who robbed a Toledo bank dressed as Darth Vader (and escaped on a bike). But there's a line between those Darwin Award-seeking thieves and those driven by desperation to become something they're not.
"Why is there never any money, Butch?" asks Etta Place in Butch Cassidy and the Sundance Kid.
"I swear, Et, I don't know. I been working like a dog all my life and I can't get a penny ahead."
Photo: YinYang/Vetta/Getty Images

inspire: live a better life
Summer and winter tend to hog all the glory when it comes to travel high seasons. Sure, you want to soak up all the time at the beach you can during the summer, and you just want to escape the cold during the last months of the year.

Who just wants to stand around and watch the red and gold leaves slowly fall from their tree branches to the ground as we move from summer to fall? Instead, take in the changing seasons while you're on the move.

In September, I'll turn 38. I'm at the age now where, when people ask how old I am, it takes me a minute to remember. I don't know if that's because I've already been 37 different ages and it's hard to keep straight which one I am now, or if it's because I'm in denial, or if it's because I am going senile. Maybe a combination of all of the above. Regardless, my 30s have flown by and soon they will be but a memory. So, in an effort to preserve the memory I have left (or at least keep a record of it), and to celebrate what has been an amazing decade so far, here are 30 things that have happened to me in my 30s (and will probably happen to you too):

Traveling doesn't have to be stressful. And what you can fit in your carry-on can make all the difference (and not just a fresh pair of socks), especially when you get that low battery signal.

Volunteering (and these other rituals) might be just as good as exercise when it comes to extending your life.

Use these tricks to set a better tone for the rest of the week.

Whether it involves a food fight, mermaids or a torch-lit procession, people the world over know how to have a good time. Here are some of the biggest, boldest, booziest celebrations around, along with some tips to get the full experience.

Research could mean more effective treatment for human disorders.

An entry a day might keep the doctor away (or at least the shrink).

One woman's shout-outs to daily moments of joy — and how to cultivate them.

Our best health and fitness tips including the one move that tones all, berry news, and more.