This Company Knows 1,500 Things About You
Your income, religion, health and habits are all on a server — and up for sale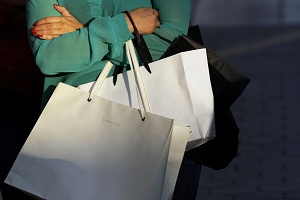 So tell me, what color are your undies? You might as well share with all of us. The intel is out there already, having been collected on a computer server in Little Rock, Arkansas, and made available to any and every retailer in the undies industry.
It sounds ridiculous, sure, but when you get a coupon in the mail for light pink tanga briefs with lace fringe and you're wondering, How did they know I like these??, remember what we said.
The business of consumer espionage — they call it database marketing — is silently expanding, and a company called Acxiom is one of the industry's top spies. These guys know far more about you and your family than an online vendor learns by placing cookies in your browser. With 1,500 data points per person on 500 million individuals, Acxiom has more info than your best friend does. According to NYT, they've been collecting offline and online information for the past forty years, covering everything from your religion, voter profile, income, debt, ethnicity, and investing habits to your favorite veggies, pet foods, TV shows, and house plants.

Data brokers like Acxiom and Epsilon say all's well (or did they say Orwellian?) to develop a "360-degree view" on individuals because the master plan is to cater to consumers, but from this end it feels a lot more like stalking. The databasers are collecting and selling our info faster than we can make laws to protect ourselves. We're also being profiled — racially, socio-economically, and otherwise — based on information over which we have no control. You may be rated as a high-value prospect, in which case marketers will be eager to bombard you with marketing offers and discounts; or you might be rated low-value, in which case they have a lovely term for you: "waste."
Acxiom says it allows consumers to access and correct information about themselves "when appropriate," though it's about as simple as a tax return. The convoluted process concludes with the requirement to snail-mail them a $5 check — because they can cull 50 trillion data transactions per year, but they can't accept PayPal.
Databrokering is a billion-dollar biz, and they don't want you to know what they know about you. But listen, don't be worried about privacy. They're only mining and refining these fantastically detailed profiles for your own convenience. Remember the teenaged girl whose dad learned she was pregnant only after Target had figured it out? The superstore knew her super well. We like to feel we're pretty well safeguarded and independent, but do you really think stores like that can't typecast you, find you, and direct products to you? They called it Target, fer cryin' out loud. And they know what color your undies are.

Photo: Bloomberg/Bloomberg/​Getty Images
More from The Daily Dose
inspire: live a better life
You'll stave off credit card debt by the end of the year if you account for these often-forgotten expenses.

Mark Zuckerberg has an even bigger effect on your life than you thought.

Take this advice to finally tackle that nagging to-do list.

The iconic storyteller would have been 110-years-old

Take the time to appreciate women's contributions to society. Here are some of the women who inspire us by their example.

Cast of the iconic TV show reunites for Florence Henderson's birthday

We couldn't be more excited to watch the best athletes in the world compete at the Winter Olympics in Sochi. This year, about 44 percent of the competitors are women according to the International Olympic Committee—which is awesome but wasn't always the case. Let's look back at some of the amazing women who paved the way with incredible, memorable feats of girl power.

Still pulling yourself out of holiday credit card debt? Ready to pool some funds for that beach vacation you've been dreaming about at your desk? We're with you 100 percent.

"FOMO, the fear of missing out, is a form of social anxiety," says psychiatrist Gail Saltz. "This type of fear tends to cause compulsive behaviors, like checking out other social situations even as you are in the middle of one currently."

When The Shriver Report was released in early January, we shared some of the more interesting statistics about income equality, the wage gap, and other issues confronting women.

Clay Aiken to run for public office.

Here's how to boost your joy — and put more cash in your pocket.