What porn stars say about the new condom law
Bad feelings in the feel-good industry
Beyond the marijuana law in Colorado, Americans didn't take much notice after Election Day of new regulations affecting districts other than their own. Except for one. In Los Angeles, actors in adult movies will now be required to wear condoms.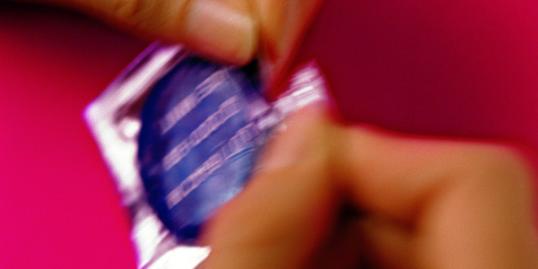 "It's not about safety," porn star James Deen told AnimalNewYork.com. "This is about freedom of expression. This is interrupting the people's choices of what they want to view."
That's the essence of the adult entertainment industry's beef with Measure B, the new mandatory condom law covering flicks shot in L.A. County. Actors, directors, producers and distributors in the $7 billion industry maintain that consumers simply will not want to buy movies in which their actors wear condoms.
More on MSN Living: Money rules that'll make you rich
"The last time we attempted to go all condom, our industry lost sales by over 30 percent," said Deen, who has starred in thousands of hardcore scenes and been outspoken on the issue (did you think he was shy?). "That's a huge hit to our economy."
Measure B, also known as The Safer Sex in the Adult Film Industry Act, was ostensibly passed to help prevent the spread of HIV among actors, and was championed by the AIDS Healthcare Foundation (AHF). A scandal in which one actor falsified HIV-test results, resulting in HIV exposure to several women who worked with him, fueled the fire.
But opponents in the industry say they already practice the strictest safety standards around to protect their people against sexually transmitted diseases. The industry requires actors to be tested every 28 days, and many seek more frequent tests of their own accord.
More on MSN Living: Get your life back in order
Actor/director Kimberly Kane, who says she herself was subject to a fourth-generation HIV exposure from actor Darren James, voiced her opposition to Measure B in an editorial for Vice.com.
Says Kane, "Testing has kept us safe and while some performers might not mind the idea of condoms in some circumstances, no one would feel safer with condoms instead of testing! There has been a lot of speculation within the industry as to what the AHF's motivations are. Headlines? Fundraising? Grant money?"
Here's a little insight, KK. Not long after L.A. County, the unofficial Porn Capital of the world, passed their regulation, the nearby town of Simi Valley demanded the same of adult entertainers. When the ordinance was first proposed, Simi Valley Mayor Bob Huber said it was motivated primarily by health and safety issue.
"And secondarily," Huber added, "we don't want them here."
Photo: Condom/Lifesize /Getty Images
Tell us on Facebook: What do you think about the controversial law?
Bing: Read more about the law.
More on MSN Living:
10 commandments of texting
10 secrets to a happy life
Sexiest women over 40

inspire: live a better life
You'll stave off credit card debt by the end of the year if you account for these often-forgotten expenses.

Mark Zuckerberg has an even bigger effect on your life than you thought.

Take this advice to finally tackle that nagging to-do list.

The iconic storyteller would have been 110-years-old

Take the time to appreciate women's contributions to society. Here are some of the women who inspire us by their example.

Cast of the iconic TV show reunites for Florence Henderson's birthday

We couldn't be more excited to watch the best athletes in the world compete at the Winter Olympics in Sochi. This year, about 44 percent of the competitors are women according to the International Olympic Committee—which is awesome but wasn't always the case. Let's look back at some of the amazing women who paved the way with incredible, memorable feats of girl power.

Still pulling yourself out of holiday credit card debt? Ready to pool some funds for that beach vacation you've been dreaming about at your desk? We're with you 100 percent.

"FOMO, the fear of missing out, is a form of social anxiety," says psychiatrist Gail Saltz. "This type of fear tends to cause compulsive behaviors, like checking out other social situations even as you are in the middle of one currently."

When The Shriver Report was released in early January, we shared some of the more interesting statistics about income equality, the wage gap, and other issues confronting women.

Clay Aiken to run for public office.

Here's how to boost your joy — and put more cash in your pocket.