What porn stars say about the new condom law
Bad feelings in the feel-good industry
Beyond the marijuana law in Colorado, Americans didn't take much notice after Election Day of new regulations affecting districts other than their own. Except for one. In Los Angeles, actors in adult movies will now be required to wear condoms.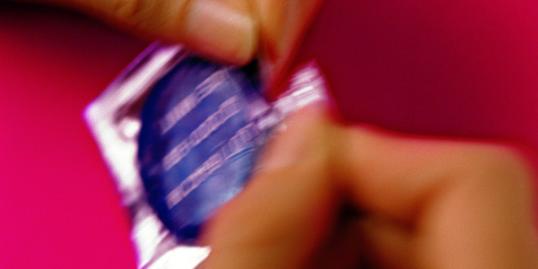 "It's not about safety," porn star James Deen told AnimalNewYork.com. "This is about freedom of expression. This is interrupting the people's choices of what they want to view."
That's the essence of the adult entertainment industry's beef with Measure B, the new mandatory condom law covering flicks shot in L.A. County. Actors, directors, producers and distributors in the $7 billion industry maintain that consumers simply will not want to buy movies in which their actors wear condoms.
More on MSN Living: Money rules that'll make you rich
"The last time we attempted to go all condom, our industry lost sales by over 30 percent," said Deen, who has starred in thousands of hardcore scenes and been outspoken on the issue (did you think he was shy?). "That's a huge hit to our economy."
Measure B, also known as The Safer Sex in the Adult Film Industry Act, was ostensibly passed to help prevent the spread of HIV among actors, and was championed by the AIDS Healthcare Foundation (AHF). A scandal in which one actor falsified HIV-test results, resulting in HIV exposure to several women who worked with him, fueled the fire.
But opponents in the industry say they already practice the strictest safety standards around to protect their people against sexually transmitted diseases. The industry requires actors to be tested every 28 days, and many seek more frequent tests of their own accord.
More on MSN Living: Get your life back in order
Actor/director Kimberly Kane, who says she herself was subject to a fourth-generation HIV exposure from actor Darren James, voiced her opposition to Measure B in an editorial for Vice.com.
Says Kane, "Testing has kept us safe and while some performers might not mind the idea of condoms in some circumstances, no one would feel safer with condoms instead of testing! There has been a lot of speculation within the industry as to what the AHF's motivations are. Headlines? Fundraising? Grant money?"
Here's a little insight, KK. Not long after L.A. County, the unofficial Porn Capital of the world, passed their regulation, the nearby town of Simi Valley demanded the same of adult entertainers. When the ordinance was first proposed, Simi Valley Mayor Bob Huber said it was motivated primarily by health and safety issue.
"And secondarily," Huber added, "we don't want them here."
Photo: Condom/Lifesize /Getty Images
Tell us on Facebook: What do you think about the controversial law?
Bing: Read more about the law.
More on MSN Living:
10 commandments of texting
10 secrets to a happy life
Sexiest women over 40

@backountry--so what you're saying is, if a city demands that construction workers wear hardhats on the job, that the city is trying to run the construction industry out? If a city requires restauant workers wash their hands after using the toilet, that city is trying to run out restaurants? The simple fact is porn actors and actresses are working a job, and sometimes safety rules are needed to protect them on the job. Since it was apparent the 'lab test every month' rule could be easily be manipulated, stricter safety rules were needed. Why is it so unreasonable to require wearing a condom? Or are you saying you expect to have sex with whoever, but take offense at having to wear a condom?

Condom use in porn is an important step in increasing condom use throughout the country!!  The people watching these movies will be more likely to use condoms when they see that the porn stars they idolize are using them.  It would be even more effective if the porn industry decides to stress the importance of safe sex in the movies.  I for one am not going to stop watching porn because the guys are wearing condoms.

What it boils down to is an attempt to rid the city of this industry. If the people of LA don't want to be the porn capital of the world that is fine, who can blame them after all. But to go about it like this is hardly any less disgusting than the industry they are trying to push out. Just another example of a regulation pushed for by special interest groups using "safety" as a convenient excuse.
Are you sure you want to delete this comment?
inspire: live a better life
Our best health and fitness tips including the one move that tones all, berry news, and more.

Who just wants to stand around and watch the red and gold leaves slowly fall from their tree branches to the ground as we move from summer to fall? Instead, take in the changing seasons while you're on the move.

Here's some tips to get to happiness going forward in your life.

People 60 to 82 did best on cognitive tasks before 10:30am.

Lucille Ball was born in 1911, and though we lost her long ago, her legacy as America's favorite redhead lives on through the timeless classic, "I Love Lucy." People of all generations still enjoy Lucy's antics as much as they did over 60 years ago when the show first premiered.

Summer is coming to an end, and in a few weeks, kids will be forced to trade in their beach bags for backpacks. But just because the season is fading away doesn't mean the memories from the past few months have to disappear with it.

Confidence and perceived competence are key, study finds.

Features lead to assumptions about character, study says.

Great gear for an afternoon spent shoreside.

Use these bucket-list ideas to enjoy the little time you have left.

Study points to benefits of improved living conditions.