4D Movies
Entering the 4th Dimension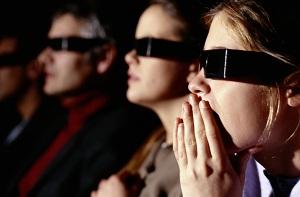 Film studios and multiplex owners are becoming desperate to lure moviegoers off the couch and back into theaters. It's an uphill battle, too. When we can custom-select movies by download, DVD, or DVR, and then lounge in our own living room with the flat screen and surround sound, it sure drains our motivation to shell out $11 per ticket. The savings on popcorn alone could put a kid through a semester of college. 
So what can the movie industry offer in the theater that we can't get at home? That question has a lot of studio execs scratching their well-polished heads in the Hollywood hills. 3D technology has already become standard fare, and while it's provided a great excuse to bump ticket prices up another notch, the advent of 3D in home screens says the movie-going public won't be impressed for much longer. Advances in technology got the film industry into this predicament, but the development of the 4D movie may breathe some new life into the industry, or at least open up another revenue spigot. The question is, do we really need another D?
The 4D experience has apparently been a thriller for some international audiences. According to an article in the L.A. Times, a South Korean conglomerate that operates Asia's largest theater chain has been experimenting with systems installed to spray water, blow bubbles, shake seats, blow fans, and emit aromas to draw audiences more deeply into a movie. It'll be interesting to see if American audiences respond. Apparently there is no such thing as overstimulating us, so the idea of exciting as many of the five senses as possible could be money in the bank. 
It may take a while to get used to 4D effects; a rumbling seat or seeing smoke in a crowded theater can initially be a little distracting even though its intent is to steep you in the action. But chances are we'll learn to enjoy to a spritz of ocean water when there's a storm during Pirates of the Caribbean, or the sensation of heat as Spider Man rescues a baby from a burning building. Titanic may finally have a shot at success when audiences can feel the chill of the North Atlantic or hear the soundtrack in Celine Dion-a-rama. 
The inevitability of 4D signals trouble for the movie industry. Pressed to sell more tickets, some studios will opt to stimulate audiences on an even more base level than their current movie plots do. Not to be a grump about it: movies are fun stuff, and 4D flicks may wind up to be half film, half theme-park ride. But it's hard not to think the industry could save itself a lot of money, and save moviegoers from being sprayed in the face, if more major studios would take greater chances on the films themselves. Audiences don't need so many blockbusters. All of our blocks are busted already. Experimentation, smarts, and true creativity may be the dimensions moviegoers want added to more films today.

inspire: live a better life
Summer and winter tend to hog all the glory when it comes to travel high seasons. Sure, you want to soak up all the time at the beach you can during the summer, and you just want to escape the cold during the last months of the year.

Who just wants to stand around and watch the red and gold leaves slowly fall from their tree branches to the ground as we move from summer to fall? Instead, take in the changing seasons while you're on the move.

In September, I'll turn 38. I'm at the age now where, when people ask how old I am, it takes me a minute to remember. I don't know if that's because I've already been 37 different ages and it's hard to keep straight which one I am now, or if it's because I'm in denial, or if it's because I am going senile. Maybe a combination of all of the above. Regardless, my 30s have flown by and soon they will be but a memory. So, in an effort to preserve the memory I have left (or at least keep a record of it), and to celebrate what has been an amazing decade so far, here are 30 things that have happened to me in my 30s (and will probably happen to you too):

Traveling doesn't have to be stressful. And what you can fit in your carry-on can make all the difference (and not just a fresh pair of socks), especially when you get that low battery signal.

Volunteering (and these other rituals) might be just as good as exercise when it comes to extending your life.

Use these tricks to set a better tone for the rest of the week.

Whether it involves a food fight, mermaids or a torch-lit procession, people the world over know how to have a good time. Here are some of the biggest, boldest, booziest celebrations around, along with some tips to get the full experience.

Research could mean more effective treatment for human disorders.

An entry a day might keep the doctor away (or at least the shrink).

One woman's shout-outs to daily moments of joy — and how to cultivate them.

Our best health and fitness tips including the one move that tones all, berry news, and more.