Diamonds, a dead bear and the golden rule at the Golden Gate
The very best and very worst of the news week ending Feb. 22.
     — The Very Best —
• A couple found $11,060.42 in cash in a parking lot adjacent to the Golden Gate bridge, and returned it. Carlos and Barbara Landeros had found the money in a camera bag on Valentine's Day while on their way to a fancy night out.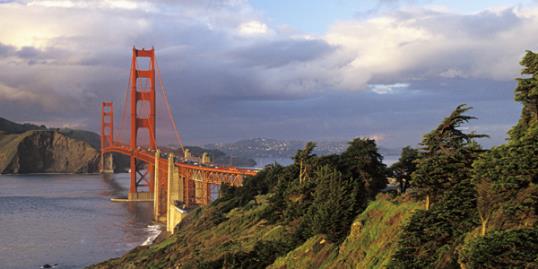 The couple stood guard over the bag and then turned it in to police, who were able to identify a very grateful Chinese tourist who'd been holding the money for several families. Carlos and Barbara got stuck in traffic after going to the police station and ate their Valentine's dinner at McDonald's.
• Press alert: Republicans and Democrats agree on something. A Gallup Poll released Wednesday reveals that most Americans agree on foreign policy goals, despite political affiliation. Though Republicans, Democrats and independents differ on the relative importance of many global issues, all place high priority on preventing international terrorism, halting the proliferation of nuclear weapons and securing adequate energy supplies for the U.S.
• Disguised as police, gangsters stole an estimated $50 million in diamonds from a passenger plane on a runway at Brussels Airport. Without firing a shot, the crew of eight made off with a load of jewels that had just been loaded off an armored Brink's van from Antwerp, center of the global diamond industry. Why does a major theft get a "Very Best" nod? World news is so bleak this week, a good old-fashioned diamond heist seems kinda charming.
      — The Very Worst —
•  Switzerland had one brown bear. Then they shot it. The bear, known as M13, was the only wild brown bear known to be living in the country (how can that be?). After waking from hibernation earlier this month, M13 had been wandering into populated areas and showing no fear of humans. He even broke into a home looking for food. Concerned that a human attack was inevitable, the Federal Office for the Environment shot the three-year-old bear.
• Issues both strange and sad have surfaced as the murder case against Oscar Pistorius progresses. At his bail hearing, Pistorius claimed that he'd mistaken girlfriend Reeva Steenkamp for an intruder when he pumped bullets through the bathroom door she was hiding behind. Police assigned a new lead investigator to the case after it emerged that the former lead detective, Hilton Botha, was himself up for attempted murder. And "Tropika Island of Treasure," a reality show featuring Steenkamp, debuted Saturday on South African television
• A feud at the Aria hotel/casino in Las Vegas led to a car shooting and three deaths on the Vegas strip. Perpetators in a black Range Rover SUV, who are still at large, opened fire on a Maserati, killing the driver. The car spun out of control and smashed into other vehicles including a taxi, killing the driver and a passenger before the cab burst into flames.
More from The Daily Dose:
Are Americans happy?
NASA finds nearby black hole
Homeless man lives with dead people for 15 years
Love content like this? Friend us on Facebook, follow us on Twitter and find us on Pinterest
Photo: Golden Gate Bridge / Brenda Tharp/Getty Images
inspire: live a better life
Summer and winter tend to hog all the glory when it comes to travel high seasons. Sure, you want to soak up all the time at the beach you can during the summer, and you just want to escape the cold during the last months of the year.

Who just wants to stand around and watch the red and gold leaves slowly fall from their tree branches to the ground as we move from summer to fall? Instead, take in the changing seasons while you're on the move.

In September, I'll turn 38. I'm at the age now where, when people ask how old I am, it takes me a minute to remember. I don't know if that's because I've already been 37 different ages and it's hard to keep straight which one I am now, or if it's because I'm in denial, or if it's because I am going senile. Maybe a combination of all of the above. Regardless, my 30s have flown by and soon they will be but a memory. So, in an effort to preserve the memory I have left (or at least keep a record of it), and to celebrate what has been an amazing decade so far, here are 30 things that have happened to me in my 30s (and will probably happen to you too):

Traveling doesn't have to be stressful. And what you can fit in your carry-on can make all the difference (and not just a fresh pair of socks), especially when you get that low battery signal.

Volunteering (and these other rituals) might be just as good as exercise when it comes to extending your life.

Use these tricks to set a better tone for the rest of the week.

Whether it involves a food fight, mermaids or a torch-lit procession, people the world over know how to have a good time. Here are some of the biggest, boldest, booziest celebrations around, along with some tips to get the full experience.

Research could mean more effective treatment for human disorders.

An entry a day might keep the doctor away (or at least the shrink).

One woman's shout-outs to daily moments of joy — and how to cultivate them.

Our best health and fitness tips including the one move that tones all, berry news, and more.