Diamonds, a dead bear and the golden rule at the Golden Gate
The very best and very worst of the news week ending Feb. 22.
     — The Very Best —
• A couple found $11,060.42 in cash in a parking lot adjacent to the Golden Gate bridge, and returned it. Carlos and Barbara Landeros had found the money in a camera bag on Valentine's Day while on their way to a fancy night out.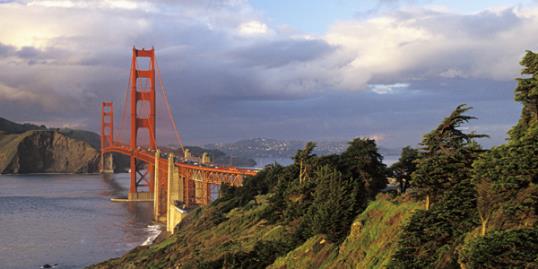 The couple stood guard over the bag and then turned it in to police, who were able to identify a very grateful Chinese tourist who'd been holding the money for several families. Carlos and Barbara got stuck in traffic after going to the police station and ate their Valentine's dinner at McDonald's.
• Press alert: Republicans and Democrats agree on something. A Gallup Poll released Wednesday reveals that most Americans agree on foreign policy goals, despite political affiliation. Though Republicans, Democrats and independents differ on the relative importance of many global issues, all place high priority on preventing international terrorism, halting the proliferation of nuclear weapons and securing adequate energy supplies for the U.S.
• Disguised as police, gangsters stole an estimated $50 million in diamonds from a passenger plane on a runway at Brussels Airport. Without firing a shot, the crew of eight made off with a load of jewels that had just been loaded off an armored Brink's van from Antwerp, center of the global diamond industry. Why does a major theft get a "Very Best" nod? World news is so bleak this week, a good old-fashioned diamond heist seems kinda charming.
      — The Very Worst —
•  Switzerland had one brown bear. Then they shot it. The bear, known as M13, was the only wild brown bear known to be living in the country (how can that be?). After waking from hibernation earlier this month, M13 had been wandering into populated areas and showing no fear of humans. He even broke into a home looking for food. Concerned that a human attack was inevitable, the Federal Office for the Environment shot the three-year-old bear.
• Issues both strange and sad have surfaced as the murder case against Oscar Pistorius progresses. At his bail hearing, Pistorius claimed that he'd mistaken girlfriend Reeva Steenkamp for an intruder when he pumped bullets through the bathroom door she was hiding behind. Police assigned a new lead investigator to the case after it emerged that the former lead detective, Hilton Botha, was himself up for attempted murder. And "Tropika Island of Treasure," a reality show featuring Steenkamp, debuted Saturday on South African television
• A feud at the Aria hotel/casino in Las Vegas led to a car shooting and three deaths on the Vegas strip. Perpetators in a black Range Rover SUV, who are still at large, opened fire on a Maserati, killing the driver. The car spun out of control and smashed into other vehicles including a taxi, killing the driver and a passenger before the cab burst into flames.
More from The Daily Dose:
Are Americans happy?
NASA finds nearby black hole
Homeless man lives with dead people for 15 years
Love content like this? Friend us on Facebook, follow us on Twitter and find us on Pinterest
Photo: Golden Gate Bridge / Brenda Tharp/Getty Images
inspire: live a better life
Miss Manners advises on how to respond when one gets unsolicited advice about weight issues.

Editor's note: We will now be publishing Miss Manners articles twice weekly, but you will only see one question and answer per article. You can expect to see these articles appear on Tuesdays and Thursdays going forward.

President Harry S. Truman was behind efforts to establish the first Armed Forces Day in 1950, and decades later the nation continues to set aside the third Saturday in May to recognize and thank members of the U.S. military for their patriotic service. With these five homecoming images, we salute all service members at home and abroad.

There's much to be desired about working from home: the stress-free commute, flexible hours, and improved work-life balance.

Wishing for the fountain of youth? You may not need it. We've rounded up real-women secrets, tried-and-true beauty tips, and the latest research to help you fight aging.

Experts weigh in on when to bite your tongue at the office.

Oh, the places you'll go — to get some "me" time, that is. REDBOOK readers confess all on Facebook.

How much money you make isn't nearly as important as how you use it, according to Elizabeth Dunn and Michael Norton, authors of the new book Happy Money.

Plus, how do you ask people to not bring gifts to a shower?

Looking for a career upgrade? Follow these tips for a foot in the door.

These tanning and skin cancer myths aren't just wrong — they can do serious harm. Wise up and head into a healthier future. P.S. You'll look a lot younger too.

It's possible to rejigger your brain circuitry and feel more joy, even on Monday mornings. Here's how.