The Mayan Apocalypse is here and the world did not end
Panicked citizens of planet Earth, a Maya expert comes clean on the Apocalypse. It's nothing more than a modern day excuse for a human freak-out.
Some people prepped for the End of the World with lavish parties, while others opted to max out their credit cards, call NASA or join an apocalyptic cult. While some Doomsday preppers went to extreme lengths to plan for this so-called end of the world prediction, Maya expert David Stewart projects that the Mayan calendar has at least 2,400 years to go.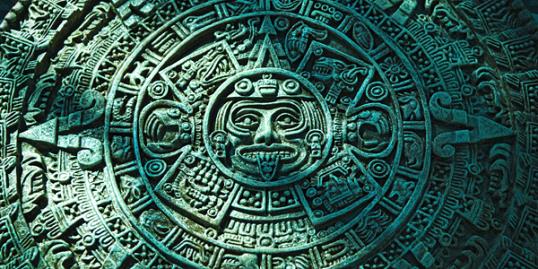 More from Living: 20 Pinterest crafting 'fails'
"The Maya never, ever, said anything about the world ending at any time — much less this year," Stuart, a professor at the University of Texas at Austin was quoted on NPR's Morning Edition. "So, it's sort of bizarre to be living through this time right now, when so many people seem to be worked up."
More from Living: Ugly holiday sweaters
In an international poll of more than 16,000 people, Reuters found that 1 in 10 respondents worried that the Mayan calendar could signal the end of the world. The poll, which was taken in May, also found that 15 percent of those responding said they "believe the world will end during their lifetime," Reuters reported.
So, what's all the fuss about? Stewart explains in the NPR interview that Dec. 21, 2012 marks "an important cycle of the Maya calendar which is turning over called a baktun."
Bing: Learn more about the Mayan calendar.
Each baktun represents 144,000 days — or nearly 400 years. The 13th (and, some say, final, reports NPR) baktun of the Mayan calendar was slated to come to an end on the solstice marked on Dec. 21, 2012.
"I think in our culture, too, or maybe globally – humans like to come up with excuses, sometimes, just to freak out," Stewart was quoted. "I think the Maya have become an excuse for something a bit larger. It's a reflection of a lot of tension, a lot of anxiety in our society. And Lord knows, there's a lot of real problems out there. But this isn't one of them. You know, the Mayan calendar is certainly not something we need to worry about."
What did you do to prepare for the end of the world?
Photo: PBNJ Productions/Getty Images
More from The Daily Dose: 
Unknown Hans Christian Andersen fairy tale found
Why mistletoe and poinsettias are everywhere this time of year
Gender gaps in pay: Worst and best states
Subscribe to the Daily Dose
inspire: live a better life
You'll stave off credit card debt by the end of the year if you account for these often-forgotten expenses.

Mark Zuckerberg has an even bigger effect on your life than you thought.

Take this advice to finally tackle that nagging to-do list.

The iconic storyteller would have been 110-years-old

Take the time to appreciate women's contributions to society. Here are some of the women who inspire us by their example.

Cast of the iconic TV show reunites for Florence Henderson's birthday

We couldn't be more excited to watch the best athletes in the world compete at the Winter Olympics in Sochi. This year, about 44 percent of the competitors are women according to the International Olympic Committee—which is awesome but wasn't always the case. Let's look back at some of the amazing women who paved the way with incredible, memorable feats of girl power.

Still pulling yourself out of holiday credit card debt? Ready to pool some funds for that beach vacation you've been dreaming about at your desk? We're with you 100 percent.

"FOMO, the fear of missing out, is a form of social anxiety," says psychiatrist Gail Saltz. "This type of fear tends to cause compulsive behaviors, like checking out other social situations even as you are in the middle of one currently."

When The Shriver Report was released in early January, we shared some of the more interesting statistics about income equality, the wage gap, and other issues confronting women.

Clay Aiken to run for public office.

Here's how to boost your joy — and put more cash in your pocket.