The Mayan Apocalypse is here and the world did not end
Panicked citizens of planet Earth, a Maya expert comes clean on the Apocalypse. It's nothing more than a modern day excuse for a human freak-out.
Some people prepped for the End of the World with lavish parties, while others opted to max out their credit cards, call NASA or join an apocalyptic cult. While some Doomsday preppers went to extreme lengths to plan for this so-called end of the world prediction, Maya expert David Stewart projects that the Mayan calendar has at least 2,400 years to go.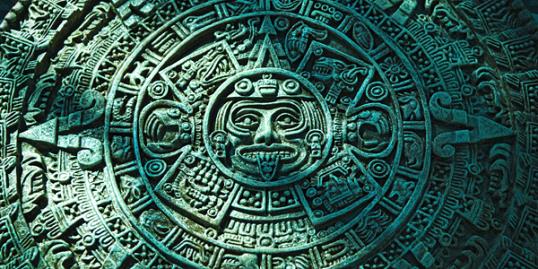 More from Living: 20 Pinterest crafting 'fails'
"The Maya never, ever, said anything about the world ending at any time — much less this year," Stuart, a professor at the University of Texas at Austin was quoted on NPR's Morning Edition. "So, it's sort of bizarre to be living through this time right now, when so many people seem to be worked up."
More from Living: Ugly holiday sweaters
In an international poll of more than 16,000 people, Reuters found that 1 in 10 respondents worried that the Mayan calendar could signal the end of the world. The poll, which was taken in May, also found that 15 percent of those responding said they "believe the world will end during their lifetime," Reuters reported.
So, what's all the fuss about? Stewart explains in the NPR interview that Dec. 21, 2012 marks "an important cycle of the Maya calendar which is turning over called a baktun."
Bing: Learn more about the Mayan calendar.
Each baktun represents 144,000 days — or nearly 400 years. The 13th (and, some say, final, reports NPR) baktun of the Mayan calendar was slated to come to an end on the solstice marked on Dec. 21, 2012.
"I think in our culture, too, or maybe globally – humans like to come up with excuses, sometimes, just to freak out," Stewart was quoted. "I think the Maya have become an excuse for something a bit larger. It's a reflection of a lot of tension, a lot of anxiety in our society. And Lord knows, there's a lot of real problems out there. But this isn't one of them. You know, the Mayan calendar is certainly not something we need to worry about."
What did you do to prepare for the end of the world?
Photo: PBNJ Productions/Getty Images
More from The Daily Dose: 
Unknown Hans Christian Andersen fairy tale found
Why mistletoe and poinsettias are everywhere this time of year
Gender gaps in pay: Worst and best states
Subscribe to the Daily Dose
inspire: live a better life
Editor's note: We will now be publishing Miss Manners articles twice weekly, but you will only see one question and answer per article. You can expect to see these articles appear on Tuesdays and Thursdays going forward.

President Harry S. Truman was behind efforts to establish the first Armed Forces Day in 1950, and decades later the nation continues to set aside the third Saturday in May to recognize and thank members of the U.S. military for their patriotic service. With these five homecoming images, we salute all service members at home and abroad.

There's much to be desired about working from home: the stress-free commute, flexible hours, and improved work-life balance.

Wishing for the fountain of youth? You may not need it. We've rounded up real-women secrets, tried-and-true beauty tips, and the latest research to help you fight aging.

Experts weigh in on when to bite your tongue at the office.

Oh, the places you'll go — to get some "me" time, that is. REDBOOK readers confess all on Facebook.

How much money you make isn't nearly as important as how you use it, according to Elizabeth Dunn and Michael Norton, authors of the new book Happy Money.

Plus, how do you ask people to not bring gifts to a shower?

Looking for a career upgrade? Follow these tips for a foot in the door.

These tanning and skin cancer myths aren't just wrong — they can do serious harm. Wise up and head into a healthier future. P.S. You'll look a lot younger too.

It's possible to rejigger your brain circuitry and feel more joy, even on Monday mornings. Here's how.

Inner peace just got easier. You don't need quiet, incense or hours to meditate, and you can scrap the chanting. Better: Ninety-five percent of you say you're calmer after a single 10-minute session. Whatever your excuse (see ours), get your om on and reap the rewards.