The Mayan Apocalypse is here and the world did not end
Panicked citizens of planet Earth, a Maya expert comes clean on the Apocalypse. It's nothing more than a modern day excuse for a human freak-out.
Some people prepped for the End of the World with lavish parties, while others opted to max out their credit cards, call NASA or join an apocalyptic cult. While some Doomsday preppers went to extreme lengths to plan for this so-called end of the world prediction, Maya expert David Stewart projects that the Mayan calendar has at least 2,400 years to go.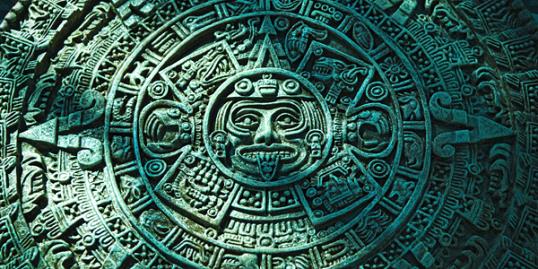 More from Living: 20 Pinterest crafting 'fails'
"The Maya never, ever, said anything about the world ending at any time — much less this year," Stuart, a professor at the University of Texas at Austin was quoted on NPR's Morning Edition. "So, it's sort of bizarre to be living through this time right now, when so many people seem to be worked up."
More from Living: Ugly holiday sweaters
In an international poll of more than 16,000 people, Reuters found that 1 in 10 respondents worried that the Mayan calendar could signal the end of the world. The poll, which was taken in May, also found that 15 percent of those responding said they "believe the world will end during their lifetime," Reuters reported.
So, what's all the fuss about? Stewart explains in the NPR interview that Dec. 21, 2012 marks "an important cycle of the Maya calendar which is turning over called a baktun."
Bing: Learn more about the Mayan calendar.
Each baktun represents 144,000 days — or nearly 400 years. The 13th (and, some say, final, reports NPR) baktun of the Mayan calendar was slated to come to an end on the solstice marked on Dec. 21, 2012.
"I think in our culture, too, or maybe globally – humans like to come up with excuses, sometimes, just to freak out," Stewart was quoted. "I think the Maya have become an excuse for something a bit larger. It's a reflection of a lot of tension, a lot of anxiety in our society. And Lord knows, there's a lot of real problems out there. But this isn't one of them. You know, the Mayan calendar is certainly not something we need to worry about."
What did you do to prepare for the end of the world?
Photo: PBNJ Productions/Getty Images
More from The Daily Dose: 
Unknown Hans Christian Andersen fairy tale found
Why mistletoe and poinsettias are everywhere this time of year
Gender gaps in pay: Worst and best states
Subscribe to the Daily Dose
inspire: live a better life
Research could mean more effective treatment for human disorders.

An entry a day might keep the doctor away (or at least the shrink).

One woman's shout-outs to daily moments of joy — and how to cultivate them.

Volunteering (and these other rituals) might be just as good as exercise when it comes to extending your life.

Use these tricks to set a better tone for the rest of the week.

In September, I'll turn 38. I'm at the age now where, when people ask how old I am, it takes me a minute to remember. I don't know if that's because I've already been 37 different ages and it's hard to keep straight which one I am now, or if it's because I'm in denial, or if it's because I am going senile. Maybe a combination of all of the above. Regardless, my 30s have flown by and soon they will be but a memory. So, in an effort to preserve the memory I have left (or at least keep a record of it), and to celebrate what has been an amazing decade so far, here are 30 things that have happened to me in my 30s (and will probably happen to you too):

Our best health and fitness tips including the one move that tones all, berry news, and more.

Who just wants to stand around and watch the red and gold leaves slowly fall from their tree branches to the ground as we move from summer to fall? Instead, take in the changing seasons while you're on the move.

Here's some tips to get to happiness going forward in your life.

People 60 to 82 did best on cognitive tasks before 10:30am.

Lucille Ball was born in 1911, and though we lost her long ago, her legacy as America's favorite redhead lives on through the timeless classic, "I Love Lucy." People of all generations still enjoy Lucy's antics as much as they did over 60 years ago when the show first premiered.