Squid vids, chicken parts, and insurance weasels mark this week's highs and lows
Very best & very worst of the news this week.
Every week, the Daily Dose reviews the news to select three very best and three very worst stories to come across our desk.
 — The Very Best —
• The Supreme Court dismissed a case that sought to block funding of embryonic stem cell research. It's unclear whether the two scientists behind the legal challenge were motivated by ethics or by the desire to steer more funding toward their own research on adult stem cells. The study of stem cells holds unique promise for curing diseases, but an ongoing ethical debate has hindered scientific progress.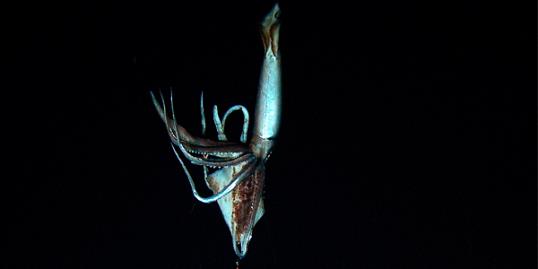 • What's 50 feet long, haunted the nightmares of seafarers for centuries, and looks an awful lot like it belongs on the set of
Alien
? It's Architeuthis, the giant squid. The world's largest invertebrate had never been filmed living in its natural habitat, but Japanese squid whisperer
Tsunemi Kubodera captured live footage of a giant squid
from a submersible on a deep-sea dive about 620 miles south of Tokyo. The
video
will be aired later this month on Discovery Channel.
• Amid sustained temperatures of over 104º Fahrenheit, about a hundred wildfires raged across southern Australia early this week. Remarkable images captured grandmother Tammy Holmes huddling with her five grandchildren in the sea, clinging to a jetty, to save them from the fire that destroyed their home. Grandfather Tim Holmes took the pictures and later rowed the family to safety in a dinghy.
 — The Very Worst —
• In Milford, Delaware, racist signs were posted for a year at two playgrounds. The signs in English read, "Parental or guardian supervision is required for the use of this playground equipment" — but accompanying signs in Spanish translated to "You must have a permit to play in this field. Violators will be subject to police action." When Dr. Phyllis Kohel, the Milford School District Superintendent, learned of the signs, she immediately sent her husband out with his toolbox to dismantle them.
• Within the same week that television ads from American International Group thanked the American people for rescuing the company,
the board of AIG met to consider suing the U.S. government
. The insurance giant, which received $182 in taxpayer dollars to save its skin, said terms of the bailout were unfair to shareholders. Vermont Representative Peter Welch responded in a letter to AIG's board chairman, "Don't even think about it." Lashed by an appalled public,
AIG opted out
on Wednesday.
• Was Justin Bieber caught holding a blunt in a photo released by TMZ? Oh wait, I forgot, I don't care.
• The gross-out of the week comes courtesy of Colonel Sanders. UK teenager Ibrahim Langoo had already dug into a bucket o' fun when he discovered
a "horrible, wrinkled foreign body" in his KFC meal
. The fast-food chain apologized and explained that the
sickening photo
snapped by Langoo doesn't actually picture brains, as originally assumed, but just a deep-fried kidney.
Video still of a giant squid, near the Ogasawara islands, Japan, in July 2012 (© NHK/NEP/Discovery Channel/Reuters)
inspire: live a better life
Research could mean more effective treatment for human disorders.

An entry a day might keep the doctor away (or at least the shrink).

One woman's shout-outs to daily moments of joy — and how to cultivate them.

Volunteering (and these other rituals) might be just as good as exercise when it comes to extending your life.

Use these tricks to set a better tone for the rest of the week.

In September, I'll turn 38. I'm at the age now where, when people ask how old I am, it takes me a minute to remember. I don't know if that's because I've already been 37 different ages and it's hard to keep straight which one I am now, or if it's because I'm in denial, or if it's because I am going senile. Maybe a combination of all of the above. Regardless, my 30s have flown by and soon they will be but a memory. So, in an effort to preserve the memory I have left (or at least keep a record of it), and to celebrate what has been an amazing decade so far, here are 30 things that have happened to me in my 30s (and will probably happen to you too):

Our best health and fitness tips including the one move that tones all, berry news, and more.

Who just wants to stand around and watch the red and gold leaves slowly fall from their tree branches to the ground as we move from summer to fall? Instead, take in the changing seasons while you're on the move.

Here's some tips to get to happiness going forward in your life.

People 60 to 82 did best on cognitive tasks before 10:30am.

Lucille Ball was born in 1911, and though we lost her long ago, her legacy as America's favorite redhead lives on through the timeless classic, "I Love Lucy." People of all generations still enjoy Lucy's antics as much as they did over 60 years ago when the show first premiered.