Best and Worst Supermarkets
Grocery shopping is seldom super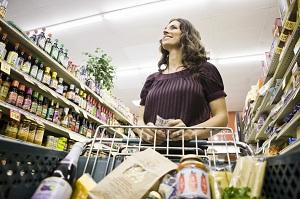 Unless you're small enough to ride in the cart, there's not a whole lot to enjoy about grocery shopping. When you're the one cruising the aisles, paying the bills, and filling the bags, patience for a less-than-super supermarket can be drained like milk from a leaky carton. 
In the May 2012 edition of Consumer Reports, a survey compiling input from over 24,000 shoppers finds that the same stores have topped the lists for best and worst supermarkets for three years running. Wegmans, Trader Joe's, and Publix receive the highest ratings, while Pathmark, Walmart Supercenter and Shaw's all get the thumbs down.
If you live in the Northeast and can shop regularly at a Wegmans, count yourself among the privileged few in supermarket nirvana. The prices are reasonable, the employees are cheerful, and more importantly the bakery smells so good you want to bury your whole face in the first loaf of challah you see. Somehow, Wegmans has figured out how to be a superstore with a butcher, a baker, and a candlestick maker — and a pharmacy, a wine shop, and a florist  — without sacrificing quality. Meantime, over at Walmart, there forever seems to be a clean-up in aisle 5 and the lighting alone makes you feel that you may never again experience joy. Perhaps there is something intrinsically wrong about buying your produce in the same place where you can buy a paddle boat.
Low prices earn high marks for Walmart in the CR survey, but not enough to overcome complaints about service and checkout. Why, shoppers ask, does Walmart bother with 35 checkout aisles when there seems to be a maximum of four employees available to man the registers? And why do all four get so cranky when we ask that they not bag the raw chicken with the lawn seed? Self-checkout aisles had seemed like a promising solution to understaffing and long lines, but it turns out that swiping your own UPC codes is more complicated than piloting a small aircraft.
According to CR editor Tod Marks, 43% of shoppers will choose to fill their carts elsewhere when prices run too high. Poor selection, long lines, and lousy food quality motivate another 25% to change stores, and a full 17% of shoppers are chased away by crabby employees. Meanwhile, at a Wegmans somewhere in upstate New York, the aroma of freshly baked buns wafts through the air while a contented shopper with a full cart tries free samples at the olive bar.
inspire: live a better life
How much do you really know about the Earth? In honor of Earth Day, April 22, we explore some interesting and fun facts about the fifth-largest planet of our solar system.

Happify shares their results of a recent study on how money affects our happiness.

A top exec reveals the company's secret code

Pro tips from the guy who's done it four times

Not all mistakes are as blatant as posting party pics when you're 'sick' at home.

Everyone struggles through weekday drudgery to reach their weekend fun. But what if you could reclaim every day of your life?

Zooming up the ladder is great, but questioning yourself 24/7 is no way to succeed. Manage your stressed self with these surefire tips.

Forget trying to control every little detail. Life is lots more fun (and less stressful) when you let go from the get-go.

So, what exactly is this thing we call "happiness" and how do we get it?

Mark Zuckerberg has an even bigger effect on your life than you thought.

Everyone makes mistakes, but some mistakes can be devastating. Here are 10 icons who fell from grace, and what they can do to redeem themselves.

Twitter turns eight years old today.