Best and Worst Supermarkets
Grocery shopping is seldom super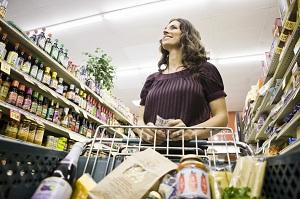 Unless you're small enough to ride in the cart, there's not a whole lot to enjoy about grocery shopping. When you're the one cruising the aisles, paying the bills, and filling the bags, patience for a less-than-super supermarket can be drained like milk from a leaky carton. 
In the May 2012 edition of Consumer Reports, a survey compiling input from over 24,000 shoppers finds that the same stores have topped the lists for best and worst supermarkets for three years running. Wegmans, Trader Joe's, and Publix receive the highest ratings, while Pathmark, Walmart Supercenter and Shaw's all get the thumbs down.
If you live in the Northeast and can shop regularly at a Wegmans, count yourself among the privileged few in supermarket nirvana. The prices are reasonable, the employees are cheerful, and more importantly the bakery smells so good you want to bury your whole face in the first loaf of challah you see. Somehow, Wegmans has figured out how to be a superstore with a butcher, a baker, and a candlestick maker — and a pharmacy, a wine shop, and a florist  — without sacrificing quality. Meantime, over at Walmart, there forever seems to be a clean-up in aisle 5 and the lighting alone makes you feel that you may never again experience joy. Perhaps there is something intrinsically wrong about buying your produce in the same place where you can buy a paddle boat.
Low prices earn high marks for Walmart in the CR survey, but not enough to overcome complaints about service and checkout. Why, shoppers ask, does Walmart bother with 35 checkout aisles when there seems to be a maximum of four employees available to man the registers? And why do all four get so cranky when we ask that they not bag the raw chicken with the lawn seed? Self-checkout aisles had seemed like a promising solution to understaffing and long lines, but it turns out that swiping your own UPC codes is more complicated than piloting a small aircraft.
According to CR editor Tod Marks, 43% of shoppers will choose to fill their carts elsewhere when prices run too high. Poor selection, long lines, and lousy food quality motivate another 25% to change stores, and a full 17% of shoppers are chased away by crabby employees. Meanwhile, at a Wegmans somewhere in upstate New York, the aroma of freshly baked buns wafts through the air while a contented shopper with a full cart tries free samples at the olive bar.
inspire: live a better life
An entry a day might keep the doctor away (or at least the shrink).

One woman's shout-outs to daily moments of joy — and how to cultivate them.

Volunteering (and these other rituals) might be just as good as exercise when it comes to extending your life.

Use these tricks to set a better tone for the rest of the week.

In September, I'll turn 38. I'm at the age now where, when people ask how old I am, it takes me a minute to remember. I don't know if that's because I've already been 37 different ages and it's hard to keep straight which one I am now, or if it's because I'm in denial, or if it's because I am going senile. Maybe a combination of all of the above. Regardless, my 30s have flown by and soon they will be but a memory. So, in an effort to preserve the memory I have left (or at least keep a record of it), and to celebrate what has been an amazing decade so far, here are 30 things that have happened to me in my 30s (and will probably happen to you too):

Our best health and fitness tips including the one move that tones all, berry news, and more.

Who just wants to stand around and watch the red and gold leaves slowly fall from their tree branches to the ground as we move from summer to fall? Instead, take in the changing seasons while you're on the move.

Here's some tips to get to happiness going forward in your life.

People 60 to 82 did best on cognitive tasks before 10:30am.

Lucille Ball was born in 1911, and though we lost her long ago, her legacy as America's favorite redhead lives on through the timeless classic, "I Love Lucy." People of all generations still enjoy Lucy's antics as much as they did over 60 years ago when the show first premiered.

Summer is coming to an end, and in a few weeks, kids will be forced to trade in their beach bags for backpacks. But just because the season is fading away doesn't mean the memories from the past few months have to disappear with it.