Best and Worst Supermarkets
Grocery shopping is seldom super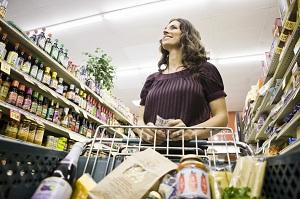 Unless you're small enough to ride in the cart, there's not a whole lot to enjoy about grocery shopping. When you're the one cruising the aisles, paying the bills, and filling the bags, patience for a less-than-super supermarket can be drained like milk from a leaky carton. 
In the May 2012 edition of Consumer Reports, a survey compiling input from over 24,000 shoppers finds that the same stores have topped the lists for best and worst supermarkets for three years running. Wegmans, Trader Joe's, and Publix receive the highest ratings, while Pathmark, Walmart Supercenter and Shaw's all get the thumbs down.
If you live in the Northeast and can shop regularly at a Wegmans, count yourself among the privileged few in supermarket nirvana. The prices are reasonable, the employees are cheerful, and more importantly the bakery smells so good you want to bury your whole face in the first loaf of challah you see. Somehow, Wegmans has figured out how to be a superstore with a butcher, a baker, and a candlestick maker — and a pharmacy, a wine shop, and a florist  — without sacrificing quality. Meantime, over at Walmart, there forever seems to be a clean-up in aisle 5 and the lighting alone makes you feel that you may never again experience joy. Perhaps there is something intrinsically wrong about buying your produce in the same place where you can buy a paddle boat.
Low prices earn high marks for Walmart in the CR survey, but not enough to overcome complaints about service and checkout. Why, shoppers ask, does Walmart bother with 35 checkout aisles when there seems to be a maximum of four employees available to man the registers? And why do all four get so cranky when we ask that they not bag the raw chicken with the lawn seed? Self-checkout aisles had seemed like a promising solution to understaffing and long lines, but it turns out that swiping your own UPC codes is more complicated than piloting a small aircraft.
According to CR editor Tod Marks, 43% of shoppers will choose to fill their carts elsewhere when prices run too high. Poor selection, long lines, and lousy food quality motivate another 25% to change stores, and a full 17% of shoppers are chased away by crabby employees. Meanwhile, at a Wegmans somewhere in upstate New York, the aroma of freshly baked buns wafts through the air while a contented shopper with a full cart tries free samples at the olive bar.
inspire: live a better life
Grab a sleeping bag and head out to one of these amazing campsites.

A dozen adventures that are well worth the trip.

Paper downplays the significance of practice over raw talent.

Survey says American teens aren't great at complex or basic financial tasks.

Fear of Moving Away: How to conquer the latest cultural anxiety and embrace the unknown.

Adulthood has no eureka moment.

Just like your body, your brain needs a regular workout too.

Being a winner is a good feeling to have — especially in life. Winning doesn't solely relate to competitions or Charlie Sheen's coining of the term back in 2011. From achieving success to maintaining a work-life balance, find out what characteristics mean your life is going the way it should be. You may just even find an inspiration or two that you'll want to incorporate into your daily routine!

Sometimes it seems like you need a vacation from your vacation.

That'll get you and your 2 kids a house, SUV, and more, per a 'USA Today' analysis.

While most of us associate the Fourth of July with fireworks and barbecue (and taking a long weekend off from work), it's also an important day to give thanks to the people who help keep us safe.

For a truly out-of-the-box vacation, skip traditional hotels and opt for unique lodging.