Making Friends Ain't What It Used to Be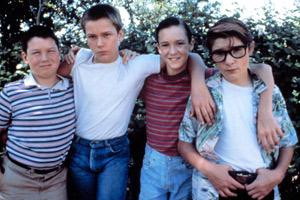 There's a great line at the end of the movie Stand By Me, the 1986 ode to friendship based on a short story by Stephen King. The narrator, reflecting on a change-of-life adventure he went through as a kid with three other boys, types these words into his computer: I never had any friends later on like the ones I had when I was twelve. Jesus, does anyone?
Well, does anyone? The circumstances and demands of adult life certainly do get in the way; we're lucky if we can keep a plan two months out to squeeze in lunch with a friend, let alone form meaningful bonds with anyone new. But making friends isn't just about making time. It's harder to form friendships at thirty than at thirteen.
As a NYT piece noted over the weekend, three conditions are recognized by sociologists as being crucial to the development of close friendships: "proximity; repeated, unplanned interactions; and a setting that encourages people to let their guard down and confide in one another."
When you're a kid, those conditions can all be satisfied on the sidewalk in front of your house. We form friendships based on who is nearby and available, and although those seem like pretty flimsy cornerstones on which to build anything substantial, we remember those friends all life long. Given the way later friendships take shape based on who you're bunked with at college or seated near at work, maybe we truly learn to like the people we're cast in with rather than selectively choosing and pursuing those who look like good candidates.
The fact that adult friendships can be difficult to form and sustain is traceable in part to the matrix of other relationships built into the mix. If your friend in high school had a girlfriend/boyfriend​ you didn't hit it off with, you just didn't hang out all together. But soon the world breaks off into couples, and the challenge of making it work is "like matchmaking for two," as NYT characterizes it. For families, the make-or-break for friendships new and old alike can be based on the kids. Before you know it, the two friends from high school have three children each, and spending time together requires ten people to get along.
NYT has some advice for adults forming friendships. Their six points in short:
Don't dally: Don't hesitate to call someone you like. They're likely to find it flattering.
You're not as creepy as you think: People seeking friendships are not generally mistaken as stalkers.
Go solo:  Groups are good for introductions but not for forming bonds.
Damaged goods are still good:  Remember Blair from Facts of Life? She says people who appear too perfect impose their standards on others. Let your imperfections surface.
Try and try again: Expect to be dumped.
Cut your losses: Expect to do some dumping. But don't underrate a casual friendship because that's how many stronger relationships begin.
Photo: ©Columbia Pictures /Everett Collection
inspire: live a better life
You'll stave off credit card debt by the end of the year if you account for these often-forgotten expenses.

Mark Zuckerberg has an even bigger effect on your life than you thought.

Take this advice to finally tackle that nagging to-do list.

The iconic storyteller would have been 110-years-old

Take the time to appreciate women's contributions to society. Here are some of the women who inspire us by their example.

Cast of the iconic TV show reunites for Florence Henderson's birthday

We couldn't be more excited to watch the best athletes in the world compete at the Winter Olympics in Sochi. This year, about 44 percent of the competitors are women according to the International Olympic Committee—which is awesome but wasn't always the case. Let's look back at some of the amazing women who paved the way with incredible, memorable feats of girl power.

Still pulling yourself out of holiday credit card debt? Ready to pool some funds for that beach vacation you've been dreaming about at your desk? We're with you 100 percent.

"FOMO, the fear of missing out, is a form of social anxiety," says psychiatrist Gail Saltz. "This type of fear tends to cause compulsive behaviors, like checking out other social situations even as you are in the middle of one currently."

When The Shriver Report was released in early January, we shared some of the more interesting statistics about income equality, the wage gap, and other issues confronting women.

Clay Aiken to run for public office.

Here's how to boost your joy — and put more cash in your pocket.