Making Friends Ain't What It Used to Be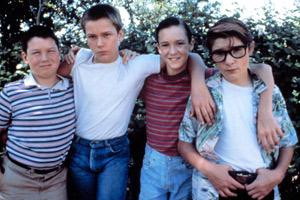 There's a great line at the end of the movie Stand By Me, the 1986 ode to friendship based on a short story by Stephen King. The narrator, reflecting on a change-of-life adventure he went through as a kid with three other boys, types these words into his computer: I never had any friends later on like the ones I had when I was twelve. Jesus, does anyone?
Well, does anyone? The circumstances and demands of adult life certainly do get in the way; we're lucky if we can keep a plan two months out to squeeze in lunch with a friend, let alone form meaningful bonds with anyone new. But making friends isn't just about making time. It's harder to form friendships at thirty than at thirteen.
As a NYT piece noted over the weekend, three conditions are recognized by sociologists as being crucial to the development of close friendships: "proximity; repeated, unplanned interactions; and a setting that encourages people to let their guard down and confide in one another."
When you're a kid, those conditions can all be satisfied on the sidewalk in front of your house. We form friendships based on who is nearby and available, and although those seem like pretty flimsy cornerstones on which to build anything substantial, we remember those friends all life long. Given the way later friendships take shape based on who you're bunked with at college or seated near at work, maybe we truly learn to like the people we're cast in with rather than selectively choosing and pursuing those who look like good candidates.
The fact that adult friendships can be difficult to form and sustain is traceable in part to the matrix of other relationships built into the mix. If your friend in high school had a girlfriend/boyfriend​ you didn't hit it off with, you just didn't hang out all together. But soon the world breaks off into couples, and the challenge of making it work is "like matchmaking for two," as NYT characterizes it. For families, the make-or-break for friendships new and old alike can be based on the kids. Before you know it, the two friends from high school have three children each, and spending time together requires ten people to get along.
NYT has some advice for adults forming friendships. Their six points in short:
Don't dally: Don't hesitate to call someone you like. They're likely to find it flattering.
You're not as creepy as you think: People seeking friendships are not generally mistaken as stalkers.
Go solo:  Groups are good for introductions but not for forming bonds.
Damaged goods are still good:  Remember Blair from Facts of Life? She says people who appear too perfect impose their standards on others. Let your imperfections surface.
Try and try again: Expect to be dumped.
Cut your losses: Expect to do some dumping. But don't underrate a casual friendship because that's how many stronger relationships begin.
Photo: ©Columbia Pictures /Everett Collection
inspire: live a better life
Summer and winter tend to hog all the glory when it comes to travel high seasons. Sure, you want to soak up all the time at the beach you can during the summer, and you just want to escape the cold during the last months of the year.

Who just wants to stand around and watch the red and gold leaves slowly fall from their tree branches to the ground as we move from summer to fall? Instead, take in the changing seasons while you're on the move.

In September, I'll turn 38. I'm at the age now where, when people ask how old I am, it takes me a minute to remember. I don't know if that's because I've already been 37 different ages and it's hard to keep straight which one I am now, or if it's because I'm in denial, or if it's because I am going senile. Maybe a combination of all of the above. Regardless, my 30s have flown by and soon they will be but a memory. So, in an effort to preserve the memory I have left (or at least keep a record of it), and to celebrate what has been an amazing decade so far, here are 30 things that have happened to me in my 30s (and will probably happen to you too):

Traveling doesn't have to be stressful. And what you can fit in your carry-on can make all the difference (and not just a fresh pair of socks), especially when you get that low battery signal.

Volunteering (and these other rituals) might be just as good as exercise when it comes to extending your life.

Use these tricks to set a better tone for the rest of the week.

Whether it involves a food fight, mermaids or a torch-lit procession, people the world over know how to have a good time. Here are some of the biggest, boldest, booziest celebrations around, along with some tips to get the full experience.

Research could mean more effective treatment for human disorders.

An entry a day might keep the doctor away (or at least the shrink).

One woman's shout-outs to daily moments of joy — and how to cultivate them.

Our best health and fitness tips including the one move that tones all, berry news, and more.