Making Friends Ain't What It Used to Be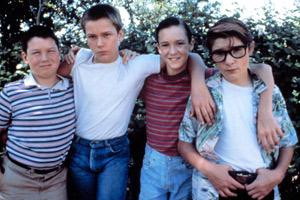 There's a great line at the end of the movie Stand By Me, the 1986 ode to friendship based on a short story by Stephen King. The narrator, reflecting on a change-of-life adventure he went through as a kid with three other boys, types these words into his computer: I never had any friends later on like the ones I had when I was twelve. Jesus, does anyone?
Well, does anyone? The circumstances and demands of adult life certainly do get in the way; we're lucky if we can keep a plan two months out to squeeze in lunch with a friend, let alone form meaningful bonds with anyone new. But making friends isn't just about making time. It's harder to form friendships at thirty than at thirteen.
As a NYT piece noted over the weekend, three conditions are recognized by sociologists as being crucial to the development of close friendships: "proximity; repeated, unplanned interactions; and a setting that encourages people to let their guard down and confide in one another."
When you're a kid, those conditions can all be satisfied on the sidewalk in front of your house. We form friendships based on who is nearby and available, and although those seem like pretty flimsy cornerstones on which to build anything substantial, we remember those friends all life long. Given the way later friendships take shape based on who you're bunked with at college or seated near at work, maybe we truly learn to like the people we're cast in with rather than selectively choosing and pursuing those who look like good candidates.
The fact that adult friendships can be difficult to form and sustain is traceable in part to the matrix of other relationships built into the mix. If your friend in high school had a girlfriend/boyfriend​ you didn't hit it off with, you just didn't hang out all together. But soon the world breaks off into couples, and the challenge of making it work is "like matchmaking for two," as NYT characterizes it. For families, the make-or-break for friendships new and old alike can be based on the kids. Before you know it, the two friends from high school have three children each, and spending time together requires ten people to get along.
NYT has some advice for adults forming friendships. Their six points in short:
Don't dally: Don't hesitate to call someone you like. They're likely to find it flattering.
You're not as creepy as you think: People seeking friendships are not generally mistaken as stalkers.
Go solo:  Groups are good for introductions but not for forming bonds.
Damaged goods are still good:  Remember Blair from Facts of Life? She says people who appear too perfect impose their standards on others. Let your imperfections surface.
Try and try again: Expect to be dumped.
Cut your losses: Expect to do some dumping. But don't underrate a casual friendship because that's how many stronger relationships begin.
Photo: ©Columbia Pictures /Everett Collection
inspire: live a better life
Editor's note: We will now be publishing Miss Manners articles twice weekly, but you will only see one question and answer per article. You can expect to see these articles appear on Tuesdays and Thursdays going forward.

President Harry S. Truman was behind efforts to establish the first Armed Forces Day in 1950, and decades later the nation continues to set aside the third Saturday in May to recognize and thank members of the U.S. military for their patriotic service. With these five homecoming images, we salute all service members at home and abroad.

There's much to be desired about working from home: the stress-free commute, flexible hours, and improved work-life balance.

Wishing for the fountain of youth? You may not need it. We've rounded up real-women secrets, tried-and-true beauty tips, and the latest research to help you fight aging.

Experts weigh in on when to bite your tongue at the office.

Oh, the places you'll go — to get some "me" time, that is. REDBOOK readers confess all on Facebook.

How much money you make isn't nearly as important as how you use it, according to Elizabeth Dunn and Michael Norton, authors of the new book Happy Money.

Plus, how do you ask people to not bring gifts to a shower?

Looking for a career upgrade? Follow these tips for a foot in the door.

These tanning and skin cancer myths aren't just wrong — they can do serious harm. Wise up and head into a healthier future. P.S. You'll look a lot younger too.

It's possible to rejigger your brain circuitry and feel more joy, even on Monday mornings. Here's how.

Inner peace just got easier. You don't need quiet, incense or hours to meditate, and you can scrap the chanting. Better: Ninety-five percent of you say you're calmer after a single 10-minute session. Whatever your excuse (see ours), get your om on and reap the rewards.