Shark attacks deterred by new wetsuit design
Australian team helps surfers and divers appear less delicious to sharks.
Surfers and scientists have joined league on Australia's west coast to develop a wetsuit believed to reduce the risk of shark attack.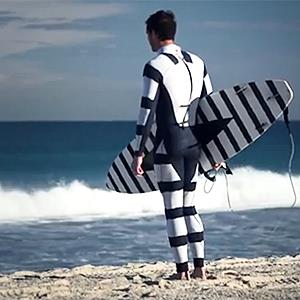 Designed by researchers from the Oceans Institute at the University of Western Australia and shark experts from Shark Attack Mitigation Systems (SAMS), which is selling the suits and related watersport products, the new wetsuits capitalize on studies about how sharks see.
MSN Living: Are shark attacks on the rise?
In a "Shark Week"-worthy video clip promoting the suits, a tiger shark is first seen attacking a canister of chum wrapped in typical wetsuit colors. But when the canister is dropped in the water again, this time cloaked in a pattern used for the special suits, a second tiger shark is discouraged from biting and veers away.
"Although sharks use a number of senses to locate prey, it is known that vision is the crucial sense in the final stage of an attack," SAMS experts explain on their site. "By disrupting a shark's visual perception, an attack can either be diverted altogether or at least delayed to allow time to exit the water."
MSN Living: Big sharks spotted near surfers off LA-area coast
Two basic patterns were developed to increase shark resistance, each by a slightly different method. "Warning" designs such as the Diverter body suit of dark blue and white stripes discourage the shark from attacking. The developers took a lesson from the nature of predators and prey for this design, having noted that starkly contrasting colors appear to signal to a variety of predators that the prey is either toxic or not edible at all. "Cryptic" designs feature a camouflage pattern, like the seafoam-green and white camo of the Elude suit, which strive to make the wearer invisible to a shark's eye.
Bing: What are the chances of a shark attack?
The Warning design is recommended to surfers; they should benefit from wearing contrasting colors when spied on the surface from below. Divers are generally advised to use the Cryptic camo pattern to hide in a seascape at depth.
The shark-resistant designs were developed and tested on the western coast of Australia, where five fatal shark attacks have occurred in the past two years.
More on The Daily Dose:
Nazi-themed café sparks controversy in Indonesia
Tax-free weekends coming this summer
Follow Pope Francis on Twitter, stay out of purgatory
Subscribe to the Daily Dose | Friend us on Facebook, follow us on Twitter and find us on Pinterest.
Photo: Shark Attack Mitigation Systems via youtube, http://aka.ms/SAMS


$450.00!!!  That better be a Semi-Dry suit at the minimum.  Otherwise, it is a HUGE rip-off!  Neoprene is neoprene.  As a diver, I think I would pass on this "development".   I have never been afraid of my underworld environment.  Finally, should I be one of the 10 - 12 annual victims of a fatal shark attack - it is a better way to go doing something I love then at the hands of an ignorant human on land...
Are you sure you want to delete this comment?
inspire: live a better life
Summer traditions can be great, but if you're on year six of packing the same people into the same car to go on the same vacation, it's time to switch things up. Surfing in Portugal, perhaps – or cycling through Northern Ireland. We've put together a list of 15 places well off the beaten path that you should go to when you're ready to try something new.

Grab a sleeping bag and head out to one of these amazing campsites.

A dozen adventures that are well worth the trip.

Paper downplays the significance of practice over raw talent.

Survey says American teens aren't great at complex or basic financial tasks.

Fear of Moving Away: How to conquer the latest cultural anxiety and embrace the unknown.

Adulthood has no eureka moment.

Just like your body, your brain needs a regular workout too.

Being a winner is a good feeling to have — especially in life. Winning doesn't solely relate to competitions or Charlie Sheen's coining of the term back in 2011. From achieving success to maintaining a work-life balance, find out what characteristics mean your life is going the way it should be. You may just even find an inspiration or two that you'll want to incorporate into your daily routine!

Sometimes it seems like you need a vacation from your vacation.

That'll get you and your 2 kids a house, SUV, and more, per a 'USA Today' analysis.

While most of us associate the Fourth of July with fireworks and barbecue (and taking a long weekend off from work), it's also an important day to give thanks to the people who help keep us safe.