Shark attacks deterred by new wetsuit design
Australian team helps surfers and divers appear less delicious to sharks.
Surfers and scientists have joined league on Australia's west coast to develop a wetsuit believed to reduce the risk of shark attack.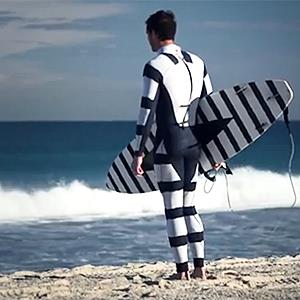 Designed by researchers from the Oceans Institute at the University of Western Australia and shark experts from Shark Attack Mitigation Systems (SAMS), which is selling the suits and related watersport products, the new wetsuits capitalize on studies about how sharks see.
MSN Living: Are shark attacks on the rise?
In a "Shark Week"-worthy video clip promoting the suits, a tiger shark is first seen attacking a canister of chum wrapped in typical wetsuit colors. But when the canister is dropped in the water again, this time cloaked in a pattern used for the special suits, a second tiger shark is discouraged from biting and veers away.
"Although sharks use a number of senses to locate prey, it is known that vision is the crucial sense in the final stage of an attack," SAMS experts explain on their site. "By disrupting a shark's visual perception, an attack can either be diverted altogether or at least delayed to allow time to exit the water."
MSN Living: Big sharks spotted near surfers off LA-area coast
Two basic patterns were developed to increase shark resistance, each by a slightly different method. "Warning" designs such as the Diverter body suit of dark blue and white stripes discourage the shark from attacking. The developers took a lesson from the nature of predators and prey for this design, having noted that starkly contrasting colors appear to signal to a variety of predators that the prey is either toxic or not edible at all. "Cryptic" designs feature a camouflage pattern, like the seafoam-green and white camo of the Elude suit, which strive to make the wearer invisible to a shark's eye.
Bing: What are the chances of a shark attack?
The Warning design is recommended to surfers; they should benefit from wearing contrasting colors when spied on the surface from below. Divers are generally advised to use the Cryptic camo pattern to hide in a seascape at depth.
The shark-resistant designs were developed and tested on the western coast of Australia, where five fatal shark attacks have occurred in the past two years.
More on The Daily Dose:
Nazi-themed café sparks controversy in Indonesia
Tax-free weekends coming this summer
Follow Pope Francis on Twitter, stay out of purgatory
Subscribe to the Daily Dose | Friend us on Facebook, follow us on Twitter and find us on Pinterest.
Photo: Shark Attack Mitigation Systems via youtube, http://aka.ms/SAMS


$450.00!!!  That better be a Semi-Dry suit at the minimum.  Otherwise, it is a HUGE rip-off!  Neoprene is neoprene.  As a diver, I think I would pass on this "development".   I have never been afraid of my underworld environment.  Finally, should I be one of the 10 - 12 annual victims of a fatal shark attack - it is a better way to go doing something I love then at the hands of an ignorant human on land...
Are you sure you want to delete this comment?
inspire: live a better life
Summer and winter tend to hog all the glory when it comes to travel high seasons. Sure, you want to soak up all the time at the beach you can during the summer, and you just want to escape the cold during the last months of the year.

Who just wants to stand around and watch the red and gold leaves slowly fall from their tree branches to the ground as we move from summer to fall? Instead, take in the changing seasons while you're on the move.

In September, I'll turn 38. I'm at the age now where, when people ask how old I am, it takes me a minute to remember. I don't know if that's because I've already been 37 different ages and it's hard to keep straight which one I am now, or if it's because I'm in denial, or if it's because I am going senile. Maybe a combination of all of the above. Regardless, my 30s have flown by and soon they will be but a memory. So, in an effort to preserve the memory I have left (or at least keep a record of it), and to celebrate what has been an amazing decade so far, here are 30 things that have happened to me in my 30s (and will probably happen to you too):

Traveling doesn't have to be stressful. And what you can fit in your carry-on can make all the difference (and not just a fresh pair of socks), especially when you get that low battery signal.

Volunteering (and these other rituals) might be just as good as exercise when it comes to extending your life.

Use these tricks to set a better tone for the rest of the week.

Whether it involves a food fight, mermaids or a torch-lit procession, people the world over know how to have a good time. Here are some of the biggest, boldest, booziest celebrations around, along with some tips to get the full experience.

Research could mean more effective treatment for human disorders.

An entry a day might keep the doctor away (or at least the shrink).

One woman's shout-outs to daily moments of joy — and how to cultivate them.

Our best health and fitness tips including the one move that tones all, berry news, and more.