Washingtonians curse the least; Ohio residents most
Recent data reveal that Washington is the least foul-mouthed state, followed by Massachusetts, Arizona, Texas and Virginia.
Sorry Ohioans, looks like you have some work to do when it comes to cursing and courtesy.
According to data released today by The Marchex Institute, a mobile and online advertising company, people in Ohio curse the most in the country and placed in the Top 5 "Least Courteous" category.  Washingtonians are least likely to have potty mouth, but come up short on courtesy, reports KING5.com.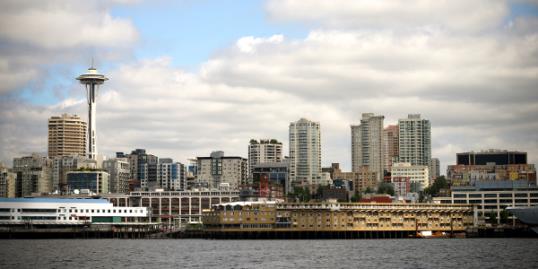 More from MSN Living: Live happier on the money you have
The institute scanned phone calls for curse words from A to F to S. Analysts then linked the frequency of those words with all 50 states.
The data also found that:
66 percent of curses come from men.

The calls that contain the most cursing are more than 10 minutes long. So the longer someone is on the phone, the more likely that call is to devolve.

Calls in the morning are twice as likely to produce cursing as calls in the afternoon or evening.
More from MSN Living: 5 fashion rules you should break
These findings coincide with National Etiquette Week, a seven-day "gentle reminder," to be civil, courteous and say "please" and "thank you" to one another.
Read all of The Marchex Institute's findings here. Oh, and thanks for reading.
Tell us: How did your state stack up for swearing?
Bing: Foul-mouthed and famous celebrities
More from Daily Dose:
Astronaut makes music video aboard space station
Eerie ghost town comes up for air
Does hair grown faster in summer?
Love content like this? Friend us on Facebook, follow us on Twitter and find us on Pinterest.
Photo: Seattle skyline / TriggerPhoto/Getty Images
inspire: live a better life
Happify shares their results of a recent study on how money affects our happiness.

A top exec reveals the company's secret code

Pro tips from the guy who's done it four times

Not all mistakes are as blatant as posting party pics when you're 'sick' at home.

Everyone struggles through weekday drudgery to reach their weekend fun. But what if you could reclaim every day of your life?

Zooming up the ladder is great, but questioning yourself 24/7 is no way to succeed. Manage your stressed self with these surefire tips.

Forget trying to control every little detail. Life is lots more fun (and less stressful) when you let go from the get-go.

So, what exactly is this thing we call "happiness" and how do we get it?

Mark Zuckerberg has an even bigger effect on your life than you thought.

Everyone makes mistakes, but some mistakes can be devastating. Here are 10 icons who fell from grace, and what they can do to redeem themselves.

Twitter turns eight years old today.

Try these anything-but-ordinary ideas for a healthier, more productive mid-day break.