Washingtonians curse the least; Ohio residents most
Recent data reveal that Washington is the least foul-mouthed state, followed by Massachusetts, Arizona, Texas and Virginia.
Sorry Ohioans, looks like you have some work to do when it comes to cursing and courtesy.
According to data released today by The Marchex Institute, a mobile and online advertising company, people in Ohio curse the most in the country and placed in the Top 5 "Least Courteous" category.  Washingtonians are least likely to have potty mouth, but come up short on courtesy, reports KING5.com.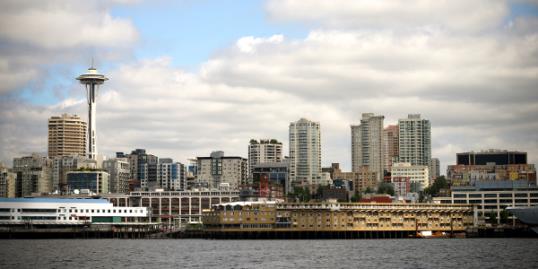 More from MSN Living: Live happier on the money you have
The institute scanned phone calls for curse words from A to F to S. Analysts then linked the frequency of those words with all 50 states.
The data also found that:
66 percent of curses come from men.

The calls that contain the most cursing are more than 10 minutes long. So the longer someone is on the phone, the more likely that call is to devolve.

Calls in the morning are twice as likely to produce cursing as calls in the afternoon or evening.
More from MSN Living: 5 fashion rules you should break
These findings coincide with National Etiquette Week, a seven-day "gentle reminder," to be civil, courteous and say "please" and "thank you" to one another.
Read all of The Marchex Institute's findings here. Oh, and thanks for reading.
Tell us: How did your state stack up for swearing?
Bing: Foul-mouthed and famous celebrities
More from Daily Dose:
Astronaut makes music video aboard space station
Eerie ghost town comes up for air
Does hair grown faster in summer?
Love content like this? Friend us on Facebook, follow us on Twitter and find us on Pinterest.
Photo: Seattle skyline / TriggerPhoto/Getty Images
inspire: live a better life
Summer and winter tend to hog all the glory when it comes to travel high seasons. Sure, you want to soak up all the time at the beach you can during the summer, and you just want to escape the cold during the last months of the year.

Who just wants to stand around and watch the red and gold leaves slowly fall from their tree branches to the ground as we move from summer to fall? Instead, take in the changing seasons while you're on the move.

In September, I'll turn 38. I'm at the age now where, when people ask how old I am, it takes me a minute to remember. I don't know if that's because I've already been 37 different ages and it's hard to keep straight which one I am now, or if it's because I'm in denial, or if it's because I am going senile. Maybe a combination of all of the above. Regardless, my 30s have flown by and soon they will be but a memory. So, in an effort to preserve the memory I have left (or at least keep a record of it), and to celebrate what has been an amazing decade so far, here are 30 things that have happened to me in my 30s (and will probably happen to you too):

Traveling doesn't have to be stressful. And what you can fit in your carry-on can make all the difference (and not just a fresh pair of socks), especially when you get that low battery signal.

Volunteering (and these other rituals) might be just as good as exercise when it comes to extending your life.

Use these tricks to set a better tone for the rest of the week.

Whether it involves a food fight, mermaids or a torch-lit procession, people the world over know how to have a good time. Here are some of the biggest, boldest, booziest celebrations around, along with some tips to get the full experience.

Research could mean more effective treatment for human disorders.

An entry a day might keep the doctor away (or at least the shrink).

One woman's shout-outs to daily moments of joy — and how to cultivate them.

Our best health and fitness tips including the one move that tones all, berry news, and more.