Washingtonians curse the least; Ohio residents most
Recent data reveal that Washington is the least foul-mouthed state, followed by Massachusetts, Arizona, Texas and Virginia.
Sorry Ohioans, looks like you have some work to do when it comes to cursing and courtesy.
According to data released today by The Marchex Institute, a mobile and online advertising company, people in Ohio curse the most in the country and placed in the Top 5 "Least Courteous" category.  Washingtonians are least likely to have potty mouth, but come up short on courtesy, reports KING5.com.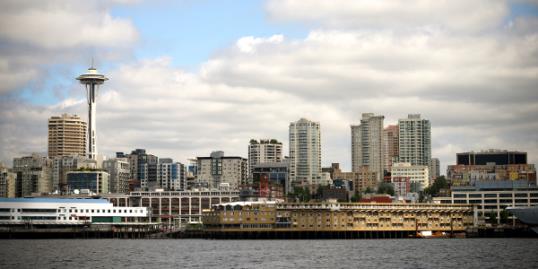 More from MSN Living: Live happier on the money you have
The institute scanned phone calls for curse words from A to F to S. Analysts then linked the frequency of those words with all 50 states.
The data also found that:
66 percent of curses come from men.

The calls that contain the most cursing are more than 10 minutes long. So the longer someone is on the phone, the more likely that call is to devolve.

Calls in the morning are twice as likely to produce cursing as calls in the afternoon or evening.
More from MSN Living: 5 fashion rules you should break
These findings coincide with National Etiquette Week, a seven-day "gentle reminder," to be civil, courteous and say "please" and "thank you" to one another.
Read all of The Marchex Institute's findings here. Oh, and thanks for reading.
Tell us: How did your state stack up for swearing?
Bing: Foul-mouthed and famous celebrities
More from Daily Dose:
Astronaut makes music video aboard space station
Eerie ghost town comes up for air
Does hair grown faster in summer?
Love content like this? Friend us on Facebook, follow us on Twitter and find us on Pinterest.
Photo: Seattle skyline / TriggerPhoto/Getty Images
inspire: live a better life
You'll stave off credit card debt by the end of the year if you account for these often-forgotten expenses.

Mark Zuckerberg has an even bigger effect on your life than you thought.

Take this advice to finally tackle that nagging to-do list.

The iconic storyteller would have been 110-years-old

Take the time to appreciate women's contributions to society. Here are some of the women who inspire us by their example.

Cast of the iconic TV show reunites for Florence Henderson's birthday

We couldn't be more excited to watch the best athletes in the world compete at the Winter Olympics in Sochi. This year, about 44 percent of the competitors are women according to the International Olympic Committee—which is awesome but wasn't always the case. Let's look back at some of the amazing women who paved the way with incredible, memorable feats of girl power.

Still pulling yourself out of holiday credit card debt? Ready to pool some funds for that beach vacation you've been dreaming about at your desk? We're with you 100 percent.

"FOMO, the fear of missing out, is a form of social anxiety," says psychiatrist Gail Saltz. "This type of fear tends to cause compulsive behaviors, like checking out other social situations even as you are in the middle of one currently."

When The Shriver Report was released in early January, we shared some of the more interesting statistics about income equality, the wage gap, and other issues confronting women.

Clay Aiken to run for public office.

Here's how to boost your joy — and put more cash in your pocket.