Washingtonians curse the least; Ohio residents most
Recent data reveal that Washington is the least foul-mouthed state, followed by Massachusetts, Arizona, Texas and Virginia.
Sorry Ohioans, looks like you have some work to do when it comes to cursing and courtesy.
According to data released today by The Marchex Institute, a mobile and online advertising company, people in Ohio curse the most in the country and placed in the Top 5 "Least Courteous" category.  Washingtonians are least likely to have potty mouth, but come up short on courtesy, reports KING5.com.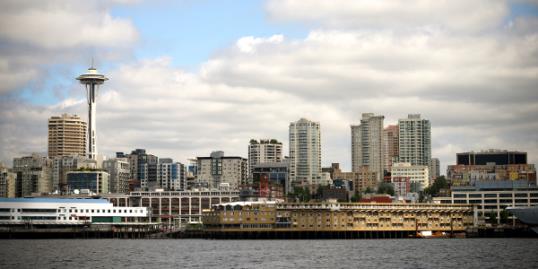 More from MSN Living: Live happier on the money you have
The institute scanned phone calls for curse words from A to F to S. Analysts then linked the frequency of those words with all 50 states.
The data also found that:
66 percent of curses come from men.

The calls that contain the most cursing are more than 10 minutes long. So the longer someone is on the phone, the more likely that call is to devolve.

Calls in the morning are twice as likely to produce cursing as calls in the afternoon or evening.
More from MSN Living: 5 fashion rules you should break
These findings coincide with National Etiquette Week, a seven-day "gentle reminder," to be civil, courteous and say "please" and "thank you" to one another.
Read all of The Marchex Institute's findings here. Oh, and thanks for reading.
Tell us: How did your state stack up for swearing?
Bing: Foul-mouthed and famous celebrities
More from Daily Dose:
Astronaut makes music video aboard space station
Eerie ghost town comes up for air
Does hair grown faster in summer?
Love content like this? Friend us on Facebook, follow us on Twitter and find us on Pinterest.
Photo: Seattle skyline / TriggerPhoto/Getty Images
inspire: live a better life
Drowning in debt? Maybe there's a silver lining.

"But it's not real life, you know. It's a vacation."

Our list of must-dos before hitting the road.

Summer traditions can be great, but if you're on year six of packing the same people into the same car to go on the same vacation, it's time to switch things up. Surfing in Portugal, perhaps – or cycling through Northern Ireland. We've put together a list of 15 places well off the beaten path that you should go to when you're ready to try something new.

Grab a sleeping bag and head out to one of these amazing campsites.

A dozen adventures that are well worth the trip.

Paper downplays the significance of practice over raw talent.

Survey says American teens aren't great at complex or basic financial tasks.

Fear of Moving Away: How to conquer the latest cultural anxiety and embrace the unknown.

Adulthood has no eureka moment.

Just like your body, your brain needs a regular workout too.

Being a winner is a good feeling to have — especially in life. Winning doesn't solely relate to competitions or Charlie Sheen's coining of the term back in 2011. From achieving success to maintaining a work-life balance, find out what characteristics mean your life is going the way it should be. You may just even find an inspiration or two that you'll want to incorporate into your daily routine!