'Nasty effect' of user comments
Flaming comments distort perceptions of what an article really says.
User comments help keep blogs like the Daily Dose alive and interesting. The information superhighway, as the Web was once known, is a two-way road on which those who produce the content and those who absorb it now share the same lanes. The internet is a great equalizer and a powerful democratizer.
It's a fantastic design with mixed results.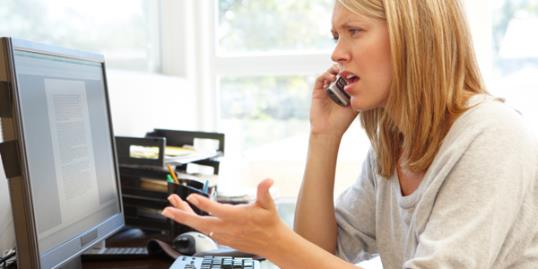 In our experience, user comments are sometimes flattering, sometimes funny and often add insight. But more than any other quality, they are polarizing — and are often written to cut either the writer or other commenters to the quick.
Some users wield sharp words while others convey their thoughts more bluntly. Stories touching on religion, sexual orientation and constitutional rights have been the flashpoints for some especially fiery exchanges.
More from MSN Living: The powerful women who wear bangs
Anonymity seems to play some role in viciousness, we've noticed, as the attacks are harsher here in the messageboards than on our Facebook page, where the connection between one's comments and identity seems to play a role in responding more thoughtfully and civilly.
User comments have a significant impact on a reader's perception of an article, not only polarizing the reader's opinion but altering his or her understanding of what the story actually says.
Two professors of science communication at the University of Wisconsin, Madison, have observed this phenomenon and nicknamed it "the nasty effect." In yesterday's "New York Times," Dominique Brossard and Dietram A. Scheufele described a study in which they asked 1,183 participants to carefully read a news post about a new technology on a fictitious blog, review other users' comments, and then respond to questions about the content of the article.
More from MSN Living: 2013 Good Housekeeping VIP (Very Innovative Products) Awards
Readers exposed to civil reader comments maintained their initial impressions about the fictitious post. But those exposed to rude comments – like, "if you don't see the benefits…you're an idiot" and "you're stupid if you're not thinking of the risks" — were polarized in their opinions about the technology covered in the article.
Reading other users' attacks caused some readers to believe there were greater risks and problems with the technology despite what had been reported in the article.
The facts put forth in a scientific article were distorted when seen through the lens of nasty commenters. But users didn't recognize the lens.
There's a force behind the comments of fellow users that's yet to be quantified or understood. As a footnote to their study, the authors noted hopefully, "It's possible that the social norms in this brave new domain will change once more — with users shunning meanspirited attacks from posters hiding behind pseudonyms and cultivatins civil debate instead."
Tell us what you think. You know, in a nice way. 
More from The Daily Dose:
What will get you banned from Facebook?
Homeless man lives with dead people for 15 years
All about 3D printing
Love content like this? Friend us on Facebook, follow us on Twitter and find us on Pinterest
Photo: Mark Bowden/Getty Images

Early in my career I wrote for and edited several national magazines. When I was editor, I loved a scathing letter to th editor, and always printed it. Today everything is divisive and I'm glad I'm not writing for a living. There is a significant percentage of the population, say 47%, who do nothing but spew hate. They're obviously poorly read and educated, radically believe in myth rather than fact or science, and absolutely hate to the point of threatening kill those with a slightly different view. Allowing anonymous feedback gives these demented idiots a forum for their hate and bigotry. We perhaps need to get back to printing verified names and home towns, and have contact information on file. This might protect others from their violent radicalism, or alert their local authorities of their possible mental health issues.    
I think 54% of the nasty comments are from trolls. Especially when it comes to "religious" posts. I'm betting the majority of them are from 12 year old (mentally at least) atheists who just want to make Christians look bad. Because the majority of Christians I know don't act like that or believe the crap that's posted from people claiming to be Christian. (Just like all the mentally mature atheists I know are actually very nice, polite people. But there's good and bad in every belief system and some will use underhanded methods to make others look bad.)
Are you sure you want to delete this comment?
inspire: live a better life
Editor's note: We will now be publishing Miss Manners articles twice weekly, but you will only see one question and answer per article. You can expect to see these articles appear on Tuesdays and Thursdays going forward.

President Harry S. Truman was behind efforts to establish the first Armed Forces Day in 1950, and decades later the nation continues to set aside the third Saturday in May to recognize and thank members of the U.S. military for their patriotic service. With these five homecoming images, we salute all service members at home and abroad.

There's much to be desired about working from home: the stress-free commute, flexible hours, and improved work-life balance.

Wishing for the fountain of youth? You may not need it. We've rounded up real-women secrets, tried-and-true beauty tips, and the latest research to help you fight aging.

Experts weigh in on when to bite your tongue at the office.

Oh, the places you'll go — to get some "me" time, that is. REDBOOK readers confess all on Facebook.

How much money you make isn't nearly as important as how you use it, according to Elizabeth Dunn and Michael Norton, authors of the new book Happy Money.

Plus, how do you ask people to not bring gifts to a shower?

Looking for a career upgrade? Follow these tips for a foot in the door.

These tanning and skin cancer myths aren't just wrong — they can do serious harm. Wise up and head into a healthier future. P.S. You'll look a lot younger too.

It's possible to rejigger your brain circuitry and feel more joy, even on Monday mornings. Here's how.

Inner peace just got easier. You don't need quiet, incense or hours to meditate, and you can scrap the chanting. Better: Ninety-five percent of you say you're calmer after a single 10-minute session. Whatever your excuse (see ours), get your om on and reap the rewards.