'Nasty effect' of user comments
Flaming comments distort perceptions of what an article really says.
User comments help keep blogs like the Daily Dose alive and interesting. The information superhighway, as the Web was once known, is a two-way road on which those who produce the content and those who absorb it now share the same lanes. The internet is a great equalizer and a powerful democratizer.
It's a fantastic design with mixed results.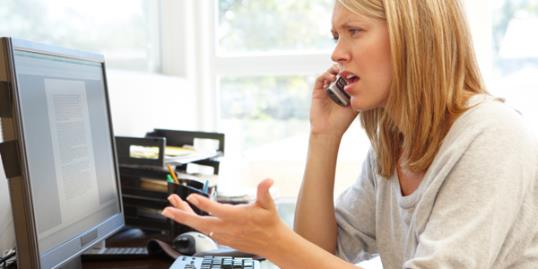 In our experience, user comments are sometimes flattering, sometimes funny and often add insight. But more than any other quality, they are polarizing — and are often written to cut either the writer or other commenters to the quick.
Some users wield sharp words while others convey their thoughts more bluntly. Stories touching on religion, sexual orientation and constitutional rights have been the flashpoints for some especially fiery exchanges.
More from MSN Living: The powerful women who wear bangs
Anonymity seems to play some role in viciousness, we've noticed, as the attacks are harsher here in the messageboards than on our Facebook page, where the connection between one's comments and identity seems to play a role in responding more thoughtfully and civilly.
User comments have a significant impact on a reader's perception of an article, not only polarizing the reader's opinion but altering his or her understanding of what the story actually says.
Two professors of science communication at the University of Wisconsin, Madison, have observed this phenomenon and nicknamed it "the nasty effect." In yesterday's "New York Times," Dominique Brossard and Dietram A. Scheufele described a study in which they asked 1,183 participants to carefully read a news post about a new technology on a fictitious blog, review other users' comments, and then respond to questions about the content of the article.
More from MSN Living: 2013 Good Housekeeping VIP (Very Innovative Products) Awards
Readers exposed to civil reader comments maintained their initial impressions about the fictitious post. But those exposed to rude comments – like, "if you don't see the benefits…you're an idiot" and "you're stupid if you're not thinking of the risks" — were polarized in their opinions about the technology covered in the article.
Reading other users' attacks caused some readers to believe there were greater risks and problems with the technology despite what had been reported in the article.
The facts put forth in a scientific article were distorted when seen through the lens of nasty commenters. But users didn't recognize the lens.
There's a force behind the comments of fellow users that's yet to be quantified or understood. As a footnote to their study, the authors noted hopefully, "It's possible that the social norms in this brave new domain will change once more — with users shunning meanspirited attacks from posters hiding behind pseudonyms and cultivatins civil debate instead."
Tell us what you think. You know, in a nice way. 
More from The Daily Dose:
What will get you banned from Facebook?
Homeless man lives with dead people for 15 years
All about 3D printing
Love content like this? Friend us on Facebook, follow us on Twitter and find us on Pinterest
Photo: Mark Bowden/Getty Images
inspire: live a better life
How much do you really know about the Earth? In honor of Earth Day, April 22, we explore some interesting and fun facts about the fifth-largest planet of our solar system.

Happify shares their results of a recent study on how money affects our happiness.

A top exec reveals the company's secret code

Pro tips from the guy who's done it four times

Not all mistakes are as blatant as posting party pics when you're 'sick' at home.

Everyone struggles through weekday drudgery to reach their weekend fun. But what if you could reclaim every day of your life?

Zooming up the ladder is great, but questioning yourself 24/7 is no way to succeed. Manage your stressed self with these surefire tips.

Forget trying to control every little detail. Life is lots more fun (and less stressful) when you let go from the get-go.

So, what exactly is this thing we call "happiness" and how do we get it?

Mark Zuckerberg has an even bigger effect on your life than you thought.

Everyone makes mistakes, but some mistakes can be devastating. Here are 10 icons who fell from grace, and what they can do to redeem themselves.

Twitter turns eight years old today.