Merriam-Webster Dictionary's top 10 words for 2012
Thanks to the election, 'capitalism' and 'socialism' tie for the No. 1 spot.
Since 2003, the Merriam-Webster Dictionary has been choosing the top ten words of the year. Today, editor-at-large Peter Sokolowski announced the top 10 most looked-up words of 2012, reports the Associated Press.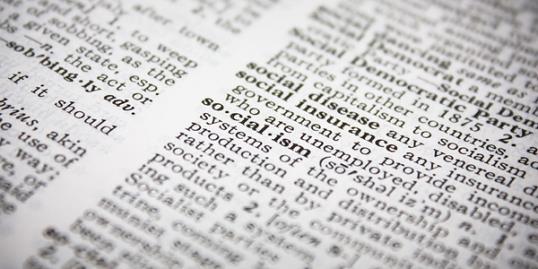 More on MSN Living: Best sweater for your body type
Thanks to a year of politically-fueled interests – an election, health care debate and fight for same-sex marriage – discussion intensified over "American capitalism" versus "European socialism," Sokolowski was quoted.
More on MSN Living: 10 habits that keep marriages strong
This is the first time Merriam-Webster has awarded two words of the year. Last year's word of the year was 'austerity;' before that, it was 'pragmatic.'
Take a look at Merriam-Webster's top 10 words for 2012:
1. socialism and capitalism
2. touché
3. bigot
4. marriage
5. democracy
6. professionalism
7. globalization
8. malarkey
9. schadenfreude
10. meme
Bing: How to talk politics with friends
Photo: picturelibrary/Alamy​
More from MSN Living:
Worst cringe-worthy style and beauty fashions of 2012
The best beauty and style looks of the year
Marriage counselors: The trickiest issues we've ever solved
inspire: live a better life
How much do you really know about the Earth? In honor of Earth Day, April 22, we explore some interesting and fun facts about the fifth-largest planet of our solar system.

Happify shares their results of a recent study on how money affects our happiness.

A top exec reveals the company's secret code

Pro tips from the guy who's done it four times

Not all mistakes are as blatant as posting party pics when you're 'sick' at home.

Everyone struggles through weekday drudgery to reach their weekend fun. But what if you could reclaim every day of your life?

Zooming up the ladder is great, but questioning yourself 24/7 is no way to succeed. Manage your stressed self with these surefire tips.

Forget trying to control every little detail. Life is lots more fun (and less stressful) when you let go from the get-go.

So, what exactly is this thing we call "happiness" and how do we get it?

Mark Zuckerberg has an even bigger effect on your life than you thought.

Everyone makes mistakes, but some mistakes can be devastating. Here are 10 icons who fell from grace, and what they can do to redeem themselves.

Twitter turns eight years old today.