Merriam-Webster Dictionary's top 10 words for 2012
Thanks to the election, 'capitalism' and 'socialism' tie for the No. 1 spot.
Since 2003, the Merriam-Webster Dictionary has been choosing the top ten words of the year. Today, editor-at-large Peter Sokolowski announced the top 10 most looked-up words of 2012, reports the Associated Press.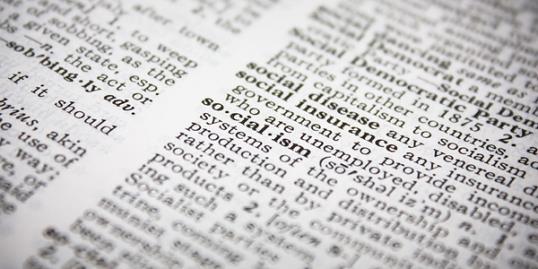 More on MSN Living: Best sweater for your body type
Thanks to a year of politically-fueled interests – an election, health care debate and fight for same-sex marriage – discussion intensified over "American capitalism" versus "European socialism," Sokolowski was quoted.
More on MSN Living: 10 habits that keep marriages strong
This is the first time Merriam-Webster has awarded two words of the year. Last year's word of the year was 'austerity;' before that, it was 'pragmatic.'
Take a look at Merriam-Webster's top 10 words for 2012:
1. socialism and capitalism
2. touché
3. bigot
4. marriage
5. democracy
6. professionalism
7. globalization
8. malarkey
9. schadenfreude
10. meme
Bing: How to talk politics with friends
Photo: picturelibrary/Alamy​
More from MSN Living:
Worst cringe-worthy style and beauty fashions of 2012
The best beauty and style looks of the year
Marriage counselors: The trickiest issues we've ever solved
inspire: live a better life
Summer traditions can be great, but if you're on year six of packing the same people into the same car to go on the same vacation, it's time to switch things up. Surfing in Portugal, perhaps – or cycling through Northern Ireland. We've put together a list of 15 places well off the beaten path that you should go to when you're ready to try something new.

Grab a sleeping bag and head out to one of these amazing campsites.

A dozen adventures that are well worth the trip.

Paper downplays the significance of practice over raw talent.

Survey says American teens aren't great at complex or basic financial tasks.

Fear of Moving Away: How to conquer the latest cultural anxiety and embrace the unknown.

Adulthood has no eureka moment.

Just like your body, your brain needs a regular workout too.

Being a winner is a good feeling to have — especially in life. Winning doesn't solely relate to competitions or Charlie Sheen's coining of the term back in 2011. From achieving success to maintaining a work-life balance, find out what characteristics mean your life is going the way it should be. You may just even find an inspiration or two that you'll want to incorporate into your daily routine!

Sometimes it seems like you need a vacation from your vacation.

That'll get you and your 2 kids a house, SUV, and more, per a 'USA Today' analysis.

While most of us associate the Fourth of July with fireworks and barbecue (and taking a long weekend off from work), it's also an important day to give thanks to the people who help keep us safe.