5 reasons why summer is overrated
And you thought you were having so much fun.
Summer is great, right? Sure it is. But if the barbecues and vacations get to be too much fun, here are some things to complain about.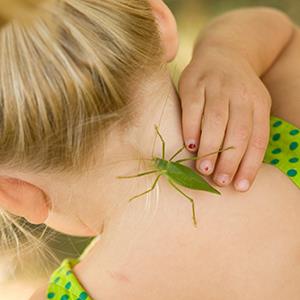 Bugs, bugs and more bugs. There are approximately 3,000 species of mosquitoes in the world, and it's believed they can find warm-blooded mammals from 100 feet away. Then there are the disease-spreading ticks that make the jump from tall grass and foliage onto people and pets, with potentially serious outcomes. This summer we also have the obnoxious cacophony of cicadas cutting through the heat in the East — their noisy calls can be heard up to a mile away. Even fireflies, while not entirely without charm, have a dark side: The females are cannibals, and copy the flash patterns of other fireflies to make a meal of the males.
Gallery: Summer love: Is it a fling or the real thing?
Gas prices often go up in summer months. The increased demand resulting from vacations and road trips is one justification, plus energy companies shut down their refineries for maintenance in the spring, limiting capacity until late May. But the main reason for the summertime pump-up in prices is that the U.S. fuel supply changes twice annually. The "seasonal gasoline transition," instituted in 1995 to reduce pollution and smog during the summer ozone season, increases per-gallon gas prices in summer from 2 cents to as much as 15 cents in some states.
Bing: When is the first day of summer?
Increased traffic accidents means more bad news for drivers and passengers — especially for teenagers. Teen drivers average more hours behind the wheel in summer weeks, and are more likely to pile in more passengers. Teens are also more likely to stay out later than during the school year, and are consequently more prone to driving when tired or sleepy. The days around Memorial Day, July Fourth and Labor Day are among the nation's most dangerous days on the road, so be careful out there.
Shopping: What to wear to spring and summer weddings
Summer camps provide children with the opportunity to learn new skills, make new friends and even establish a little independence from Mom and Dad — but paying the bills is no walk through the park for parents. The average camp operated by a nonprofit organization, youth group or public agency costs between $300 and $1,000 per week. Privately run camps and specialty camps cost between $500 and $1,300 or more per week (the higher costs are more typical of sleep-away camps).
The scents of summer include fresh-cut grass, flowers on the breeze and a hint of ocean salt on the skin. But hot, stagnant air can quickly turn those wet beach towels and bathing suits into a funk fest. Wearing clothes that haven't been properly cleaned and dried can create a world of mildew and BO that makes an otherwise decent person seem less than human. And how about those hot city streets in summer, with the science experiments going on inside rotting garbage bags and discarded cartons of spoiling milk? We won't even mention the aromatic dog runs in Anytown, USA.
Should we go on? Nahh, enjoy the summer … and enjoy it being over in cooler days of autumn.
Subscribe to the Daily Dose | Friend us on Facebook, follow us on Twitter and find us on Pinterest.
Photo: Bug on little girl's neck / Brook Rieman/Getty Images
inspire: live a better life
Happify shares their results of a recent study on how money affects our happiness.

A top exec reveals the company's secret code

Pro tips from the guy who's done it four times

Not all mistakes are as blatant as posting party pics when you're 'sick' at home.

Everyone struggles through weekday drudgery to reach their weekend fun. But what if you could reclaim every day of your life?

Zooming up the ladder is great, but questioning yourself 24/7 is no way to succeed. Manage your stressed self with these surefire tips.

Forget trying to control every little detail. Life is lots more fun (and less stressful) when you let go from the get-go.

So, what exactly is this thing we call "happiness" and how do we get it?

Mark Zuckerberg has an even bigger effect on your life than you thought.

Everyone makes mistakes, but some mistakes can be devastating. Here are 10 icons who fell from grace, and what they can do to redeem themselves.

Twitter turns eight years old today.

Try these anything-but-ordinary ideas for a healthier, more productive mid-day break.