Chemical warfare: Facts and effects
Distressing news from Syria urges greater awareness of the horrors of chemical weapons.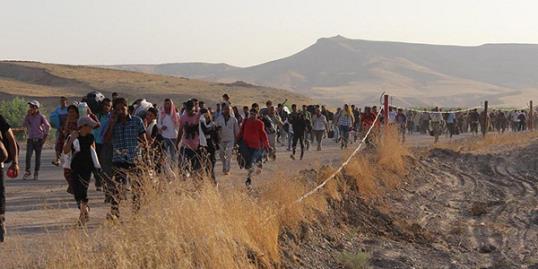 Grim reports
from Syria allege that President Bashar Assad's forces used chemical weapons early today in a sharply escalating conflict with activists and rebels. Unconfirmed estimates of civilian and fighter casualties vary widely, but the numbers begin in the hundreds.
A spokesman for the Free Syria Army said the death toll exceeds 1,200. State television denied the opposition claims, NBC reports, maintaining that baseless information is being disseminated even as chemical weapons experts from the United Nations arrive in the country. The U.N. Security Council convened an emergency meeting today in response. 
Following are a few basic facts regarding chemical weapons. For more information, begin with the Organisation for the Prohibition of Chemical Weapons (
OPCW
) and the United Nations Office for Disarmament Affairs (
UNODA
). See also "Scorched Earth: Legacies of Chemical Warfare in Vietnam" by Fred Wilcox and Noam Chomsky (Seven Stories Press, 2011) and "Chemical and Biological Warfare: A Survey for the Concerned Citizen" by Eric Croddy (Copernicus, 2002).
• Standard munitions such as grenades and artillery shells can be armed with a chemical payload that discharges on explosion. The first modern chemical weapons were used by both the Allies and the Central Powers during World War I.
• Chemical weapons differ in how they penetrate and affect the human body. They are distinguished by the active toxic component, or agent, in the weapon, and are generally categorized in four groups: 
Choking agents including chlorine and phosgene were among the first modern chemicals used in attacks. Use of chlorine in WWI trench warfare resulted in 90,000 deaths and more than 1 million casualties. Effects on the injured often lasted for the rest of their lives.

Blister agents cause painful burns on the skin and severe damage to the eyes, respiratory system and internal organs. The most well known blister or vesicant agents are mustard gases (sulfur mustard and nitrogen mustard), which are used widely because they are the simplest chemical agents to manufacture.

Blood agents are inhaled and circulate in the bloodstream. These agents inhibit blood cells from transferring oxygen to the body's organs, effectively causing the victim to suffocate. The use of hydrogen cyanide, a type of blood agent, was reportedly used by Iraq against Iran and its own Kurdish population in the 1980s. Also known as Zyklon B, the agent was used in Nazi gas chambers.

Nerve agents affect the transmission of nerve impulses and are highly toxic. Tabun, sarin and soman are among the agents that have been dominant in chemical warfare arsenals since World War II. German chemists first developed nerve gases for use as pesticides; the term "sarin" was derived from scientists named Schrader, Ambrose, Rudriger and van der Linde.
• Public outrage at the devastating, inhumane, and indiscriminate effects of chemical weapons led to the prohibition of chemical warfare under the
Geneva Protocol
in 1925. But the development of agents and weapons has continued -- and thrived -- through the Cold War and conflicts of 1960s, '70s and '80s to the present day. 
• Agent Orange, named for the orange-striped 55-gallon drums it was contained in, is a mixture of herbicides and defoliants (chemicals used in warfare to remove leaves from plants and trees). The Red Cross of Vietnam has estimated that 400,000 people were killed and half a million children born with birth defects from Agent Orange sprayed during the Vietnam War. The United States has contested the statistics, but in 2012, it began a
clean-up campaign
. 
• In 1997, the
OPCW
was established with headquarters in The Hague. Approximately 98 percent of the global population is represented by the OCPW's 189 member nations. The organization's mission is to eradicate chemical weaponry, prevent its re-emergence, provide protection and encourage peaceful international cooperation.
inspire: live a better life
With all those deals you snagged on Black Friday, Small Business Saturday, and Cyber Monday, today is your chance to give back to those in need with #GivingTuesday.

Miss Manners provides guidance on how to handle a request for party contributions

Miss Manners instructs on why tit-for-tat never works

Miss Manners offers thoughts on guests who disregard dinner party instructions

Make big bucks, from home, having fun? These women got creative and figured out a way to have it all. You can too.

Your boss. You might like her, you probably respect her, but do you know how to approach someone who seems so different from you? (Spoiler: She's actually not.)

Over the weekend, Oprah decluttered her Montecito mansion and three other properties in a Santa Barbara yard sale that brought in more than $600,000(!). (Proceeds will benefit her girls' leadership academy in South Africa, and not half of a Crate and Barrel chair, the traditional end goal of yard-sale proceeds.)

Exclusively for MSN, we bring you a six-part series from the new book: MISS MANNERS MINDS YOUR BUSINESS by Judith and Nicholas Ivor Martin.

Miss Manners weighs in on the financial burdens of remote weddings

How Miss Manners suggests dealing with out of town guest who want tour guide services

Exclusively for MSN, we bring you a six-part series from the new book: MISS MANNERS MINDS YOUR BUSINESS by Judith and Nicholas Ivor Martin.