'Harry Potter' book with author notes sold for $228K
The sale, to an anonymous bidder, will benefit charity.
By The Associated Press
LONDON (AP) — A first-edition copy of "Harry Potter and the Philosopher's Stone" that contains author J.K. Rowling's notes and original illustrations has sold for 150,000 pounds ($228,000) at a London auction.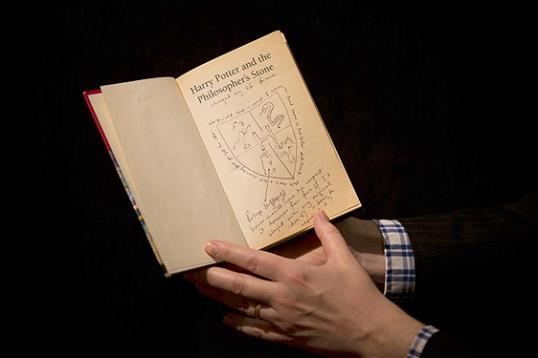 Sotheby's said the work, offered as part of a charity book sale jointly organized with the writer's association English PEN, was sold to an anonymous bidder by telephone late Tuesday.
Gallery: 15 untruths you may have believed
Rowling peppered the book with about two dozen illustrations and many personal annotations, including editorial decisions and a note on how she came to create the game of Quidditch.
Bing: Watch the best scenes from the movie series
Other participating authors in the charity sale included Kazuo Ishiguro, Ian McEwan, Seamus Heaney, Lionel Shriver and Yann Martel.
Slideshow: The best ways to flirt
The funds raised will benefit English PEN, which promotes the freedom to read and write.
More from Daily Dose:
Disaster preparedness: Everything you need to know
Ferris wheel world record broken in Chicago
Topless women in public not breaking the law, says NYPD
Love content like this? Friend us on Facebook, follow us on Twitter and find us on Pinterest.
Photo: Philip Errington, director of Sotheby's department of printed books and manuscripts, with a first-edition copy of "Harry Potter and the Philosopher's Stone" containing annotations and illustrations by author J.K. Rowling. (AP Photo/Matt Dunham)
Are you sure you want to delete this comment?
inspire: live a better life
Where in the world do you want to go? Somewhere unique? Any of the places described here are sure to make your next world-travel adventure truly memorable.

It's easy to lead, but it takes courage and conviction to be a truly great leader. Here are 10 inspiring leaders and what we can learn from them.

Some say it's a small world. We beg to differ. Earth has so many wondrous places worth exploring, and most of us are lucky to see a handful of them. Here are 30 of the top trips of a lifetime.

You'll stave off credit card debt by the end of the year if you account for these often-forgotten expenses.

Mark Zuckerberg has an even bigger effect on your life than you thought.

Take this advice to finally tackle that nagging to-do list.

The iconic storyteller would have been 110-years-old

Take the time to appreciate women's contributions to society. Here are some of the women who inspire us by their example.

Cast of the iconic TV show reunites for Florence Henderson's birthday

We couldn't be more excited to watch the best athletes in the world compete at the Winter Olympics in Sochi. This year, about 44 percent of the competitors are women according to the International Olympic Committee—which is awesome but wasn't always the case. Let's look back at some of the amazing women who paved the way with incredible, memorable feats of girl power.

Still pulling yourself out of holiday credit card debt? Ready to pool some funds for that beach vacation you've been dreaming about at your desk? We're with you 100 percent.

"FOMO, the fear of missing out, is a form of social anxiety," says psychiatrist Gail Saltz. "This type of fear tends to cause compulsive behaviors, like checking out other social situations even as you are in the middle of one currently."