'Harry Potter' book with author notes sold for $228K
The sale, to an anonymous bidder, will benefit charity.
By The Associated Press
LONDON (AP) — A first-edition copy of "Harry Potter and the Philosopher's Stone" that contains author J.K. Rowling's notes and original illustrations has sold for 150,000 pounds ($228,000) at a London auction.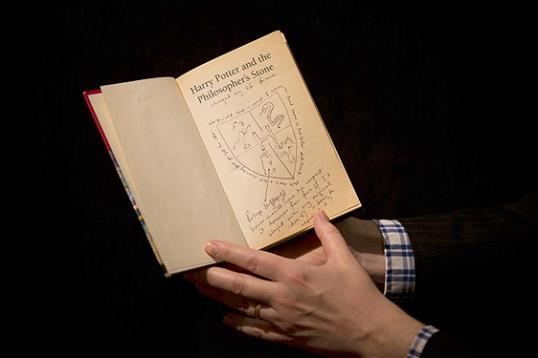 Sotheby's said the work, offered as part of a charity book sale jointly organized with the writer's association English PEN, was sold to an anonymous bidder by telephone late Tuesday.
Gallery: 15 untruths you may have believed
Rowling peppered the book with about two dozen illustrations and many personal annotations, including editorial decisions and a note on how she came to create the game of Quidditch.
Bing: Watch the best scenes from the movie series
Other participating authors in the charity sale included Kazuo Ishiguro, Ian McEwan, Seamus Heaney, Lionel Shriver and Yann Martel.
Slideshow: The best ways to flirt
The funds raised will benefit English PEN, which promotes the freedom to read and write.
More from Daily Dose:
Disaster preparedness: Everything you need to know
Ferris wheel world record broken in Chicago
Topless women in public not breaking the law, says NYPD
Love content like this? Friend us on Facebook, follow us on Twitter and find us on Pinterest.
Photo: Philip Errington, director of Sotheby's department of printed books and manuscripts, with a first-edition copy of "Harry Potter and the Philosopher's Stone" containing annotations and illustrations by author J.K. Rowling. (AP Photo/Matt Dunham)
Are you sure you want to delete this comment?
inspire: live a better life
Use these bucket-list ideas to enjoy the little time you have left.

Study points to benefits of improved living conditions.

Don't leave home without these must-have items.

Handshakes spread 20 times more germs, study says.

Drowning in debt? Maybe there's a silver lining.

"But it's not real life, you know. It's a vacation."

Our list of must-dos before hitting the road.

Summer traditions can be great, but if you're on year six of packing the same people into the same car to go on the same vacation, it's time to switch things up. Surfing in Portugal, perhaps – or cycling through Northern Ireland. We've put together a list of 15 places well off the beaten path that you should go to when you're ready to try something new.

Grab a sleeping bag and head out to one of these amazing campsites.

A dozen adventures that are well worth the trip.

Paper downplays the significance of practice over raw talent.

Survey says American teens aren't great at complex or basic financial tasks.