Tips for the Super Bowl-challenged
How to get through Super Bowl XLVII as if you know what's going on.
So, you're headed to a Super Bowl party this weekend, and though you know well enough to bring wings and beer instead of crudités, fancy hors d'oeuvres, or any other snack with a French accent, you're a little shaky on the whole football part.
Well, dip a nacho and relax. We've got you covered.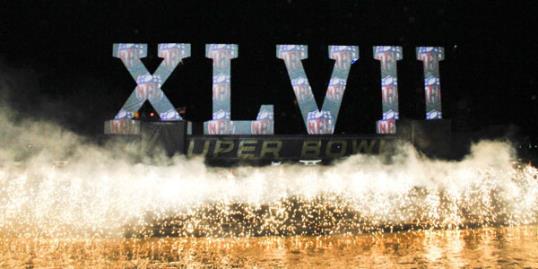 • First you should know that Super Bowl XLVII (that's 47, for those not born in ancient Rome) is a cross-continental contest between the San Francisco 49ers and the Baltimore Ravens. The 49ers will be in red jerseys, the Ravens in white. The game will be played at the Superdome in New Orleans, site of much post-Katrina misery back in 2005.
• The head coaches for the opposing teams are brothers. Jim Harbaugh coaches San Francisco and John Harbaugh coaches Baltimore — lending the nicknames "Har Bowl" and "Super Bough" to the big game. Dinner at the family's table next weekend may not be much fun, as an unprecedented sibling rivalry will find one brother at the pinnacle of his career and the other wallowing in defeat.
More from MSN Living: Crazy dating trends we hope go away
• Neither team has ever lost in a Super Bowl. The Ravens will have their second ring if they win, or the 49ers will have their sixth — tying them with the Pittsburgh Steelers for most Super Bowl wins ever.
More from MSN Living: The truth behind Seen on TV products
 • Though the teams are well matched, their quarterbacking approaches are polar opposites. Ravens QB Joe Flacco is a traditional drop-back passer; that is, the ball is snapped to him, and he throws it. The 49ers' Colin Kaepernick, a relative rookie, is among a new generation of QB's who can both throw and run with exceptional skill.
• Expect some chatter about deer antler spray, a performance enhancer banned by the NFL. If you spot a linebacker frozen in place and staring blankly at an oncoming player as if caught in headlights, feel free the level the charge. 
Bing: What time does the game start on Feb. 3?
• You might also want to be up to speed on the controversy around comments made by 49er cornerback Chris Culliver to comedian Artie Lange, for which the 24-year-old Culliver has been accused of sounding anti-gay (he has since apologized). In the unlikely event that gay rights become a topic of conversation at your football party, also note that Ravens linebacker Brendon Ayanbadejo has made headlines for his vocal support of marriage equality.
• The one French accent that is allowed in this game is the é on the end of Beyoncé. She'll perform at halftime. To get a jump on other party-goers, prepare a lip-synching joke ahead of time. But do not confuse Beyoncé with Alicia Keys, who will perform the national anthem — this error would make you appear not only vaguely racist, but vaguely dumb. If you don't know football or pop culture, what are you doing with your spare time?
More from Daily Dose:
Can animals predict weather?
Life found above Earth
Facebook can't get you fired
Love content like this? Friend us on Facebook, follow us on Twitter and find us on Pinterest
Photo: Monica McKlinski/Getty Images
inspire: live a better life
Study points to benefits of improved living conditions.

Don't leave home without these must-have items.

Handshakes spread 20 times more germs, study says.

Drowning in debt? Maybe there's a silver lining.

"But it's not real life, you know. It's a vacation."

Our list of must-dos before hitting the road.

Summer traditions can be great, but if you're on year six of packing the same people into the same car to go on the same vacation, it's time to switch things up. Surfing in Portugal, perhaps – or cycling through Northern Ireland. We've put together a list of 15 places well off the beaten path that you should go to when you're ready to try something new.

Grab a sleeping bag and head out to one of these amazing campsites.

A dozen adventures that are well worth the trip.

Paper downplays the significance of practice over raw talent.

Survey says American teens aren't great at complex or basic financial tasks.

Fear of Moving Away: How to conquer the latest cultural anxiety and embrace the unknown.