Conservatives Are Prettier Than Liberals
A study says the voting record of a female politician is written on her face.
Just in case anyone is concerned that the differences between Republicans and Democrats are being debated in terms too lofty or substantive,  the divide is now being drawn along the same lines used between competing pep squads: Which side has the prettier girls?
Psychologists and social scientists at UCLA not only asked the unlikely question, but came up with an answer.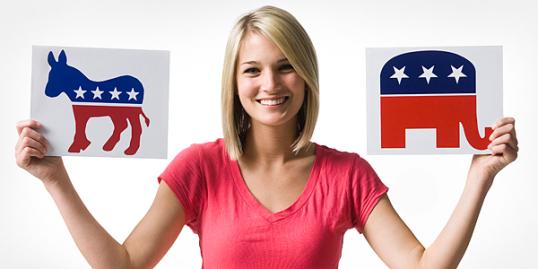 "Female politicians with stereotypically feminine facial features are more likely to be Republican than Democrat," said the lead author of a UCLA study due to appear in the Journal of Experimental Social Psychology, "and the correlation increases the more conservative the lawmaker's voting record."
It's not much of a leap to say that stereotypically feminine is code for pretty. Cracking the rest of the code here, the study is concluding that the prettier a politician is, the more conservative her stand on issues. We're tempted to cite GOP eye candy like Chris Christie as further proof but, alas, the theory applies only to female members of Congress.
More: Most Iconic Wedding Dresses of All Time
The researchers found that the inverse is true as well: Female politicians with less stereotypically feminine features were more likely to be Democrats. Analyzing features with a computer modeling program, the study determined that the faces of the Democratic women were only half as "sex-typical — or feminine —" as Republican faces. Determining political affiliation based on looks, as 120 undergraduate subjects did with surprising accuracy, is chalked up to what the researchers call "the Michelle Bachmann effect."
The Daily Show's Samantha Bee lambasted the UCLA study in a New York Times editorial, calling it "unforgivably retro" and saying the social scientists have "just basically given us the green light to go ahead and judge a book by its cover."  
More: The Most Bizarre Wedding Dresses of All Time
Bee is right, though the fact remains that physical appearance plays a real role in electoral campaigns, and uninformed voters are prone to choosing a candidate based on looks. A final ugly truth comes in a sidenote from the UCLA researchers, who explain that prior research has demonstrated people tend to view women as either competent or feminine — but not both.
Photo: Rubberball/Mike Kemp/Getty Images
Bing: Who's winning? What the latest polls say.
More from MSN Living:
Celeb-Inspired Halloween Costumes
10 Celebs Who Refuse to Fix Their Flaws
inspire: live a better life
How much do you really know about the Earth? In honor of Earth Day, April 22, we explore some interesting and fun facts about the fifth-largest planet of our solar system.

Happify shares their results of a recent study on how money affects our happiness.

A top exec reveals the company's secret code

Pro tips from the guy who's done it four times

Not all mistakes are as blatant as posting party pics when you're 'sick' at home.

Everyone struggles through weekday drudgery to reach their weekend fun. But what if you could reclaim every day of your life?

Zooming up the ladder is great, but questioning yourself 24/7 is no way to succeed. Manage your stressed self with these surefire tips.

Forget trying to control every little detail. Life is lots more fun (and less stressful) when you let go from the get-go.

So, what exactly is this thing we call "happiness" and how do we get it?

Mark Zuckerberg has an even bigger effect on your life than you thought.

Everyone makes mistakes, but some mistakes can be devastating. Here are 10 icons who fell from grace, and what they can do to redeem themselves.

Twitter turns eight years old today.