Conservatives Are Prettier Than Liberals
A study says the voting record of a female politician is written on her face.
Just in case anyone is concerned that the differences between Republicans and Democrats are being debated in terms too lofty or substantive,  the divide is now being drawn along the same lines used between competing pep squads: Which side has the prettier girls?
Psychologists and social scientists at UCLA not only asked the unlikely question, but came up with an answer.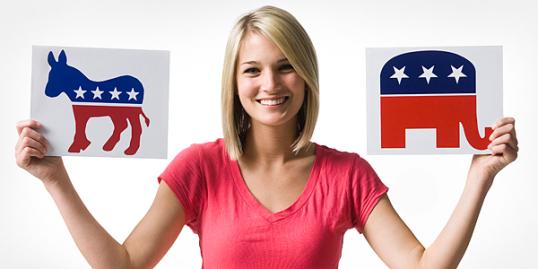 "Female politicians with stereotypically feminine facial features are more likely to be Republican than Democrat," said the lead author of a UCLA study due to appear in the Journal of Experimental Social Psychology, "and the correlation increases the more conservative the lawmaker's voting record."
It's not much of a leap to say that stereotypically feminine is code for pretty. Cracking the rest of the code here, the study is concluding that the prettier a politician is, the more conservative her stand on issues. We're tempted to cite GOP eye candy like Chris Christie as further proof but, alas, the theory applies only to female members of Congress.
More: Most Iconic Wedding Dresses of All Time
The researchers found that the inverse is true as well: Female politicians with less stereotypically feminine features were more likely to be Democrats. Analyzing features with a computer modeling program, the study determined that the faces of the Democratic women were only half as "sex-typical — or feminine —" as Republican faces. Determining political affiliation based on looks, as 120 undergraduate subjects did with surprising accuracy, is chalked up to what the researchers call "the Michelle Bachmann effect."
The Daily Show's Samantha Bee lambasted the UCLA study in a New York Times editorial, calling it "unforgivably retro" and saying the social scientists have "just basically given us the green light to go ahead and judge a book by its cover."  
More: The Most Bizarre Wedding Dresses of All Time
Bee is right, though the fact remains that physical appearance plays a real role in electoral campaigns, and uninformed voters are prone to choosing a candidate based on looks. A final ugly truth comes in a sidenote from the UCLA researchers, who explain that prior research has demonstrated people tend to view women as either competent or feminine — but not both.
Photo: Rubberball/Mike Kemp/Getty Images
Bing: Who's winning? What the latest polls say.
More from MSN Living:
Celeb-Inspired Halloween Costumes
10 Celebs Who Refuse to Fix Their Flaws
inspire: live a better life
Drowning in debt? Maybe there's a silver lining.

"But it's not real life, you know. It's a vacation."

Our list of must-dos before hitting the road.

Summer traditions can be great, but if you're on year six of packing the same people into the same car to go on the same vacation, it's time to switch things up. Surfing in Portugal, perhaps – or cycling through Northern Ireland. We've put together a list of 15 places well off the beaten path that you should go to when you're ready to try something new.

Grab a sleeping bag and head out to one of these amazing campsites.

A dozen adventures that are well worth the trip.

Paper downplays the significance of practice over raw talent.

Survey says American teens aren't great at complex or basic financial tasks.

Fear of Moving Away: How to conquer the latest cultural anxiety and embrace the unknown.

Adulthood has no eureka moment.

Just like your body, your brain needs a regular workout too.

Being a winner is a good feeling to have — especially in life. Winning doesn't solely relate to competitions or Charlie Sheen's coining of the term back in 2011. From achieving success to maintaining a work-life balance, find out what characteristics mean your life is going the way it should be. You may just even find an inspiration or two that you'll want to incorporate into your daily routine!