The Supermoon of Cinco de Mayo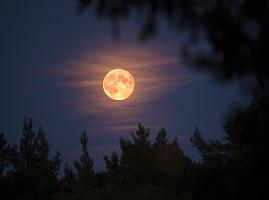 If the skies are clear this weekend, you'll be able to see an uncommonly enormous and spectacular Moon. On Saturday at 11:34 p.m. Eastern Standard Time, the Moon will reach perigee — the point at which the Moon's elliptical orbit puts it as close as it ever gets to Earth. A minute later the Earth, Moon and sun will also line up. The result: a "Supermoon" that appears 14% bigger and 30% bigger than any other full Moon. That's bigger than it looked in 1987's
Moonstruck
, when Cher gave Nicolas Cage a good smack.
In celebration of the May 5th Supermoon, here are some super Moon facts.
The Moon used to rotate relative to Earth, but over billions of years our gravity slowed it down. Now it rotates slowly on its axis in sync with our own rotation but in the opposite direction, which makes the Moon appear to be in a fixed position. Only about 60% of the Moon's surface — the side with the Man on the Moon and his badly cratered complexion — ever faces us. But there isn't really a "dark side of the moon" since the sun does rise on the far side we don't see.
Buzz Aldrin, the second of only 12 men ever to walk on the Moon, has struggled with depression, a condition to which he is genetically predisposed; both his mother and his grandfather took their own lives. His mother's maiden name: Marion Moon.
The moon experiences earthquakes which astronomers can detect from Earth.
The root of the word lunatic comes from luna, the Latin for moon. Centuries ago it was believed that periodic insanity was caused by changing phases of the moon. The same root is borrowed for the slang loony (though Bugs, Daffy and friends spell their cartoon series Looney Tunes, with an extra "e").
Does the Moon really make us loony? Though many hospital workers and first responders have noted the "Transylvania effect" of a full Moon, there's little scientific data supporting the idea that moon phases are related to stats for violent behavior. But a study back in 2000 did find that during full-Moon phases, the condition of a group of patients with schizophrenia notably deteriorated.
Michael Jackson debuted his moonwalk dance step on March 25, 1983.
Maternity ward nurses have long claimed that new deliveries cluster around full-Moon phases, and in 1997 an Italian study lent credence to the claim. If the Moon can pull on the oceans, it seems we should expect some effect on our own bodies since they're made up of about 70% water.
Another study found that animals tend to bite people more during a full Moon. Werewolves get especially testy.
Photo: Dag Sundberg/Photographe​r's Choice/Getty Images

inspire: live a better life
Research could mean more effective treatment for human disorders.

An entry a day might keep the doctor away (or at least the shrink).

One woman's shout-outs to daily moments of joy — and how to cultivate them.

Volunteering (and these other rituals) might be just as good as exercise when it comes to extending your life.

Use these tricks to set a better tone for the rest of the week.

In September, I'll turn 38. I'm at the age now where, when people ask how old I am, it takes me a minute to remember. I don't know if that's because I've already been 37 different ages and it's hard to keep straight which one I am now, or if it's because I'm in denial, or if it's because I am going senile. Maybe a combination of all of the above. Regardless, my 30s have flown by and soon they will be but a memory. So, in an effort to preserve the memory I have left (or at least keep a record of it), and to celebrate what has been an amazing decade so far, here are 30 things that have happened to me in my 30s (and will probably happen to you too):

Our best health and fitness tips including the one move that tones all, berry news, and more.

Who just wants to stand around and watch the red and gold leaves slowly fall from their tree branches to the ground as we move from summer to fall? Instead, take in the changing seasons while you're on the move.

Here's some tips to get to happiness going forward in your life.

People 60 to 82 did best on cognitive tasks before 10:30am.

Lucille Ball was born in 1911, and though we lost her long ago, her legacy as America's favorite redhead lives on through the timeless classic, "I Love Lucy." People of all generations still enjoy Lucy's antics as much as they did over 60 years ago when the show first premiered.