The Supermoon of Cinco de Mayo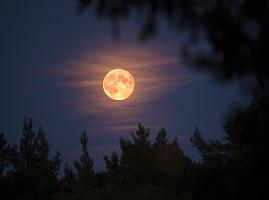 If the skies are clear this weekend, you'll be able to see an uncommonly enormous and spectacular Moon. On Saturday at 11:34 p.m. Eastern Standard Time, the Moon will reach perigee — the point at which the Moon's elliptical orbit puts it as close as it ever gets to Earth. A minute later the Earth, Moon and sun will also line up. The result: a "Supermoon" that appears 14% bigger and 30% bigger than any other full Moon. That's bigger than it looked in 1987's
Moonstruck
, when Cher gave Nicolas Cage a good smack.
In celebration of the May 5th Supermoon, here are some super Moon facts.
The Moon used to rotate relative to Earth, but over billions of years our gravity slowed it down. Now it rotates slowly on its axis in sync with our own rotation but in the opposite direction, which makes the Moon appear to be in a fixed position. Only about 60% of the Moon's surface — the side with the Man on the Moon and his badly cratered complexion — ever faces us. But there isn't really a "dark side of the moon" since the sun does rise on the far side we don't see.
Buzz Aldrin, the second of only 12 men ever to walk on the Moon, has struggled with depression, a condition to which he is genetically predisposed; both his mother and his grandfather took their own lives. His mother's maiden name: Marion Moon.
The moon experiences earthquakes which astronomers can detect from Earth.
The root of the word lunatic comes from luna, the Latin for moon. Centuries ago it was believed that periodic insanity was caused by changing phases of the moon. The same root is borrowed for the slang loony (though Bugs, Daffy and friends spell their cartoon series Looney Tunes, with an extra "e").
Does the Moon really make us loony? Though many hospital workers and first responders have noted the "Transylvania effect" of a full Moon, there's little scientific data supporting the idea that moon phases are related to stats for violent behavior. But a study back in 2000 did find that during full-Moon phases, the condition of a group of patients with schizophrenia notably deteriorated.
Michael Jackson debuted his moonwalk dance step on March 25, 1983.
Maternity ward nurses have long claimed that new deliveries cluster around full-Moon phases, and in 1997 an Italian study lent credence to the claim. If the Moon can pull on the oceans, it seems we should expect some effect on our own bodies since they're made up of about 70% water.
Another study found that animals tend to bite people more during a full Moon. Werewolves get especially testy.
Photo: Dag Sundberg/Photographe​r's Choice/Getty Images

inspire: live a better life
Editor's note: We will now be publishing Miss Manners articles twice weekly, but you will only see one question and answer per article. You can expect to see these articles appear on Tuesdays and Thursdays going forward.

President Harry S. Truman was behind efforts to establish the first Armed Forces Day in 1950, and decades later the nation continues to set aside the third Saturday in May to recognize and thank members of the U.S. military for their patriotic service. With these five homecoming images, we salute all service members at home and abroad.

There's much to be desired about working from home: the stress-free commute, flexible hours, and improved work-life balance.

Wishing for the fountain of youth? You may not need it. We've rounded up real-women secrets, tried-and-true beauty tips, and the latest research to help you fight aging.

Experts weigh in on when to bite your tongue at the office.

Oh, the places you'll go — to get some "me" time, that is. REDBOOK readers confess all on Facebook.

How much money you make isn't nearly as important as how you use it, according to Elizabeth Dunn and Michael Norton, authors of the new book Happy Money.

Plus, how do you ask people to not bring gifts to a shower?

Looking for a career upgrade? Follow these tips for a foot in the door.

These tanning and skin cancer myths aren't just wrong — they can do serious harm. Wise up and head into a healthier future. P.S. You'll look a lot younger too.

It's possible to rejigger your brain circuitry and feel more joy, even on Monday mornings. Here's how.

Inner peace just got easier. You don't need quiet, incense or hours to meditate, and you can scrap the chanting. Better: Ninety-five percent of you say you're calmer after a single 10-minute session. Whatever your excuse (see ours), get your om on and reap the rewards.