Missing man walks up to news crew covering his story
An unexpected turn in a local news story brings a happy ending.
Talk about a scoop.
On Tuesday morning, the news crew from WMTW News 8 in Maine was covering a sensitive local story. Limington resident Robert McDonough, age 73, had been missing for more than 14 hours.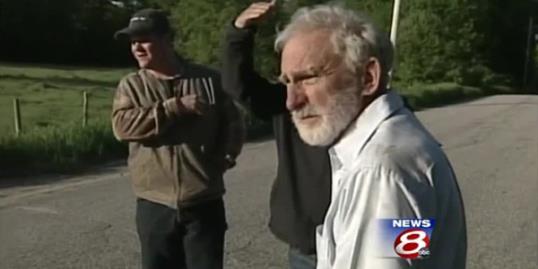 Gallery: 20 things everyone should do at least once
At 6:30 a.m., reporter Norm Karkos and crew were positioned on rural Gammon Road, where Mr. McDonough lives, ready to provide a live update. Karkos was preparing for a shot on the tree-lined road. When a passerby walks into the background, hands draped into his jeans pockets, Karkos waits patiently for the man to walk out of frame. The two are heard exchanging a casual greeting, and then the man walks on.
Watch the video to see the moment when Karkos realizes the subject of his missing-man story has just strolled into his news cast.
Bing: Get more weird news
Karkos and his crew spoke with the man and immediately contacted the Maine Warden Service, which had spent the previous night searching for McDonough after he was reported missing around 4 p.m. Monday.
 McDonough reportedly suffers from dementia, an umbrella term used to describe a syndrome marked by mental fogginess and impairments to memory and judgment. Dementia is generally age-related. The number of people with some form of dementia, such as Alzheimer's disease, is expected to more than double by the year 2050 due to the aging population.
Slideshow: 25 things that will keep you young
Reporter Norm Karkos noted that McDonough had some blood on one hand and on his shirt but appeared to be in good condition.
Tip of the hat to HyperVocal.
More from Daily Dose:
Man had pencil in head for 15 years
FBI investigated song 'Louie Louie' for 2 years
911 call: 'Proof of bigfoot'
Love content like this? Friend us on Facebook, follow us on Twitter and find us on Pinterest.
Photo: Robert McDonough with WMTW News 8 anchor/reporter Norm Karkos (WMTW News 8, http://aka.ms/missin​gman)
inspire: live a better life
Summer and winter tend to hog all the glory when it comes to travel high seasons. Sure, you want to soak up all the time at the beach you can during the summer, and you just want to escape the cold during the last months of the year.

Who just wants to stand around and watch the red and gold leaves slowly fall from their tree branches to the ground as we move from summer to fall? Instead, take in the changing seasons while you're on the move.

In September, I'll turn 38. I'm at the age now where, when people ask how old I am, it takes me a minute to remember. I don't know if that's because I've already been 37 different ages and it's hard to keep straight which one I am now, or if it's because I'm in denial, or if it's because I am going senile. Maybe a combination of all of the above. Regardless, my 30s have flown by and soon they will be but a memory. So, in an effort to preserve the memory I have left (or at least keep a record of it), and to celebrate what has been an amazing decade so far, here are 30 things that have happened to me in my 30s (and will probably happen to you too):

Traveling doesn't have to be stressful. And what you can fit in your carry-on can make all the difference (and not just a fresh pair of socks), especially when you get that low battery signal.

Volunteering (and these other rituals) might be just as good as exercise when it comes to extending your life.

Use these tricks to set a better tone for the rest of the week.

Whether it involves a food fight, mermaids or a torch-lit procession, people the world over know how to have a good time. Here are some of the biggest, boldest, booziest celebrations around, along with some tips to get the full experience.

Research could mean more effective treatment for human disorders.

An entry a day might keep the doctor away (or at least the shrink).

One woman's shout-outs to daily moments of joy — and how to cultivate them.

Our best health and fitness tips including the one move that tones all, berry news, and more.