Missing man walks up to news crew covering his story
An unexpected turn in a local news story brings a happy ending.
Talk about a scoop.
On Tuesday morning, the news crew from WMTW News 8 in Maine was covering a sensitive local story. Limington resident Robert McDonough, age 73, had been missing for more than 14 hours.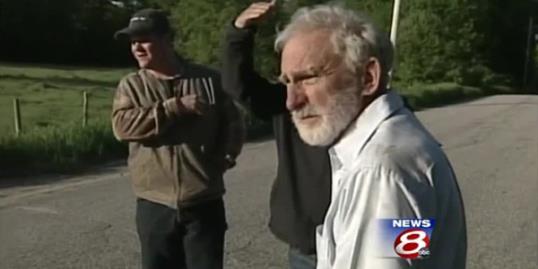 Gallery: 20 things everyone should do at least once
At 6:30 a.m., reporter Norm Karkos and crew were positioned on rural Gammon Road, where Mr. McDonough lives, ready to provide a live update. Karkos was preparing for a shot on the tree-lined road. When a passerby walks into the background, hands draped into his jeans pockets, Karkos waits patiently for the man to walk out of frame. The two are heard exchanging a casual greeting, and then the man walks on.
Watch the video to see the moment when Karkos realizes the subject of his missing-man story has just strolled into his news cast.
Bing: Get more weird news
Karkos and his crew spoke with the man and immediately contacted the Maine Warden Service, which had spent the previous night searching for McDonough after he was reported missing around 4 p.m. Monday.
 McDonough reportedly suffers from dementia, an umbrella term used to describe a syndrome marked by mental fogginess and impairments to memory and judgment. Dementia is generally age-related. The number of people with some form of dementia, such as Alzheimer's disease, is expected to more than double by the year 2050 due to the aging population.
Slideshow: 25 things that will keep you young
Reporter Norm Karkos noted that McDonough had some blood on one hand and on his shirt but appeared to be in good condition.
Tip of the hat to HyperVocal.
More from Daily Dose:
Man had pencil in head for 15 years
FBI investigated song 'Louie Louie' for 2 years
911 call: 'Proof of bigfoot'
Love content like this? Friend us on Facebook, follow us on Twitter and find us on Pinterest.
Photo: Robert McDonough with WMTW News 8 anchor/reporter Norm Karkos (WMTW News 8, http://aka.ms/missin​gman)
inspire: live a better life
Summer traditions can be great, but if you're on year six of packing the same people into the same car to go on the same vacation, it's time to switch things up. Surfing in Portugal, perhaps – or cycling through Northern Ireland. We've put together a list of 15 places well off the beaten path that you should go to when you're ready to try something new.

Grab a sleeping bag and head out to one of these amazing campsites.

A dozen adventures that are well worth the trip.

Paper downplays the significance of practice over raw talent.

Survey says American teens aren't great at complex or basic financial tasks.

Fear of Moving Away: How to conquer the latest cultural anxiety and embrace the unknown.

Adulthood has no eureka moment.

Just like your body, your brain needs a regular workout too.

Being a winner is a good feeling to have — especially in life. Winning doesn't solely relate to competitions or Charlie Sheen's coining of the term back in 2011. From achieving success to maintaining a work-life balance, find out what characteristics mean your life is going the way it should be. You may just even find an inspiration or two that you'll want to incorporate into your daily routine!

Sometimes it seems like you need a vacation from your vacation.

That'll get you and your 2 kids a house, SUV, and more, per a 'USA Today' analysis.

While most of us associate the Fourth of July with fireworks and barbecue (and taking a long weekend off from work), it's also an important day to give thanks to the people who help keep us safe.