Missing man walks up to news crew covering his story
An unexpected turn in a local news story brings a happy ending.
Talk about a scoop.
On Tuesday morning, the news crew from WMTW News 8 in Maine was covering a sensitive local story. Limington resident Robert McDonough, age 73, had been missing for more than 14 hours.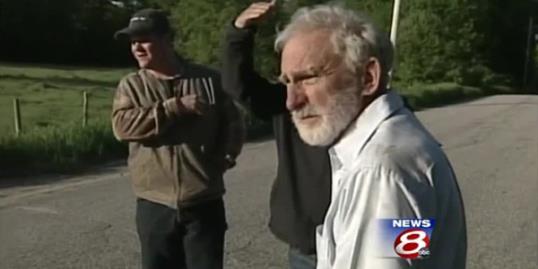 Gallery: 20 things everyone should do at least once
At 6:30 a.m., reporter Norm Karkos and crew were positioned on rural Gammon Road, where Mr. McDonough lives, ready to provide a live update. Karkos was preparing for a shot on the tree-lined road. When a passerby walks into the background, hands draped into his jeans pockets, Karkos waits patiently for the man to walk out of frame. The two are heard exchanging a casual greeting, and then the man walks on.
Watch the video to see the moment when Karkos realizes the subject of his missing-man story has just strolled into his news cast.
Bing: Get more weird news
Karkos and his crew spoke with the man and immediately contacted the Maine Warden Service, which had spent the previous night searching for McDonough after he was reported missing around 4 p.m. Monday.
 McDonough reportedly suffers from dementia, an umbrella term used to describe a syndrome marked by mental fogginess and impairments to memory and judgment. Dementia is generally age-related. The number of people with some form of dementia, such as Alzheimer's disease, is expected to more than double by the year 2050 due to the aging population.
Slideshow: 25 things that will keep you young
Reporter Norm Karkos noted that McDonough had some blood on one hand and on his shirt but appeared to be in good condition.
Tip of the hat to HyperVocal.
More from Daily Dose:
Man had pencil in head for 15 years
FBI investigated song 'Louie Louie' for 2 years
911 call: 'Proof of bigfoot'
Love content like this? Friend us on Facebook, follow us on Twitter and find us on Pinterest.
Photo: Robert McDonough with WMTW News 8 anchor/reporter Norm Karkos (WMTW News 8, http://aka.ms/missin​gman)
inspire: live a better life
With all those deals you snagged on Black Friday, Small Business Saturday, and Cyber Monday, today is your chance to give back to those in need with #GivingTuesday.

Miss Manners provides guidance on how to handle a request for party contributions

Miss Manners instructs on why tit-for-tat never works

Miss Manners offers thoughts on guests who disregard dinner party instructions

Make big bucks, from home, having fun? These women got creative and figured out a way to have it all. You can too.

Your boss. You might like her, you probably respect her, but do you know how to approach someone who seems so different from you? (Spoiler: She's actually not.)

Over the weekend, Oprah decluttered her Montecito mansion and three other properties in a Santa Barbara yard sale that brought in more than $600,000(!). (Proceeds will benefit her girls' leadership academy in South Africa, and not half of a Crate and Barrel chair, the traditional end goal of yard-sale proceeds.)

Exclusively for MSN, we bring you a six-part series from the new book: MISS MANNERS MINDS YOUR BUSINESS by Judith and Nicholas Ivor Martin.

Miss Manners weighs in on the financial burdens of remote weddings

How Miss Manners suggests dealing with out of town guest who want tour guide services

Exclusively for MSN, we bring you a six-part series from the new book: MISS MANNERS MINDS YOUR BUSINESS by Judith and Nicholas Ivor Martin.