Missing man walks up to news crew covering his story
An unexpected turn in a local news story brings a happy ending.
Talk about a scoop.
On Tuesday morning, the news crew from WMTW News 8 in Maine was covering a sensitive local story. Limington resident Robert McDonough, age 73, had been missing for more than 14 hours.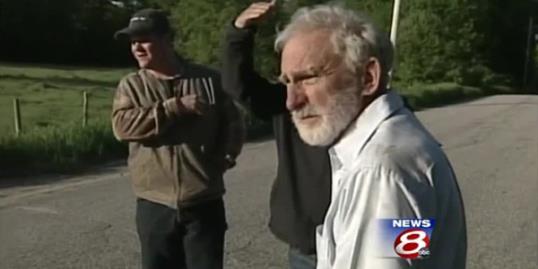 Gallery: 20 things everyone should do at least once
At 6:30 a.m., reporter Norm Karkos and crew were positioned on rural Gammon Road, where Mr. McDonough lives, ready to provide a live update. Karkos was preparing for a shot on the tree-lined road. When a passerby walks into the background, hands draped into his jeans pockets, Karkos waits patiently for the man to walk out of frame. The two are heard exchanging a casual greeting, and then the man walks on.
Watch the video to see the moment when Karkos realizes the subject of his missing-man story has just strolled into his news cast.
Bing: Get more weird news
Karkos and his crew spoke with the man and immediately contacted the Maine Warden Service, which had spent the previous night searching for McDonough after he was reported missing around 4 p.m. Monday.
 McDonough reportedly suffers from dementia, an umbrella term used to describe a syndrome marked by mental fogginess and impairments to memory and judgment. Dementia is generally age-related. The number of people with some form of dementia, such as Alzheimer's disease, is expected to more than double by the year 2050 due to the aging population.
Slideshow: 25 things that will keep you young
Reporter Norm Karkos noted that McDonough had some blood on one hand and on his shirt but appeared to be in good condition.
Tip of the hat to HyperVocal.
More from Daily Dose:
Man had pencil in head for 15 years
FBI investigated song 'Louie Louie' for 2 years
911 call: 'Proof of bigfoot'
Love content like this? Friend us on Facebook, follow us on Twitter and find us on Pinterest.
Photo: Robert McDonough with WMTW News 8 anchor/reporter Norm Karkos (WMTW News 8, http://aka.ms/missin​gman)
inspire: live a better life
You'll stave off credit card debt by the end of the year if you account for these often-forgotten expenses.

Mark Zuckerberg has an even bigger effect on your life than you thought.

Take this advice to finally tackle that nagging to-do list.

The iconic storyteller would have been 110-years-old

Take the time to appreciate women's contributions to society. Here are some of the women who inspire us by their example.

Cast of the iconic TV show reunites for Florence Henderson's birthday

We couldn't be more excited to watch the best athletes in the world compete at the Winter Olympics in Sochi. This year, about 44 percent of the competitors are women according to the International Olympic Committee—which is awesome but wasn't always the case. Let's look back at some of the amazing women who paved the way with incredible, memorable feats of girl power.

Still pulling yourself out of holiday credit card debt? Ready to pool some funds for that beach vacation you've been dreaming about at your desk? We're with you 100 percent.

"FOMO, the fear of missing out, is a form of social anxiety," says psychiatrist Gail Saltz. "This type of fear tends to cause compulsive behaviors, like checking out other social situations even as you are in the middle of one currently."

When The Shriver Report was released in early January, we shared some of the more interesting statistics about income equality, the wage gap, and other issues confronting women.

Clay Aiken to run for public office.

Here's how to boost your joy — and put more cash in your pocket.