Missing man walks up to news crew covering his story
An unexpected turn in a local news story brings a happy ending.
Talk about a scoop.
On Tuesday morning, the news crew from WMTW News 8 in Maine was covering a sensitive local story. Limington resident Robert McDonough, age 73, had been missing for more than 14 hours.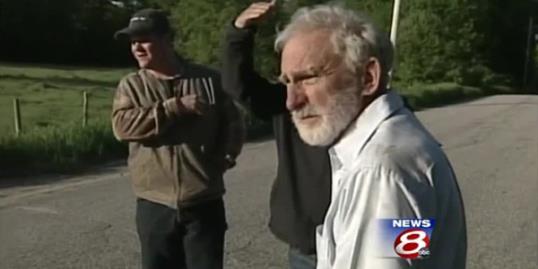 Gallery: 20 things everyone should do at least once
At 6:30 a.m., reporter Norm Karkos and crew were positioned on rural Gammon Road, where Mr. McDonough lives, ready to provide a live update. Karkos was preparing for a shot on the tree-lined road. When a passerby walks into the background, hands draped into his jeans pockets, Karkos waits patiently for the man to walk out of frame. The two are heard exchanging a casual greeting, and then the man walks on.
Watch the video to see the moment when Karkos realizes the subject of his missing-man story has just strolled into his news cast.
Bing: Get more weird news
Karkos and his crew spoke with the man and immediately contacted the Maine Warden Service, which had spent the previous night searching for McDonough after he was reported missing around 4 p.m. Monday.
 McDonough reportedly suffers from dementia, an umbrella term used to describe a syndrome marked by mental fogginess and impairments to memory and judgment. Dementia is generally age-related. The number of people with some form of dementia, such as Alzheimer's disease, is expected to more than double by the year 2050 due to the aging population.
Slideshow: 25 things that will keep you young
Reporter Norm Karkos noted that McDonough had some blood on one hand and on his shirt but appeared to be in good condition.
Tip of the hat to HyperVocal.
More from Daily Dose:
Man had pencil in head for 15 years
FBI investigated song 'Louie Louie' for 2 years
911 call: 'Proof of bigfoot'
Love content like this? Friend us on Facebook, follow us on Twitter and find us on Pinterest.
Photo: Robert McDonough with WMTW News 8 anchor/reporter Norm Karkos (WMTW News 8, http://aka.ms/missin​gman)
inspire: live a better life
Our best health and fitness tips including the one move that tones all, berry news, and more.

Who just wants to stand around and watch the red and gold leaves slowly fall from their tree branches to the ground as we move from summer to fall? Instead, take in the changing seasons while you're on the move.

Here's some tips to get to happiness going forward in your life.

People 60 to 82 did best on cognitive tasks before 10:30am.

Lucille Ball was born in 1911, and though we lost her long ago, her legacy as America's favorite redhead lives on through the timeless classic, "I Love Lucy." People of all generations still enjoy Lucy's antics as much as they did over 60 years ago when the show first premiered.

Summer is coming to an end, and in a few weeks, kids will be forced to trade in their beach bags for backpacks. But just because the season is fading away doesn't mean the memories from the past few months have to disappear with it.

Confidence and perceived competence are key, study finds.

Features lead to assumptions about character, study says.

Great gear for an afternoon spent shoreside.

Use these bucket-list ideas to enjoy the little time you have left.

Study points to benefits of improved living conditions.