The top Bing searches of 2012
Top searches reveal no one can keep up with the Kardashians.
REDMOND, Wash. -- As we look back at 2012, Bing searches show it was a year of familiar faces, momentous events and baby fever.
While last year people were singing "Baby, baby, baby" with Justin Bieber as the most-searched person of 2011, 2012 was the year of the real baby, as celebrity births were five of the top 10 celebrity events. From new reality stars such as Honey Boo Boo to viral hits such as "Gangnam Style" and airwave darlings such as Taylor Swift, Bing captured history through the searches that mark the year's most fascinating people, sensations and moments in time.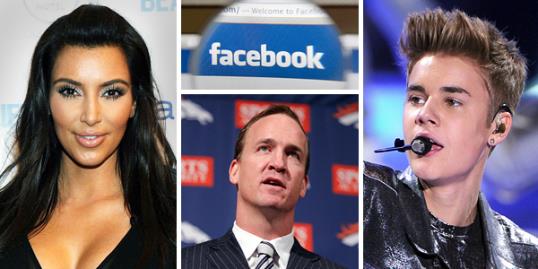 Based on the aggregation of billions of search queries conducted on Bing this year, here are the much-anticipated top search lists for the most-searched people, news stories, athletes, musicians, celebrity events, social networks and TV shows.
More on MSN Living: 50 things everyone should know about marriage
Most-searched people of the year
1.      Kim Kardashian (Justin Bieber, 2011)
2.      Justin Bieber (Kim Kardashain, 2011)
3.      Miley Cyrus (Jennifer Aniston, 2011)
4.      Rihanna (Lindsay Lohan, 2011)
5.      Lindsay Lohan (Jennifer Lopez, 2011)
6.      Katy Perry (Britney Spears, 2011)
7.      Selena Gomez (Katy Perry, 2011)
8.      Jennifer Aniston (Megan Fox, 2011)
9.      Nicki Minaj (Lady Gaga, 2011)
10.  Taylor Swift (Miley Cyrus, 2011)
More on MSN Living: The top 10 traits women want in a man
Top news stories
11.  iPhone 5
12.  2012 Election
13.  2012 Olympics
14.  Hurricane Sandy
15.  Honey Boo Boo
16.  "Gangnam Style"
17.  Kony 2012
18.  Academy Awards
19.  Kindle Fire HD
20.  Facebook IPO
Top athletes
1.      Peyton Manning
2.      Tiger Woods
3.      Tim Tebow
4.      Maria Sharapova
5.      Kobe Bryant
6.      Serena Williams
7.      Lamar Odom
8.      LeBron James
9.      Cristiano Ronaldo
10.  Terrell Owens
Top musicians
1.      Justin Bieber
2.      Whitney Houston
3.      Katy Perry
4.      Selena Gomez
5.      Rihanna
6.      Nicki Minaj
7.      Taylor Swift
8.      Beyoncé
9.      Chris Brown
10.  Jennifer Lopez
Top celebrity events
1.      Beyoncé's baby
2.      Jessica Simpson's baby
3.      Whitney Houston's death
4.      Snooki's baby
5.      Kourtney Kardashian's baby
6.      Coachella
7.      Rodney King overdose
8.      Grammy Awards
9.      Jennifer Garner's baby
10.  Academy Awards
Top TV shows
1.      "American Idol"
2.      "Dancing With the Stars"
3.      "The Young and the Restless"
4.      "The Walking Dead"
5.      "Family Guy"
6.       "Here Comes Honey Boo Boo"
7.      "Glee"
8.      "Vampire Diaries"
9.      "The Bachelor"
10.  "Game of Thrones"
Top social networks
1.      Facebook
2.      Twitter
3.      MySpace
4.      LinkedIn
5.      Tumblr
Photo: (Clockwise from left) Denise Truscello/WireImage;​ channelORANGE/Twitte​r, Supplied by WENN; Kevin Winter/Getty Images; Doug Pensinger/Getty Images
Bing: What were the top 2011 Bing searches?
More from MSN Living:
25 things she finds sexiest about you
8 words that give away a liar
The trends men love ... and the ones they hate
inspire: live a better life
For those who would rather pay it forward, proceeds from this gift guide go to deserving charities — and these presents happen to be pretty fabulous as well. Plus, shop more gifts for stylish women.

Miss Manners considers when to celebrate milestones

Miss Manners provides guidance on meeting others

No, money doesn't grow on Christmas trees, but you can green up your holiday with readers' savviest money-saving tips.

A look back on all of the tiny tasks that 30 years of technology has saved you from.

What sets you apart from everyone else looking for a new job or bigger paycheck? Your profile!

With all those deals you snagged on Black Friday, Small Business Saturday, and Cyber Monday, today is your chance to give back to those in need with #GivingTuesday.

Miss Manners provides guidance on how to handle a request for party contributions

Miss Manners instructs on why tit-for-tat never works

Miss Manners offers thoughts on guests who disregard dinner party instructions

Make big bucks, from home, having fun? These women got creative and figured out a way to have it all. You can too.