Let Investors Pay for College
A radical — and reasonable — way to finance sky-high college costs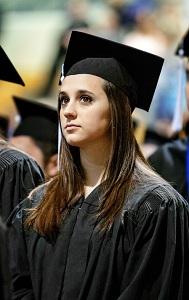 Three things you could do with the money it currently costs to go to college:
  • Feed a family of four for over a decade
  • Make a line 12 miles long out of dollar bills
  • Buy five new mid-sized cars (floor mats included)

That's based on the aorta-clenching cost of four years of higher ed. For the academic year 2011–2012, the price tag for college averaged $21,447 per year for an in-state public school and $42,224 for a private college, according to CollegeData.

The insane rate of paying for college keeps going up while the American family's ability to pay for it keeps going down. At the same time, a college degree is becoming the baseline criteria for employability that a high-school diploma once was. It's unsustainable. Yet, year after year, nothing changes.

Luigi Zingalese, a professor at University of Chicago  ($62,425 per year, btw), has an idea: Invite investors to foot the bill in exchange for a fraction of the student's future income. 
Zingalese sums up his radical approach in The College Graduate as Collateral, an op-ed piece appearing this week in the NY Times. Under Zingalese's plan, a student's education could be financed with equity rather than with debt. Students don't typically have too many financial assets to offer up for collateral, with one major exception: their potential.
Fault-finders have said the plan is a form of indentured servitude, though Zingalese addresses that criticism in his article. Venture capitalists would see returns on investment, yes, but it's a good-conscience investment with benefits that resonate to students, families, taxpayers, and schools. Would a young graduate rather have the option of a voluntary tax on future income — dollars nicked off a paycheck and returned to the people who invested in intellectual capital — or leave college and immediately come under the crushing weight of a student loan? Or perhaps never be able to attend school in the first place?
inspire: live a better life
Summer and winter tend to hog all the glory when it comes to travel high seasons. Sure, you want to soak up all the time at the beach you can during the summer, and you just want to escape the cold during the last months of the year.

Who just wants to stand around and watch the red and gold leaves slowly fall from their tree branches to the ground as we move from summer to fall? Instead, take in the changing seasons while you're on the move.

In September, I'll turn 38. I'm at the age now where, when people ask how old I am, it takes me a minute to remember. I don't know if that's because I've already been 37 different ages and it's hard to keep straight which one I am now, or if it's because I'm in denial, or if it's because I am going senile. Maybe a combination of all of the above. Regardless, my 30s have flown by and soon they will be but a memory. So, in an effort to preserve the memory I have left (or at least keep a record of it), and to celebrate what has been an amazing decade so far, here are 30 things that have happened to me in my 30s (and will probably happen to you too):

Traveling doesn't have to be stressful. And what you can fit in your carry-on can make all the difference (and not just a fresh pair of socks), especially when you get that low battery signal.

Volunteering (and these other rituals) might be just as good as exercise when it comes to extending your life.

Use these tricks to set a better tone for the rest of the week.

Whether it involves a food fight, mermaids or a torch-lit procession, people the world over know how to have a good time. Here are some of the biggest, boldest, booziest celebrations around, along with some tips to get the full experience.

Research could mean more effective treatment for human disorders.

An entry a day might keep the doctor away (or at least the shrink).

One woman's shout-outs to daily moments of joy — and how to cultivate them.

Our best health and fitness tips including the one move that tones all, berry news, and more.