Let Investors Pay for College
A radical — and reasonable — way to finance sky-high college costs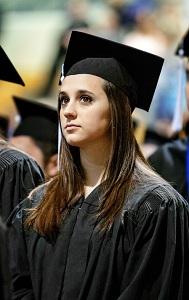 Three things you could do with the money it currently costs to go to college:
  • Feed a family of four for over a decade
  • Make a line 12 miles long out of dollar bills
  • Buy five new mid-sized cars (floor mats included)

That's based on the aorta-clenching cost of four years of higher ed. For the academic year 2011–2012, the price tag for college averaged $21,447 per year for an in-state public school and $42,224 for a private college, according to CollegeData.

The insane rate of paying for college keeps going up while the American family's ability to pay for it keeps going down. At the same time, a college degree is becoming the baseline criteria for employability that a high-school diploma once was. It's unsustainable. Yet, year after year, nothing changes.

Luigi Zingalese, a professor at University of Chicago  ($62,425 per year, btw), has an idea: Invite investors to foot the bill in exchange for a fraction of the student's future income. 
Zingalese sums up his radical approach in The College Graduate as Collateral, an op-ed piece appearing this week in the NY Times. Under Zingalese's plan, a student's education could be financed with equity rather than with debt. Students don't typically have too many financial assets to offer up for collateral, with one major exception: their potential.
Fault-finders have said the plan is a form of indentured servitude, though Zingalese addresses that criticism in his article. Venture capitalists would see returns on investment, yes, but it's a good-conscience investment with benefits that resonate to students, families, taxpayers, and schools. Would a young graduate rather have the option of a voluntary tax on future income — dollars nicked off a paycheck and returned to the people who invested in intellectual capital — or leave college and immediately come under the crushing weight of a student loan? Or perhaps never be able to attend school in the first place?
inspire: live a better life
With all those deals you snagged on Black Friday, Small Business Saturday, and Cyber Monday, today is your chance to give back to those in need with #GivingTuesday.

Miss Manners provides guidance on how to handle a request for party contributions

Miss Manners instructs on why tit-for-tat never works

Miss Manners offers thoughts on guests who disregard dinner party instructions

Make big bucks, from home, having fun? These women got creative and figured out a way to have it all. You can too.

Your boss. You might like her, you probably respect her, but do you know how to approach someone who seems so different from you? (Spoiler: She's actually not.)

Over the weekend, Oprah decluttered her Montecito mansion and three other properties in a Santa Barbara yard sale that brought in more than $600,000(!). (Proceeds will benefit her girls' leadership academy in South Africa, and not half of a Crate and Barrel chair, the traditional end goal of yard-sale proceeds.)

Exclusively for MSN, we bring you a six-part series from the new book: MISS MANNERS MINDS YOUR BUSINESS by Judith and Nicholas Ivor Martin.

Miss Manners weighs in on the financial burdens of remote weddings

How Miss Manners suggests dealing with out of town guest who want tour guide services

Exclusively for MSN, we bring you a six-part series from the new book: MISS MANNERS MINDS YOUR BUSINESS by Judith and Nicholas Ivor Martin.