Let Investors Pay for College
A radical — and reasonable — way to finance sky-high college costs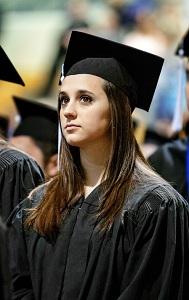 Three things you could do with the money it currently costs to go to college:
  • Feed a family of four for over a decade
  • Make a line 12 miles long out of dollar bills
  • Buy five new mid-sized cars (floor mats included)

That's based on the aorta-clenching cost of four years of higher ed. For the academic year 2011–2012, the price tag for college averaged $21,447 per year for an in-state public school and $42,224 for a private college, according to CollegeData.

The insane rate of paying for college keeps going up while the American family's ability to pay for it keeps going down. At the same time, a college degree is becoming the baseline criteria for employability that a high-school diploma once was. It's unsustainable. Yet, year after year, nothing changes.

Luigi Zingalese, a professor at University of Chicago  ($62,425 per year, btw), has an idea: Invite investors to foot the bill in exchange for a fraction of the student's future income. 
Zingalese sums up his radical approach in The College Graduate as Collateral, an op-ed piece appearing this week in the NY Times. Under Zingalese's plan, a student's education could be financed with equity rather than with debt. Students don't typically have too many financial assets to offer up for collateral, with one major exception: their potential.
Fault-finders have said the plan is a form of indentured servitude, though Zingalese addresses that criticism in his article. Venture capitalists would see returns on investment, yes, but it's a good-conscience investment with benefits that resonate to students, families, taxpayers, and schools. Would a young graduate rather have the option of a voluntary tax on future income — dollars nicked off a paycheck and returned to the people who invested in intellectual capital — or leave college and immediately come under the crushing weight of a student loan? Or perhaps never be able to attend school in the first place?
inspire: live a better life
Drowning in debt? Maybe there's a silver lining.

"But it's not real life, you know. It's a vacation."

Our list of must-dos before hitting the road.

Summer traditions can be great, but if you're on year six of packing the same people into the same car to go on the same vacation, it's time to switch things up. Surfing in Portugal, perhaps – or cycling through Northern Ireland. We've put together a list of 15 places well off the beaten path that you should go to when you're ready to try something new.

Grab a sleeping bag and head out to one of these amazing campsites.

A dozen adventures that are well worth the trip.

Paper downplays the significance of practice over raw talent.

Survey says American teens aren't great at complex or basic financial tasks.

Fear of Moving Away: How to conquer the latest cultural anxiety and embrace the unknown.

Adulthood has no eureka moment.

Just like your body, your brain needs a regular workout too.

Being a winner is a good feeling to have — especially in life. Winning doesn't solely relate to competitions or Charlie Sheen's coining of the term back in 2011. From achieving success to maintaining a work-life balance, find out what characteristics mean your life is going the way it should be. You may just even find an inspiration or two that you'll want to incorporate into your daily routine!