Let Investors Pay for College
A radical — and reasonable — way to finance sky-high college costs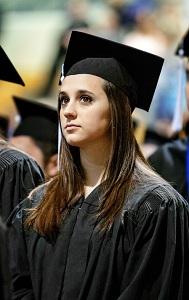 Three things you could do with the money it currently costs to go to college:
  • Feed a family of four for over a decade
  • Make a line 12 miles long out of dollar bills
  • Buy five new mid-sized cars (floor mats included)

That's based on the aorta-clenching cost of four years of higher ed. For the academic year 2011–2012, the price tag for college averaged $21,447 per year for an in-state public school and $42,224 for a private college, according to CollegeData.

The insane rate of paying for college keeps going up while the American family's ability to pay for it keeps going down. At the same time, a college degree is becoming the baseline criteria for employability that a high-school diploma once was. It's unsustainable. Yet, year after year, nothing changes.

Luigi Zingalese, a professor at University of Chicago  ($62,425 per year, btw), has an idea: Invite investors to foot the bill in exchange for a fraction of the student's future income. 
Zingalese sums up his radical approach in The College Graduate as Collateral, an op-ed piece appearing this week in the NY Times. Under Zingalese's plan, a student's education could be financed with equity rather than with debt. Students don't typically have too many financial assets to offer up for collateral, with one major exception: their potential.
Fault-finders have said the plan is a form of indentured servitude, though Zingalese addresses that criticism in his article. Venture capitalists would see returns on investment, yes, but it's a good-conscience investment with benefits that resonate to students, families, taxpayers, and schools. Would a young graduate rather have the option of a voluntary tax on future income — dollars nicked off a paycheck and returned to the people who invested in intellectual capital — or leave college and immediately come under the crushing weight of a student loan? Or perhaps never be able to attend school in the first place?
inspire: live a better life
Happify shares their results of a recent study on how money affects our happiness.

A top exec reveals the company's secret code

Pro tips from the guy who's done it four times

Not all mistakes are as blatant as posting party pics when you're 'sick' at home.

Everyone struggles through weekday drudgery to reach their weekend fun. But what if you could reclaim every day of your life?

Zooming up the ladder is great, but questioning yourself 24/7 is no way to succeed. Manage your stressed self with these surefire tips.

Forget trying to control every little detail. Life is lots more fun (and less stressful) when you let go from the get-go.

So, what exactly is this thing we call "happiness" and how do we get it?

Mark Zuckerberg has an even bigger effect on your life than you thought.

Everyone makes mistakes, but some mistakes can be devastating. Here are 10 icons who fell from grace, and what they can do to redeem themselves.

Twitter turns eight years old today.

Try these anything-but-ordinary ideas for a healthier, more productive mid-day break.