Let Investors Pay for College
A radical — and reasonable — way to finance sky-high college costs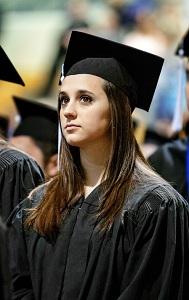 Three things you could do with the money it currently costs to go to college:
  • Feed a family of four for over a decade
  • Make a line 12 miles long out of dollar bills
  • Buy five new mid-sized cars (floor mats included)

That's based on the aorta-clenching cost of four years of higher ed. For the academic year 2011–2012, the price tag for college averaged $21,447 per year for an in-state public school and $42,224 for a private college, according to CollegeData.

The insane rate of paying for college keeps going up while the American family's ability to pay for it keeps going down. At the same time, a college degree is becoming the baseline criteria for employability that a high-school diploma once was. It's unsustainable. Yet, year after year, nothing changes.

Luigi Zingalese, a professor at University of Chicago  ($62,425 per year, btw), has an idea: Invite investors to foot the bill in exchange for a fraction of the student's future income. 
Zingalese sums up his radical approach in The College Graduate as Collateral, an op-ed piece appearing this week in the NY Times. Under Zingalese's plan, a student's education could be financed with equity rather than with debt. Students don't typically have too many financial assets to offer up for collateral, with one major exception: their potential.
Fault-finders have said the plan is a form of indentured servitude, though Zingalese addresses that criticism in his article. Venture capitalists would see returns on investment, yes, but it's a good-conscience investment with benefits that resonate to students, families, taxpayers, and schools. Would a young graduate rather have the option of a voluntary tax on future income — dollars nicked off a paycheck and returned to the people who invested in intellectual capital — or leave college and immediately come under the crushing weight of a student loan? Or perhaps never be able to attend school in the first place?
inspire: live a better life
You'll stave off credit card debt by the end of the year if you account for these often-forgotten expenses.

Mark Zuckerberg has an even bigger effect on your life than you thought.

Take this advice to finally tackle that nagging to-do list.

The iconic storyteller would have been 110-years-old

Take the time to appreciate women's contributions to society. Here are some of the women who inspire us by their example.

Cast of the iconic TV show reunites for Florence Henderson's birthday

We couldn't be more excited to watch the best athletes in the world compete at the Winter Olympics in Sochi. This year, about 44 percent of the competitors are women according to the International Olympic Committee—which is awesome but wasn't always the case. Let's look back at some of the amazing women who paved the way with incredible, memorable feats of girl power.

Still pulling yourself out of holiday credit card debt? Ready to pool some funds for that beach vacation you've been dreaming about at your desk? We're with you 100 percent.

"FOMO, the fear of missing out, is a form of social anxiety," says psychiatrist Gail Saltz. "This type of fear tends to cause compulsive behaviors, like checking out other social situations even as you are in the middle of one currently."

When The Shriver Report was released in early January, we shared some of the more interesting statistics about income equality, the wage gap, and other issues confronting women.

Clay Aiken to run for public office.

Here's how to boost your joy — and put more cash in your pocket.