2085: The year the gender gap closes
Ladies, we have a long ways to go until we equal men in leadership roles in government/politics, business, entrepreneurship and nonprofits.
According to a study by the Women's College of the University of Denver and the White House Project, it will take until 2085 for women to equal men in leadership roles in government/politics,​ business, entrepreneurship and nonprofits if women continue to progress at their current pace reports Policy Mic.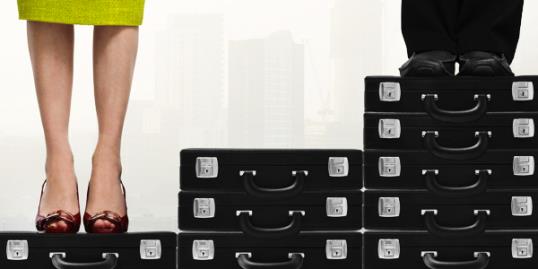 More from MSN Living: 7 easy ways to better sleep
During Women's History Month, it's important to celebrate the accomplishments of women. However, we also need to recognize how far we have to go until we're on equal footing with men in the media.
More from MSN Living: 2013 Good Housekeeping VIP (Very Innovative Products) Awards
Take a look at some of the findings in a new report by the Women's Media Center:
Only 17 women at media and technology companies are on Fortune's "50 Most Powerful Women in Business."
By a nearly 3 to 1 margin, male front-page bylines at top newspapers outnumbered female bylines in coverage of the 2012 presidential election.
In both legacy and online news sites, women are too often relegated to writing about the "pink topics" of food, family, furniture and fashion.
Forty-seven percent of gamers are women, but 88 percent of video games developers are male.
Women comprised just 9 percent of the directors of the top 250 domestic grossing films of 2012.
Girls as young as age six are starting to see themselves as sex objects, based on a combination of media influence, a mother's parenting and religion.
Read the rest of the story here.
Tell us: What are your thoughts on how women are portrayed in the media?
Bing: Jobs where women earn more than men
More from Daily Dose:
'Nasty effect' of user comments
Rights women still don't have
Languages on the endangered list
Love content like this? Friend us on Facebook, follow us on Twitter and find us on Pinterest
Photo: Gender gap / Andrew Bret Wallis/Getty Images
inspire: live a better life
Where in the world do you want to go? Somewhere unique? Any of the places described here are sure to make your next world-travel adventure truly memorable.

It's easy to lead, but it takes courage and conviction to be a truly great leader. Here are 10 inspiring leaders and what we can learn from them.

Some say it's a small world. We beg to differ. Earth has so many wondrous places worth exploring, and most of us are lucky to see a handful of them. Here are 30 of the top trips of a lifetime.

You'll stave off credit card debt by the end of the year if you account for these often-forgotten expenses.

Mark Zuckerberg has an even bigger effect on your life than you thought.

Take this advice to finally tackle that nagging to-do list.

The iconic storyteller would have been 110-years-old

Take the time to appreciate women's contributions to society. Here are some of the women who inspire us by their example.

Cast of the iconic TV show reunites for Florence Henderson's birthday

We couldn't be more excited to watch the best athletes in the world compete at the Winter Olympics in Sochi. This year, about 44 percent of the competitors are women according to the International Olympic Committee—which is awesome but wasn't always the case. Let's look back at some of the amazing women who paved the way with incredible, memorable feats of girl power.

Still pulling yourself out of holiday credit card debt? Ready to pool some funds for that beach vacation you've been dreaming about at your desk? We're with you 100 percent.

"FOMO, the fear of missing out, is a form of social anxiety," says psychiatrist Gail Saltz. "This type of fear tends to cause compulsive behaviors, like checking out other social situations even as you are in the middle of one currently."