People caught being good in 2012
The extraordinary nature of ordinary people.
There have been times, too many times, like now when we need a reminder that people are at their core kind and good. That we look out for each other. That we don't turn off the part of us that tells us to put someone else's needs above our own wants.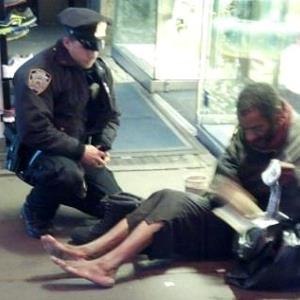 Fortunately, you don't have to look far. Doing right seldom makes the news, but here is a small sampling of stories that did in 2012. Tip of the hat to Gawker, which compiled 26 Moments that Restored Our Faith in Humanity This Year, with some moving images of people caught in the act of being good.
More from Living: 20 Pinterest crafting 'fails'
 • High-school senior Greg Zenas, who has Down syndrome, spent six years as team manager for the soccer team at Dexter High School in Michigan. Season after season, he filled up water bottles, cleaned up the benches, and gathered player uniforms. But at a game following senior night in October, coach Scott Forrester approached Greg with a bag of gear and told him to suit up — he had a spot at forward with the rest of the team starters. Zenas needed a little help from teammates deciding which way to run, but he played half the game to a roaring crowd. After a 4-0 win, the team carried Zenas off the field on their shoulders.
• A woman at a restaurant has a note passed anonymously to a young couple: I wanted to offer to hold your sweet baby while you both ate lunch, but my husband said I'd look like a stalker =). So, I'm buying your lunch instead. Enjoy that sweet baby — we have teenagers. I know what's ahead for you, so snuggle your wee one while you can!
More from Living: Ugly holiday sweaters
• NYPD Officer Lawrence DiPrimo saw a man on the sidewalk with no shoes on a cold November night, marched into a nearby shoestore, and bought him a $100 pair of all-weather boots. Officer DiPrimo didn't know anyone was watching but a tourist saw it all and captured an image of the officer kneeling in front of the barefoot man, Jeffrey Hillman. DiPrimo was celebrated in the press but then news stories followed up explaining Hillman was not homeless, counter to prior reports, and had been arrested on a number of charges before, had horded the shoes instead of wearing them, and was bitter for not getting "a piece of the pie" when the story went viral. None of it changes what DiPrimo did.
• People show their true selves under duress, and there was plenty of it to go around after Hurricane Sandy pounded the East. When the storm killed power in downtown New York City, first responders and staff at NYU Langone Medical Center successfully evacuated hundreds of patients one by one, many still in their beds, down stairwells lit only by flashlights. The patients included four newborns on respirators in the hospital's pediatric intensive care unit, who were kept alive by nurses who manually squeezed air into the babies' lungs as they were transported to safety.
Then there's the Indiana mother who lost her legs shielding her children from a tornado; the citizens of New Jersey, New York, and Connecticut hit by Sandy who saved one another's lives, gave away free food and medical care, and shared their homes; the young boy in Libya seen holding up a sign at a protest saying Sorry people of America this is not the behavior of our Islam and Profit [sic]; the filmmaker who helped draw a crowd to the DIY cardboard arcade made by 9-year-old Caine Monroy (and subsequently helped raise $225,000 toward Caine's college education); and the 6-year-old boy with cerebral palsy who couldn't get up on two legs before his Marine father was deployed, but walked to him at his homecoming.
The stories that make news don't come anywhere close to capturing the unsung good done everyday by our soldiers, our first responders, our healthcare workers, our countless charities...or anyone with the natural inclination to help a stranger or find a kind word to say.
Need to restore your own faith in humanity after Newtown? Do some good for someone.
Photo: NYPD Officer Lawrence DePrimo bought new boots for a homeless man (Photo by Jennifer Foster as seen on NYPD's Facebook page)
Bing: Latest Newtown developments.
More from The Daily Dose:
Unknown Hans Christian Andersen fairy tale found
Why mistletoe and poinsettias are everywhere this time of year
Gender gaps in pay: Worst and best states
Subscribe to the Daily Dose
inspire: live a better life
Getting to happy may be easier than you think.

Drowning in debt? Maybe there's a silver lining.

"But it's not real life, you know. It's a vacation."

Nothing can stop a woman with a plan. Whether she's creating her own hair care line in a Brooklyn kitchen, like Carol's Daughter's Lisa Price, or leaving a modeling career behind to launch her own media empire, like Tyra Banks, it all starts with a dream.

Our list of must-dos before hitting the road.

Vacations are relaxing, yet sometimes stressful.