Airline sued for asking men to change clothes before boarding
Passengers charge U.S. Airways with discrimination.
Two young African American men boarding a U.S. Airways flight were allegedly denied access to their seats until they changed out of casual attire. An airline employee at the gate told the two men they couldn't sit in first class wearing hoodies and jeans, New York Daily News reports, and were instructed to remove their baseball caps, put on button-up shirts and nicer shoes and change from jeans into slacks.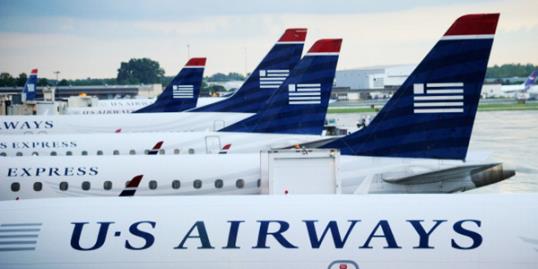 Miles and MacCraig Warren, brothers traveling from Denver to Los Angeles on their way home from a funeral in August, were "humiliated" but wanted no trouble. They returned to the gate in the required clothes only to find two other young men — one Caucasian, one Filipino — boarding first class dressed in hoodies and sneakers.
The Warrens filed a lawsuit in federal court this week charging the airline with discrimination and causing emotional distress. The brothers have said they're not after money but that "an apology would be nice."
Bing: Trouble with the Boeing 787?
U.S. Airways issued a statement saying it's taking the allegation seriously and that "we welcome customers of all ethnicities and backgrounds and do not tolerate discrimination of any kind." Their defense may hinge on the fact that the Warrens obtained their first-class tickets through a friend employed by U.S. Airways who provided them with a "buddy pass" — which, an airline representative said, would require the men to dress according to company guidelines for traveling employees. But that policy may not have been made clear to Miles and MacCraig before they were at the gate.
More from MSN Living: Is air travel safe?
The episode echoes another airline-attire incident we related last summer (along with other things that get people kicked off airplanes), though in that case a Spirit Airlines crew spirited a passenger off a flight when he became verbally abusive after being asked to lift up his sagging pants.
More from MSN Living: 50 Facebook dos and don'ts
Back in the Golden Age of air travel, passengers dressed in business attire to fly. Today, people travel in the same everyday duds they wear to Wal-Mart. Not a great look on some, but maybe if the airlines didn't treat us like we were in a bus station, we wouldn't dress like it. Whatever the airplane crew's perspective on proper attire may be, it should match passenger to passenger — regardless of where he or she is sitting, how much was paid for the ticket or whether a flight attendant is afraid of black people.
More from Daily Dose:
War vet arrested and disarmed while hiking
'Frog whisperer' helps de-croak neighborhoods
Conspiracy theories Americans believe today
Subscribe to the Daily Dose
Love content like this? Friend us on Facebook, follow us on Twitter and find us on Pinterest.
Photo: U.S. Airlines planes / Kevork Djansezian/Getty Images
inspire: live a better life
Summer and winter tend to hog all the glory when it comes to travel high seasons. Sure, you want to soak up all the time at the beach you can during the summer, and you just want to escape the cold during the last months of the year.

Who just wants to stand around and watch the red and gold leaves slowly fall from their tree branches to the ground as we move from summer to fall? Instead, take in the changing seasons while you're on the move.

In September, I'll turn 38. I'm at the age now where, when people ask how old I am, it takes me a minute to remember. I don't know if that's because I've already been 37 different ages and it's hard to keep straight which one I am now, or if it's because I'm in denial, or if it's because I am going senile. Maybe a combination of all of the above. Regardless, my 30s have flown by and soon they will be but a memory. So, in an effort to preserve the memory I have left (or at least keep a record of it), and to celebrate what has been an amazing decade so far, here are 30 things that have happened to me in my 30s (and will probably happen to you too):

Traveling doesn't have to be stressful. And what you can fit in your carry-on can make all the difference (and not just a fresh pair of socks), especially when you get that low battery signal.

Volunteering (and these other rituals) might be just as good as exercise when it comes to extending your life.

Use these tricks to set a better tone for the rest of the week.

Whether it involves a food fight, mermaids or a torch-lit procession, people the world over know how to have a good time. Here are some of the biggest, boldest, booziest celebrations around, along with some tips to get the full experience.

Research could mean more effective treatment for human disorders.

An entry a day might keep the doctor away (or at least the shrink).

One woman's shout-outs to daily moments of joy — and how to cultivate them.

Our best health and fitness tips including the one move that tones all, berry news, and more.