Airline sued for asking men to change clothes before boarding
Passengers charge U.S. Airways with discrimination.
Two young African American men boarding a U.S. Airways flight were allegedly denied access to their seats until they changed out of casual attire. An airline employee at the gate told the two men they couldn't sit in first class wearing hoodies and jeans, New York Daily News reports, and were instructed to remove their baseball caps, put on button-up shirts and nicer shoes and change from jeans into slacks.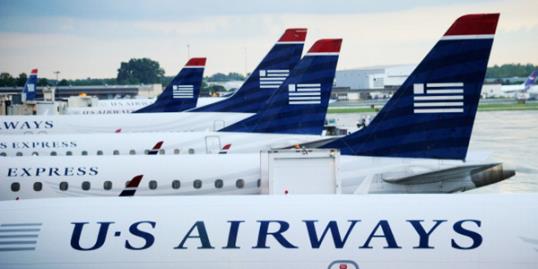 Miles and MacCraig Warren, brothers traveling from Denver to Los Angeles on their way home from a funeral in August, were "humiliated" but wanted no trouble. They returned to the gate in the required clothes only to find two other young men — one Caucasian, one Filipino — boarding first class dressed in hoodies and sneakers.
The Warrens filed a lawsuit in federal court this week charging the airline with discrimination and causing emotional distress. The brothers have said they're not after money but that "an apology would be nice."
Bing: Trouble with the Boeing 787?
U.S. Airways issued a statement saying it's taking the allegation seriously and that "we welcome customers of all ethnicities and backgrounds and do not tolerate discrimination of any kind." Their defense may hinge on the fact that the Warrens obtained their first-class tickets through a friend employed by U.S. Airways who provided them with a "buddy pass" — which, an airline representative said, would require the men to dress according to company guidelines for traveling employees. But that policy may not have been made clear to Miles and MacCraig before they were at the gate.
More from MSN Living: Is air travel safe?
The episode echoes another airline-attire incident we related last summer (along with other things that get people kicked off airplanes), though in that case a Spirit Airlines crew spirited a passenger off a flight when he became verbally abusive after being asked to lift up his sagging pants.
More from MSN Living: 50 Facebook dos and don'ts
Back in the Golden Age of air travel, passengers dressed in business attire to fly. Today, people travel in the same everyday duds they wear to Wal-Mart. Not a great look on some, but maybe if the airlines didn't treat us like we were in a bus station, we wouldn't dress like it. Whatever the airplane crew's perspective on proper attire may be, it should match passenger to passenger — regardless of where he or she is sitting, how much was paid for the ticket or whether a flight attendant is afraid of black people.
More from Daily Dose:
War vet arrested and disarmed while hiking
'Frog whisperer' helps de-croak neighborhoods
Conspiracy theories Americans believe today
Subscribe to the Daily Dose
Love content like this? Friend us on Facebook, follow us on Twitter and find us on Pinterest.
Photo: U.S. Airlines planes / Kevork Djansezian/Getty Images
inspire: live a better life
Try these anything-but-ordinary ideas for a healthier, more productive mid-day break.

An effective team leader should have a strong and powerful set of skills. After all, taking charge isn't easy. Here are ten principles of power and leadership.

Hundreds of products hit our labs every year, from the inspired to the absurd (does anyone really need to be able to cook eggs on a stick?). These six measured up to our gold standard, offering ingenious solutions to everyday problems.

I was lucky enough to log into a webinar hosted by Ernst & Young Women Athletes Business Network, in which the panel included tennis legend Martina Navratilova and Olympic gold medalist and TV host Summer Sanders. (Not too shabby, yeah?)

And they're healthier for it, too.

Some say it's a small world. We beg to differ. Earth has so many wondrous places worth exploring, and most of us are lucky to see a handful of them. Here are 30 of the top trips of a lifetime.

Test your intellect with these unusual facts and find out how much you know about the luck of the Irish.

March 14 is Pi Day, a sacred celebration in which radius and circumference lovers rejoice over circular snacks and decimal-reciting contests.

Where in the world do you want to go? Somewhere unique? Any of the places described here are sure to make your next world-travel adventure truly memorable.

It's easy to lead, but it takes courage and conviction to be a truly great leader. Here are 10 inspiring leaders and what we can learn from them.

The semi-annual glitch in your daily routine is back this weekend.

You'll stave off credit card debt by the end of the year if you account for these often-forgotten expenses.