Worst Prom Ever
Share a horrible story to make us feel good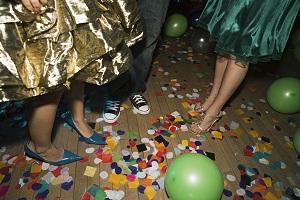 Ahh, senior prom. A corsage pinned to a fancy dress. Teenagers in limousines. A slow dance to a bittersweet melody…. Isn't it awful?
High school life isn't all it's cracked up to be, despite Mom's nostalgia, and prom night can be the pits or the peak of it. Some kids luck out and have a magical night like the one in Twilight. For others, things go badly — and that can mean High School Musical bad or, like, Carrie bad. Could a night even be Worst.Prom.Ever. bad? Tough to say, we never saw it. But it looks pretty bad.
The only sure thing on prom night is that your own scenes will be permanently burned into memory. You just have to hope for the best and not be too disappointed if it's all acne and reverse peristalsis.
So, write in and let us know how your prom measures up. To kick it off, here are some terrifically dreadful prom-night stories (courtesy of Gawker and Jezebel). They'll make you see that someone dancing on your toes wasn't so bad after all.
• The seniors from Manitou Springs High School in Colorado sure seemed like they were in for a fun night, what with their prom staged at the local City Hall and an Avatar-inspired "Lost in Pandora" theme. But two mothers acting as chaperones became offended by students dancing like they were "having sex with clothes on" — and proceeded to spray Lysol in their faces. Hannah Rockey and Jennifer Farmer, who were dressed in military fatigues and combat boots, also berated the girls, calling them whores and sluts. Woo-hoo, prom night!
• One young gent couldn't believe his good fortune when an exceptionally pretty girl agreed to accompany him to prom. Driving out to a remote lake house afterwards, he stopped for a rabbit that had run into the dirt road. When it finally disappeared, he drove away — only to feel a disheartening thump under the tires. His lovely date was upset but got over it. Until he ran down a second bunny like it was "the last bowling pin."
• At a middle-school dance, one "short, skinny, flat-chested girl with a big nose" (her description) had been hoping against hope that she might emerge from the evening as a swan instead of the ugly duckling she believed herself to be. Instead, her parents emerged from behind some bushes. DressedInYellow describes her mortification when she made eye contact with her folks, and how she prayed  that the entire school had not seen what happened. Prayer not answered.
Share your prom nightmare in the comments.

inspire: live a better life
Miss Manners advises on how to respond when one gets unsolicited advice about weight issues.

Editor's note: We will now be publishing Miss Manners articles twice weekly, but you will only see one question and answer per article. You can expect to see these articles appear on Tuesdays and Thursdays going forward.

President Harry S. Truman was behind efforts to establish the first Armed Forces Day in 1950, and decades later the nation continues to set aside the third Saturday in May to recognize and thank members of the U.S. military for their patriotic service. With these five homecoming images, we salute all service members at home and abroad.

There's much to be desired about working from home: the stress-free commute, flexible hours, and improved work-life balance.

Wishing for the fountain of youth? You may not need it. We've rounded up real-women secrets, tried-and-true beauty tips, and the latest research to help you fight aging.

Experts weigh in on when to bite your tongue at the office.

Oh, the places you'll go — to get some "me" time, that is. REDBOOK readers confess all on Facebook.

How much money you make isn't nearly as important as how you use it, according to Elizabeth Dunn and Michael Norton, authors of the new book Happy Money.

Plus, how do you ask people to not bring gifts to a shower?

Looking for a career upgrade? Follow these tips for a foot in the door.

These tanning and skin cancer myths aren't just wrong — they can do serious harm. Wise up and head into a healthier future. P.S. You'll look a lot younger too.

It's possible to rejigger your brain circuitry and feel more joy, even on Monday mornings. Here's how.