Worst Prom Ever
Share a horrible story to make us feel good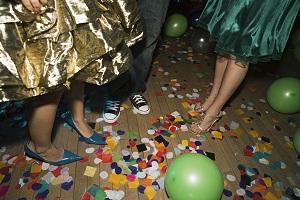 Ahh, senior prom. A corsage pinned to a fancy dress. Teenagers in limousines. A slow dance to a bittersweet melody…. Isn't it awful?
High school life isn't all it's cracked up to be, despite Mom's nostalgia, and prom night can be the pits or the peak of it. Some kids luck out and have a magical night like the one in Twilight. For others, things go badly — and that can mean High School Musical bad or, like, Carrie bad. Could a night even be Worst.Prom.Ever. bad? Tough to say, we never saw it. But it looks pretty bad.
The only sure thing on prom night is that your own scenes will be permanently burned into memory. You just have to hope for the best and not be too disappointed if it's all acne and reverse peristalsis.
So, write in and let us know how your prom measures up. To kick it off, here are some terrifically dreadful prom-night stories (courtesy of Gawker and Jezebel). They'll make you see that someone dancing on your toes wasn't so bad after all.
• The seniors from Manitou Springs High School in Colorado sure seemed like they were in for a fun night, what with their prom staged at the local City Hall and an Avatar-inspired "Lost in Pandora" theme. But two mothers acting as chaperones became offended by students dancing like they were "having sex with clothes on" — and proceeded to spray Lysol in their faces. Hannah Rockey and Jennifer Farmer, who were dressed in military fatigues and combat boots, also berated the girls, calling them whores and sluts. Woo-hoo, prom night!
• One young gent couldn't believe his good fortune when an exceptionally pretty girl agreed to accompany him to prom. Driving out to a remote lake house afterwards, he stopped for a rabbit that had run into the dirt road. When it finally disappeared, he drove away — only to feel a disheartening thump under the tires. His lovely date was upset but got over it. Until he ran down a second bunny like it was "the last bowling pin."
• At a middle-school dance, one "short, skinny, flat-chested girl with a big nose" (her description) had been hoping against hope that she might emerge from the evening as a swan instead of the ugly duckling she believed herself to be. Instead, her parents emerged from behind some bushes. DressedInYellow describes her mortification when she made eye contact with her folks, and how she prayed  that the entire school had not seen what happened. Prayer not answered.
Share your prom nightmare in the comments.

My second prom (junior and senior are combined) sucked. My first dress (all were thrift store purchases) ripped, the zipper on the second dress broke off, and I was then in a mad rush to get a replacement for that one. I barely got one in time and the only reason I did is because the woman who owned the thrift store took pity on me. The dress I ended up getting didn't even flatter my figure (I am full figured). I was also nominated as prom queen, which I was excited about because my self-esteem isn't too high. All most all night I had asked people to vote for me, I didn't even dance that much because it. And when it finally came down to the announcement, I lost. I was nearly in tears. Found out a couple of days later that I really should have won. That someone from the prom committee switched the papers and that I really had more votes. All in all, prom 2012 sucked.

Our high school combines both proms so there is only one prom. I can't wait till next year so i can go since freshman aren't allowed to go but sophomores can go with invitations and obviously juniors and seniors can go. After the actual prom, there is post-prom which is basically just a party at the school from 11pm-5am so students don't go out and drink and get in accidents. Can't wait!!
my senoir prom was with a guy i dated off and on all thru high school. we went to dinner with a group of friends and he seems uncomfortable all thru dinner( not sure why b/c it was his guy friends also ) and then once we got to the dance he got mad and refused to get ot of truck b/c he never had a senior prom ( he didnt finish school) and he admitted he was jealous of me ( shouldnt have been a clue)    while in the dance he almost refused to have pictures made, he all but sat down on the floor and whined instead of danced.   once we finally left we were to go hang out with (HIS) friends at a hotel and swim and have fun well he refused to do that so we went back to my house where he decided he was sick and went home.   the next day he was all happy and lovable.   a month later i graduated from high school and he pulled the same mess about being jealous that he didnt experience this and i tried to tell him that he can experience with me. and he ruined the after graduation dinner with my family by NOT GOING and refused to answer the phone when i was calling to say yea we are done let go meet everyone  at the bar.  so on my high school graduation i ate dinner with my parents and went home at 1030pm  all my and his friends were very angry b/c we werent there and he took alot of heat from that a month later we officially ended the relationship..
Are you sure you want to delete this comment?
inspire: live a better life
Use these bucket-list ideas to enjoy the little time you have left.

Study points to benefits of improved living conditions.

Don't leave home without these must-have items.

Handshakes spread 20 times more germs, study says.

Drowning in debt? Maybe there's a silver lining.

"But it's not real life, you know. It's a vacation."

Our list of must-dos before hitting the road.

Summer traditions can be great, but if you're on year six of packing the same people into the same car to go on the same vacation, it's time to switch things up. Surfing in Portugal, perhaps – or cycling through Northern Ireland. We've put together a list of 15 places well off the beaten path that you should go to when you're ready to try something new.

Grab a sleeping bag and head out to one of these amazing campsites.

A dozen adventures that are well worth the trip.

Paper downplays the significance of practice over raw talent.

Survey says American teens aren't great at complex or basic financial tasks.