Promiscuous women to blame for earthquakes?
A senior Iranian cleric says women who wear revealing clothing and behave promiscuously are to blame for earthquakes.
Iranian President Mahmoud Ahmadinejad predicts that an earthquake will hit the country's capital, Tehran, and displace its 12 million residents. The cause of the catastrophic quake? Promiscuous women, reports The Guardian.
"Many women who do not dress modestly ... lead young men astray, corrupt their chastity and spread adultery in society, which increases earthquakes," Hojatoleslam Kazem Sedighi, a senior Iranian cleric, was quoted as saying by Iranian media.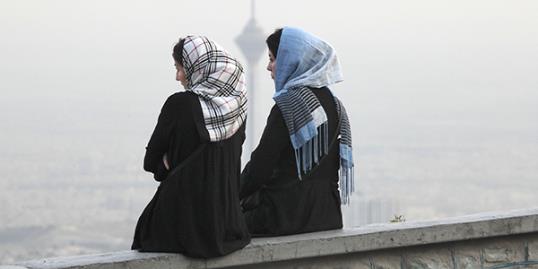 In the Islamic republic, women are required by law to cover themselves from head to toe, but some, especially the younger generation, are lax in adhering to strict dress codes. 
"What can we do to avoid being buried under the rubble?" Sedighi asked during a sermon last week. "There is no other solution but to take refuge in religion and to adapt our lives to Islam's moral codes."
More from MSN Living: Women who inspire us
Ahmadinejad made his prediction two weeks ago but could not give an exact date as to when the quake would occur.
Bing: Woman reports quake in her wedding gown
The welfare minister, Sadeq Mahsooli, said prayers and pleas for forgiveness were the best way to ward off earthquakes.
"We cannot invent a system that prevents earthquakes, but God has created this system and that is to avoid sins, to pray, to seek forgiveness, pay alms and self-sacrifice," Mahsooli was quoted as saying.
More from MSN Living: 15 amazing women you have never heard of
Tehran straddles several fault lines and is seismically active, yet has not suffered a major quake since 1830.
Tell us: What do you think about the cleric's controversial comment?
More from Daily Dose:
Airline sued for asking men to change clothes
War vet arrested and disarmed while hiking
'Frog whisperer' helps de-croak neighborhoods
Love content like this? Friend us on Facebook, follow us on Twitter and find us on Pinterest.
Photo: Franco Czerny/Getty Images
inspire: live a better life
Drowning in debt? Maybe there's a silver lining.

"But it's not real life, you know. It's a vacation."

Our list of must-dos before hitting the road.

Summer traditions can be great, but if you're on year six of packing the same people into the same car to go on the same vacation, it's time to switch things up. Surfing in Portugal, perhaps – or cycling through Northern Ireland. We've put together a list of 15 places well off the beaten path that you should go to when you're ready to try something new.

Grab a sleeping bag and head out to one of these amazing campsites.

A dozen adventures that are well worth the trip.

Paper downplays the significance of practice over raw talent.

Survey says American teens aren't great at complex or basic financial tasks.

Fear of Moving Away: How to conquer the latest cultural anxiety and embrace the unknown.

Adulthood has no eureka moment.

Just like your body, your brain needs a regular workout too.

Being a winner is a good feeling to have — especially in life. Winning doesn't solely relate to competitions or Charlie Sheen's coining of the term back in 2011. From achieving success to maintaining a work-life balance, find out what characteristics mean your life is going the way it should be. You may just even find an inspiration or two that you'll want to incorporate into your daily routine!