Promiscuous women to blame for earthquakes?
A senior Iranian cleric says women who wear revealing clothing and behave promiscuously are to blame for earthquakes.
Iranian President Mahmoud Ahmadinejad predicts that an earthquake will hit the country's capital, Tehran, and displace its 12 million residents. The cause of the catastrophic quake? Promiscuous women, reports The Guardian.
"Many women who do not dress modestly ... lead young men astray, corrupt their chastity and spread adultery in society, which increases earthquakes," Hojatoleslam Kazem Sedighi, a senior Iranian cleric, was quoted as saying by Iranian media.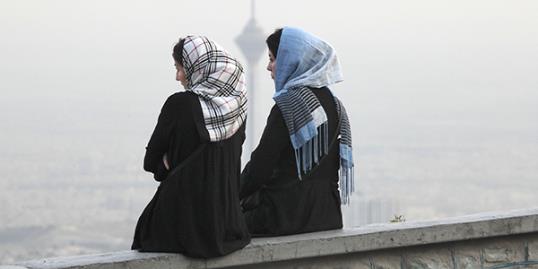 In the Islamic republic, women are required by law to cover themselves from head to toe, but some, especially the younger generation, are lax in adhering to strict dress codes. 
"What can we do to avoid being buried under the rubble?" Sedighi asked during a sermon last week. "There is no other solution but to take refuge in religion and to adapt our lives to Islam's moral codes."
More from MSN Living: Women who inspire us
Ahmadinejad made his prediction two weeks ago but could not give an exact date as to when the quake would occur.
Bing: Woman reports quake in her wedding gown
The welfare minister, Sadeq Mahsooli, said prayers and pleas for forgiveness were the best way to ward off earthquakes.
"We cannot invent a system that prevents earthquakes, but God has created this system and that is to avoid sins, to pray, to seek forgiveness, pay alms and self-sacrifice," Mahsooli was quoted as saying.
More from MSN Living: 15 amazing women you have never heard of
Tehran straddles several fault lines and is seismically active, yet has not suffered a major quake since 1830.
Tell us: What do you think about the cleric's controversial comment?
More from Daily Dose:
Airline sued for asking men to change clothes
War vet arrested and disarmed while hiking
'Frog whisperer' helps de-croak neighborhoods
Love content like this? Friend us on Facebook, follow us on Twitter and find us on Pinterest.
Photo: Franco Czerny/Getty Images
inspire: live a better life
How much do you really know about the Earth? In honor of Earth Day, April 22, we explore some interesting and fun facts about the fifth-largest planet of our solar system.

Happify shares their results of a recent study on how money affects our happiness.

A top exec reveals the company's secret code

Pro tips from the guy who's done it four times

Not all mistakes are as blatant as posting party pics when you're 'sick' at home.

Everyone struggles through weekday drudgery to reach their weekend fun. But what if you could reclaim every day of your life?

Zooming up the ladder is great, but questioning yourself 24/7 is no way to succeed. Manage your stressed self with these surefire tips.

Forget trying to control every little detail. Life is lots more fun (and less stressful) when you let go from the get-go.

So, what exactly is this thing we call "happiness" and how do we get it?

Mark Zuckerberg has an even bigger effect on your life than you thought.

Everyone makes mistakes, but some mistakes can be devastating. Here are 10 icons who fell from grace, and what they can do to redeem themselves.

Twitter turns eight years old today.