Promiscuous women to blame for earthquakes?
A senior Iranian cleric says women who wear revealing clothing and behave promiscuously are to blame for earthquakes.
Iranian President Mahmoud Ahmadinejad predicts that an earthquake will hit the country's capital, Tehran, and displace its 12 million residents. The cause of the catastrophic quake? Promiscuous women, reports The Guardian.
"Many women who do not dress modestly ... lead young men astray, corrupt their chastity and spread adultery in society, which increases earthquakes," Hojatoleslam Kazem Sedighi, a senior Iranian cleric, was quoted as saying by Iranian media.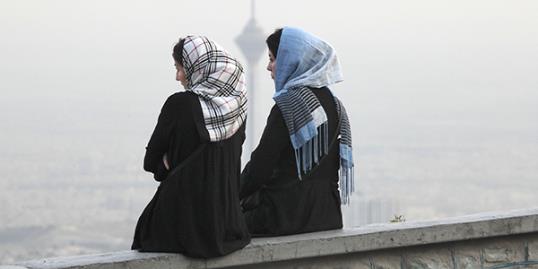 In the Islamic republic, women are required by law to cover themselves from head to toe, but some, especially the younger generation, are lax in adhering to strict dress codes. 
"What can we do to avoid being buried under the rubble?" Sedighi asked during a sermon last week. "There is no other solution but to take refuge in religion and to adapt our lives to Islam's moral codes."
More from MSN Living: Women who inspire us
Ahmadinejad made his prediction two weeks ago but could not give an exact date as to when the quake would occur.
Bing: Woman reports quake in her wedding gown
The welfare minister, Sadeq Mahsooli, said prayers and pleas for forgiveness were the best way to ward off earthquakes.
"We cannot invent a system that prevents earthquakes, but God has created this system and that is to avoid sins, to pray, to seek forgiveness, pay alms and self-sacrifice," Mahsooli was quoted as saying.
More from MSN Living: 15 amazing women you have never heard of
Tehran straddles several fault lines and is seismically active, yet has not suffered a major quake since 1830.
Tell us: What do you think about the cleric's controversial comment?
More from Daily Dose:
Airline sued for asking men to change clothes
War vet arrested and disarmed while hiking
'Frog whisperer' helps de-croak neighborhoods
Love content like this? Friend us on Facebook, follow us on Twitter and find us on Pinterest.
Photo: Franco Czerny/Getty Images
inspire: live a better life
You'll stave off credit card debt by the end of the year if you account for these often-forgotten expenses.

Mark Zuckerberg has an even bigger effect on your life than you thought.

Take this advice to finally tackle that nagging to-do list.

The iconic storyteller would have been 110-years-old

Take the time to appreciate women's contributions to society. Here are some of the women who inspire us by their example.

Cast of the iconic TV show reunites for Florence Henderson's birthday

We couldn't be more excited to watch the best athletes in the world compete at the Winter Olympics in Sochi. This year, about 44 percent of the competitors are women according to the International Olympic Committee—which is awesome but wasn't always the case. Let's look back at some of the amazing women who paved the way with incredible, memorable feats of girl power.

Still pulling yourself out of holiday credit card debt? Ready to pool some funds for that beach vacation you've been dreaming about at your desk? We're with you 100 percent.

"FOMO, the fear of missing out, is a form of social anxiety," says psychiatrist Gail Saltz. "This type of fear tends to cause compulsive behaviors, like checking out other social situations even as you are in the middle of one currently."

When The Shriver Report was released in early January, we shared some of the more interesting statistics about income equality, the wage gap, and other issues confronting women.

Clay Aiken to run for public office.

Here's how to boost your joy — and put more cash in your pocket.