Barnett Newman painting auctioned for $43.8 million
The canvas is the last of 6 in the artist's Onement series.
NEW YORK (AP) — A large 1953 painting by abstract expressionist artist Barnett Newman has sold for $43.8 million at a New York City auction, setting an auction record for his work.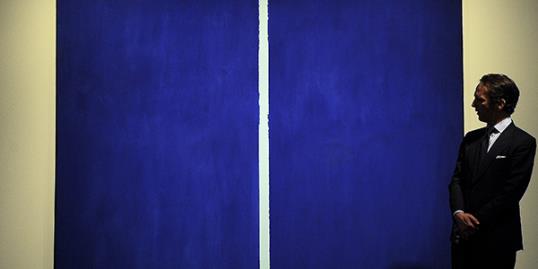 Sotheby's said Tuesday the record price for "Onement VI" includes the buyer's premium.
The painting is the last of six in Newman's Onement series. They're characterized by what's called the zip, a distinctive stripe running down the center of the canvas. Four are in museum collections.
Gallery: Live happier on the money you have
"Onement V" sold at auction last year for $22.4 million, the artist's previous auction record.
Bing: Most expensive paintings
Newman was an exhibitions organizer of the newly opened Betty Parson Gallery in 1946. He played a vital role in the careers of Mark Rothko, Jackson Pollock and others. He also influenced the next generation of artists, including Frank Stella.
Newman died in 1970.
Gallery: 5 fashion rules you should break
More from Daily Dose:
Eerie ghost town comes up for air
Ore. smoke jumpers skydive into illegal pot garden
Does hair grow faster in summer?
Love content like this? Friend us on Facebook, follow us on Twitter and find us on Pinterest.
Photo: "Onement VI" by Barnett Newman is on display during a preview of Sotheby's Impressionist and Modern Art sales in New York on May 3, 2013 / EMMANUEL DUNAND/AFP/Getty Images
inspire: live a better life
The holidays are upon us, so whether you're heading to your hometown, getting away for New Year's, or just taking a few days off to relax with friends and family, it's almost time to set your OOO (out-of-office) message.

Become a master of your own fate and maximize your happiness with a few easy tweaks.

Sure, you realize that your daily lattes aren't exactly necessities. But once you discover what they, and other regular purchases, add up to, you'll realize it's time to think twice about shelling out. Trim the fat from your budget with these expert tips for saving big.

When you stumble upon an unflattering photo of yourself, you can make excuses for it, or you can change your ways.

For those who would rather pay it forward, proceeds from this gift guide go to deserving charities — and these presents happen to be pretty fabulous as well. Plus, shop more gifts for stylish women.

Buying presents for the huge number of people who've found their way onto your holiday list seriously adds up. Save your credit card bill -- and your sanity -- by giving these big-group gifts that will knock an entire family or couple off all at once.